Every time I see an old photo like this on Shorpy, I want to know more about the person staring back at me. Where did they live? What was their occupation? Who were their family members? Who were their neighbors?
I started this blog eight weeks ago (wow, feels a lot longer than that) with the intention of focusing on stories of regular Washingtonians. We've had the chance to meet some interesting characters like Minnie Wiseman the sad suicide girl, Don Glendening the tragic murder victim, Robert Muir the manager of the Cairo, Leopold Birkle the German brewer and of course, Washington's first true badass, Officer Sprinkle.
This recent photo I came across has inspired me to start a new series called "They Were Neighbors." We're going to continue down the path of meeting former residents of our city, but instead of just focusing on one person, I'd really like to explore the dynamics or the person's day-to-day life.
The woman below, Ann O'Connell, interacted with people on a daily basis, and we can piece these relationships together by digging through old newspapers and the U.S. Census. This will be a little bit investigative research with a side of imagination.
One more thing before we dive in. Don't be shy to comment below and add your own interpretation. This is more art and opinion than true science. I'd like to think of this as participatory blogging, so if you have good ideas, or think I'm totally wrong, go ahead.
Annie O'Connell and her family at 1811 North Capitol St. NE
In the 1920 U.S. Census, the O'Connell family had a listed residence of 1811 North Capitol St. NE, which was owned, but with an outstanding mortgage on it.
The head of the household was the father, Jeremiah (or Jerry), 60 years old, born to Irish immigrants and a lifelong D.C. resident (maybe he lived in Swampoodle?). His occupation was listed as a proofreader or printer at the Government Printing Office, with an easy commute of about ten blocks, easily walkable in good weather.
Jerry's wife Margaret was 52 years old and a homemaker. She also born to Irish immigrants, except came to Washington from New York. I'm assuming they were Irish Catholic as they had a number of children and all of them were born in Washington.
Annie, was the oldest of six children living at home with Jerry and Margaret. A daughter Margaret was 27 and listed her occupation as skilled laborer in government service (not sure what that entails). Francis was 26 years old, a patent attorney and he worked at the Patent Office. Jeremiah Jr. was 22 years old and, like his older brother, worked as a patent attorney.
Two younger children Joseph, 14, and Edward, 12, were still in school at Gonzaga, near their father's employer. A couple years later, Joseph was both an athlete, lettering in football and a thespian, starring as Marc Antony in Shakespeare's "Julius Caesar."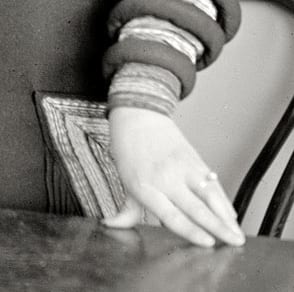 Annie, 28, was a graduate of Immaculate Conception Academy at 8th and N St. NW (now the north side of the convention center), finishing up in 1912. In the June 17th, 1911 Washington Post, she received a "premium prize" medal for the junior class, whatever that is.
By her late 20s, she was working as a clerk for the federal government. It was slightly abnormal at the time not to be married at her age. The average age at first marriage was somewhere around 22 for women back in the 1920s.
But, if you look closely to the 1924 photo, you will notice that she has a diamond ring on her left hand. I'm assuming that's either an engagement ring or a wedding ring, probably the former.
The Kearney family: 1809 North Capitol St. NE
In the neighboring house to the right of the O'Connells, lived the Kearney family. Luke J. Kearney Jr., 56, was a widower and an unemployed saloon keeper. He owned his home and had a mortgage on it, but I'm unsure how he afforded it, given his employment situation. He did acquire the lot (lot 18, square 3511) back in 1919 for $10. Wow … I just bought a six-pack of Dogfish Head for $11. I kind of feel bad.
Times were brutal for Luke because Prohibition went into effect on January 16th, 1920. As a federally run city, Washington had actually been dry since 1917, so this was the worst possible time to be a saloon keeper.
Luke was also the American-born son of two Irish immigrants and a lifelong Washingtonian. He had three children living with him in the house, Mary, 21, Luke III, 20, and Frank, 17.
Given the common Irish backgrounds, I'm sure the Kearneys and O'Connells spent a fair bit of time socializing on their front stoops and in their parlors. And both Luke and Frank, being a fair bit younger than Annie, were probably in awe of her, having big crushes on her (you don't think so?).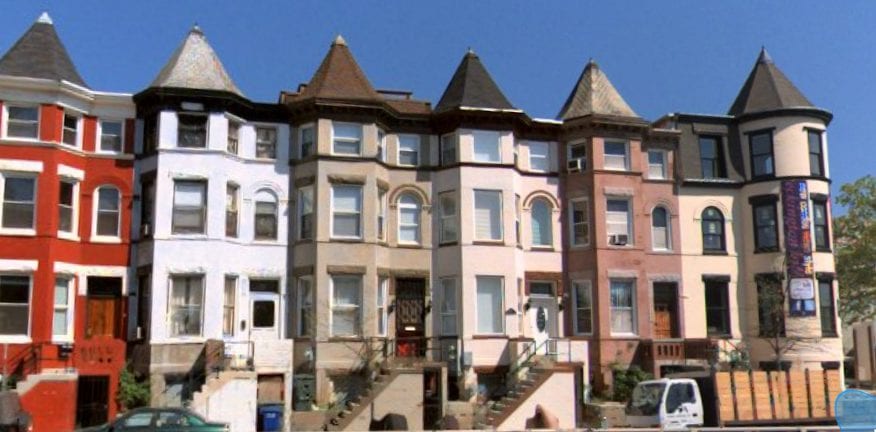 The Lanahan family: 1807 North Capitol St. NE
Edward Lanahan, 55, was also a widower with both parents from Ireland. He too, was born in the District and like his neighbor Luke, was unemployed. The good news for Mr. Lanaham was that he owned his house outright, with no mortgage.
With him in the house was a son Cornelius, 30, and four daughters, Anna, 20, Bessie, 23, Mary, 26, and Nellie, 28. That sounds like an exceedingly crowded house, especially if they only had one bathroom (which I'm guessing was the case). Cornelius was employed as a clerk for the government. Anna and Nellie also were employed by the government, as stenographers. Bessie was an unemployed milliner and Mary had no occupation listed.
Three neighboring homes with families of Irish heritage? St. Patrick's day was probably a blast on the block. Also, where did all the Irish families go and when did they leave Washington?
I imagine that being around the same age, Nellie and Mary were at least friendly with Annie, if not good friends. Living a couple houses down from someone for years or decades almost makes you family … I suppose that could also lead to feuds or competition for the attention of boys. And speaking of, I wonder if Cornelius had any romantic interest in Annie?
The Sheridan family: 1805 North Capitol St. NE
Danny Tanner has nothing on Thomas Sheridan. This was a seriously full house. Thomas, 58, had a mortgage on this home and lived there with his wife Nellie. Nellie, 52, was born in D.C. to Irish parents and Thomas was born in Missouri, also to Irish parents. Thomas was fortunate enough to be employed in the city as a plasterer (not like this guy from the 1890s), while Nellie was a homemaker.

They had six children living with them: Edward, 28, a government stenographer, Thomas, 26, a government skilled laborer, Florence, 20, a government clerk, Irene, 17, an operator with Western Union Telegraph and Francis, 13, who still attended school. Their daughter Mary, 29, and her husband Thomas Gormley, 29, also lived with them (he was born in Virginia to Irish parents). Gormley was also a government employee. And last, Bridget Fitzgerald, 58, was the widowed older sister of Nellie.
That's 10 people in one home that probably had four bedrooms and one bathroom. Disregard my comment about a stressful Lanaham household, this one is worse.
Both Edward and Thomas were around the same age as Annie, so I wonder if there was any potential romantic involvement. Hey, there's always a chance right? Where did she get that engagement ring? I haven't been able to track anything down on that.
Some more interesting neighbors
The neighborhood was full of some interesting individuals. William Crawford, 40, and his wife Nettie lived just around the corner at 12 S St. NE. They were both born and raised in West Virginia, but Nettie's father was an immigrant from England. Nettie was a government clerk (like just about everyone else it seems) and William was a student naval aviator. That's pretty cool. I'm guessing that he's flying out of Bolling Airfield. There were few aviation rules back then, so I'm sure William took a spin over his neighborhood at least once to show off.
Charles Bishop, 57, was originally from Pennsylvania, but now owned 1817 North Capitol St. outright. He was a Pullman conductor for the Pennsylvania Railroad Company. I'm guessing that means he was away from home quite a bit, leaving his wife Emma, 54, alone with their daughter Grace, 33, and her 35-year-old husband (who had an incomprehensible name in the census).
The Farrah family at 1809 North Capitol St. NE in 1930
I went through countless old archives and censuses but one family I came across really caught my attention. Elias Farrah, 53, had come to America from Syria with his wife Agia, 48, and in 1930, they were renting the home at 1809 North Capitol St for $60 a month, presumably from Luke Kearney. Elias was working as a chef in one of Washington's hotels.
Washington was not their first home in the U.S., as they had lived in Massachusetts, where all four of their children were born. They were all given western names.
Mildred, 21, was a sales girl at a downtown department store, Antone, 19, was a hotel messenger and Mitchell, 17, was still in school. The child that caught my attention was Theodore, who was an undersized 18-year-old. I say this because he was a professional jockey. That's pretty cool.
Now, this was 1930, so I'm guessing it was extremely rare for a Syrian to live in your neighborhood. I'd like to think that people were tolerant and treated them well, but unfortunately, I have some doubts.
The O'Connells in 1930
Well, I came across the Farrahs because I was checking to see if our Irish family was still living at 1811 North Capitol, and they were. Here is the U.S. Census listing for the O'Connell family in 1930.

You can see Jerry is still kicking at the age of 70, and his house is valued at the handsome sum of $10,000. His wife is still alive also and 64 years old. Francis, still a patent attorney, is listed at 38 years old, which is slightly more than 10 years older than the last time we saw him in the 1920 census.
Oh, and it looks like his daughter Ann was now married to a civil engineer from North Carolinian, John Hitchins, who was 31. According to the record, she was married that year at the age of 29. Wait a minute! How did she go from 28 in the 1920 census to 29 in the 1930 census? Either there is an egregious error in the or there is a little bit of age fraud going on here.
Now my imagination is running wild. She was wearing a diamond ring in that photo from 1924 and she would have been about 32 years old then. Yet, in the 1930 census, it lists her as having married John Hutchins that same year. Was she a 38-year-old cougar marrying a younger man? Can you figure that one out?
That'll close out our first "They Were Neighbors" post. I hope you enjoyed it. Why don't you check us out on Facebook or Twitter to stay up to date. We will launch on Friendster in another week or so, please be patient.