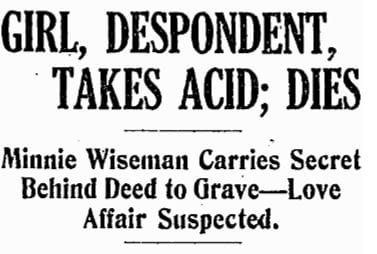 I'm sure that title grabbed your attention just like it did mine. I had to read this one in the Washington Post. It dates from September 9th, 1922 with the subhead "Minnie Wiseman Carries Secret Behind Deed to Grave — Love Affair Suspected." Read the rest below.
Writhing in agony, pretty Minnie Wiseman, 18 years old, of Williamsville, Va., a domestic employed at the home of John J. Sligh, 1709 Q street northwest, was found lying across the bed in her room yesterday suffering from carbolic acid poisoning. Miss Wiseman, was taken to Emergency hospital, where she died an hour after arriving at the institution.

Lieut. Plemmons, night chief of detectives was notified of the girl's death, and sent word to her relatives at Williamsville. Coroner Nevitt ordered the body removed to the District morgue.

Miss Wiseman refused to say why she had swallowed the poison. It was reported last night, however, that the girl had been disappointed in a love affair. The authorities are endeavoring to establish the identity of a man from whom Miss Wiseman is alleged to have received attentions. Mr. Sligh, could advance no reason to the authorities as to why the girl should want to take her life.
Now that is a sad, creepy and ghostly story. To read a happier story about this same address, check out this one that mentions the daughter of Congressman William A. Jones.