I love D.C. and I am also obsessed with baseball…so fittingly, my first post will merge the two.
I was poking around Flickr, looking at photos from the Library of Congress and I came across this guy. I couldn't resist. Who is this goofy looking guy and what is his story? The man in the photo is Nick Altrock, former Major League baseball player.
He played with four teams over the course of his career, but he gained fame by being one of the best pitchers in the league between 1904 and 1906 while pitching for the Chicago White Sox. In 1906, at the age of 29, he helped guide the team to a World Series victory over the crosstown rivals, the Chicago Cubs. That was the peak.
An arm injury ended his dominance, but didn't end his career. He stuck around for a few more years with the White Sox before being traded in 1909 to the woeful Washington Senators (first in peace, first in war, last in the American League). His best days were behind him and that season would be his last as a full-time pitcher. He was out of baseball until he was offered a coaching positions with the Senators in 1912 (and part-time player). He pitched (quite horribly) in parts of 14 games up until 1924, the year they won the World Series over the New York Giants.
That season, at 48 years old, he became the oldest player ever to hit a triple (in his only at-bat of the year). He kept making rare appearances on the field as a player through 1933. That year, he became one of the oldest players ever to appear in a game, pinch-hitting at the age of 57. His playing days were over after that failed at bat, but he remained with the ball club as a coach through 1953 — the longest consecutive-year tenure with a single team in Major League history (42 years).
His playing days in Washington were quite unimpressive, but he was best known as the team clown. Take a look at the video below from the 1925 World Series against the Pittsburgh Pirates. Altrock is the guy about 30 seconds in that is holding the umbrella in the fake row boat. I'm sure he was the life of the party…every party.
Nick was adored by the team and the fans for his zany antics. I wanted to know more about Nick's life, so a little digging led me to the 1930 U.S. Census, which lists him living at 3023 14th St NW, apartment 403 — Trinity Towers — right in the heart of the then (and once again) booming Columbia Heights. The census had a number of interesting details (his occupation aptly listed as "Coach – Baseball").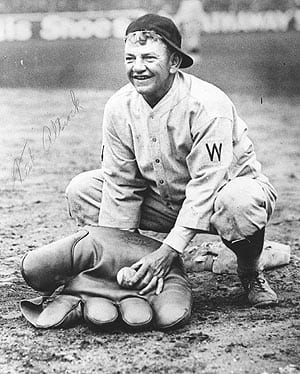 His wife Eleanor was 43 at the time, they had been married for 15 years and her brother, James Campbell was also living in the same unit with them (47 years old and unemployed). Eleanor and James were both first-generation Americans born in Iowa, with parents that emigrated from what was then known as the Irish Free State.Nick was also a child of immigrants, with both parents leaving their native Germany to move to Ohio.
Among his neighbors included Charles Hetzel, a 62-year-old immigrant photographer from Germany and his 61-year-old wife Henrietta. They were in apartment 409 and had been married 41 years, but appear to have lived apart for 11 years because she arrived in the U.S. in 1874 and he came in 1885. Right next door, in 401 lived William (30) and Florence (27) Kincaid and their daughter Mary (11).
William moved to D.C. from Kentucky and was working at the Navy Department as a clerk.The rent for unit in the building was a reasonable $45 to $70 (about $600 to $950 in today's money) depending on the size of the apartment. According to the Washington Post, apartments in Trinity Towers were in serious demand after it was built just a year or so earlier. An article on Sunday May 5, 1929 reads
The W.H. West Co., rental agents for the Trinity Towers Apartment House at 3023 Fourteenth street, announces that nearly all of the 145 apartment units in that building have been leased. This has been accomplished, moreover, during the winter months, or "off season."Trinity Towers is located in Columbia Heights on upper Fourteenth street between Columbia road and Irving street, on the site of the old St. Stephen's Church, in the center of a busy uptown shopping district.
Looks like things are starting to become the way they were in 1930 with a busy Columbia Heights shopping district. Another interesting Post article from July 10, 1930 reads:
Columbia Heights seems to be a popular section for the residence of the Nats. No less than fifteen of the pennant aspirers live at the Cavalier, while "Nick" Altrock resides at Trinity Towers.
That's more than half the team living in one building! I guess it was quite easy to head down the 14th street or 11th street car lines down to Griffith Stadium (where the Howard University hospital now stands). That 1930 team was pretty good too, maybe due to great team unity? I'm pretty sure we will never see Zimmerman, Strasburg and Werth living in the same Columbia Heights building. It's pretty impressive what you can dig up with a couple hours of Googling. Nick lived out his final days in Washington until 1965. He was 88 years old.
I also dug up some information on his son (Nick Altrock Jr.), who attended the Naval Academy and played on the baseball team. The elder Nick even took two years off from the Senators to coach the Naval Academy baseball team while his son played.Altrock was such a prolific on-the-field clown that he even took his act to the vaudeville stage to perform to his comedy routine. Oh, and also, it turns out he was a Freemason. Take a look at his grave marker below with the Masonic symbol.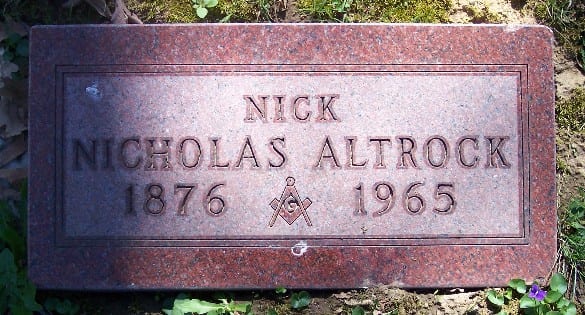 You can read a great bio on him here and the Washington Post wrote a great article about Nick that you should read. This guy was a D.C. baseball legend.