Hains point is named for Peter Conover Hains. That was easy. You would know that if you checked Wikipedia, so I'm not really adding any value with this post. But if you go down there and enjoy the park, you should at least know a little about its namesake.
So who was Hains? He was a prominent Major General in the U.S. Army and served in the Civil War, Spanish-American War and World War I. Not only that, he was responsible for helping reclaim Potomac Flats and turning East Potomac Park and Hains Point into the enjoyable recreation area it is today.
As we all know, Washington was a nasty, swampy area which was horribly noxious in the hot, summer months. In August 1882, Congress allocated $400,000 to begin the reclamation of swampy flatland lining the Potomac in the hopes of improving city sanitation and getting rid of the nasty smell. The man in charge of this giant engineering project was Peter Hains.
The land that was created as a result of dredging the river makes up what is now East Potomac Park and Hains Point. The park housed a tea house in the 1920s (pictured below), which was run by the girl scouts.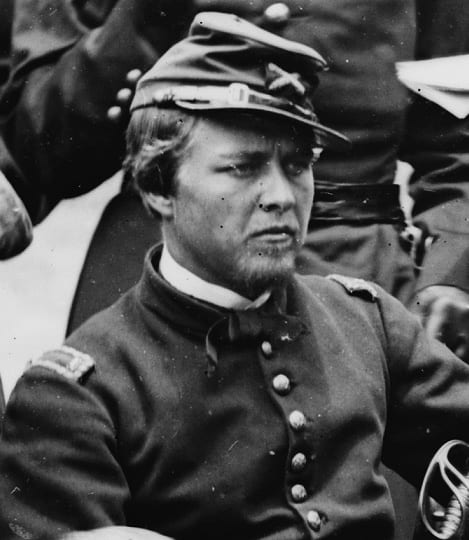 A little tangent … Major General Hains also had some interesting (and hot tempered) offspring.
His son Peter Jr. was involved in a major murder scandal  in 1909. He was convicted of killing his wife's lover at a yacht club in Queens, New York, while his brother Thornton held back the horrified onlookers with his own gun. Crazy.
His grandson, Peter C. Hains III competed in the 1928 Olympics, not to mention his career as a Major General.
Let me round out this post in true GoDC fashion and give you something you wouldn't find without a fair bit of work (i.e., more work than checking out Wikipedia).
Hains died on November 7th, 1921 and the day after his death, the Washington Post printed this obituary about him.
Maj. Gen. Peter C. Hains, U. S. A., retired, died yesterday morning at the Walter Reed hospital, after an illness of several weeks. He was 81 years old. He served as an officer in the Civil, Spanish and world wars, a record believed to be without a parallel among regular army officers, and during the world war, when he was in command of all the fortifications on Chesapeake bay, it was said that he was the oldest officer in the service.

Gen. Haines was graduated from West Point and was appointed a second lieutenant in the artillery June 24, 1861. He served throughout the Civil War, participating in 30 engagements and two sieges. At the first battle of Bull Run he fired the signal fun that started the battle, and at the siege of Vicksburg, he was on Gen. Grant's staff. During the war he was brevetted three times for distinguished service under fire.

He served throughout the Spanish war as a brigadier general of volunteers, commanding the Second brigade. First division of the First army corps, in two engagements in Porto Rico [sic]. His appointment as major general was recommended by his commanding general at that time. He was appointed brigadier general in the regular army in April, 1903, and retied from active service at the age of 64, in 1904. During the world war he was recalled to active duty and served for two years.

As an officer of the corps of engineers, in which he served more than 40 years, he was engaged in many works of river and harbor improvement throughout the country, and served on numerous boards and commissions. For five years he was engineer secretary of the light house board, at the time when the late Admiral George Dewey was the naval secretary of that organization. In the District of Columbia Gen. Hains inaugurated and carried into effect the reclamation of the Potomac flats, which resulted in converting a swamp of 650 acres into a park and at the same time improving the navigation of the river.
As you can see, this guy had a serious resume. Oh and he was also on the Nicaragua Canal Commission (obviously, this one wasn't built) as well as the Panama Canal Commission. He was instrumental in successfully arguing for the Panama route over the Nicaragua one.
Also … an officer during World War I in his 70s? Wow.
In the 1920 Census, he is listed as owning his residence at 818 18th St. NW, which would put him conveniently close to the Farragut West stop and very close to the food trucks at Farragut Square.
There you have it. Hains point is named for Maj. Gen. Peter C. Hains, veteran of three major wars, turned the Potomac Flats into a park and pretty much decided the route for the Panama Canal.