This is an interesting article that we came across in The Washington Post, Times Herald from May 30th, 1962. At the time, there was much debate about the proposed Watergate Towne complex set to be built along the banks of the Potomac River.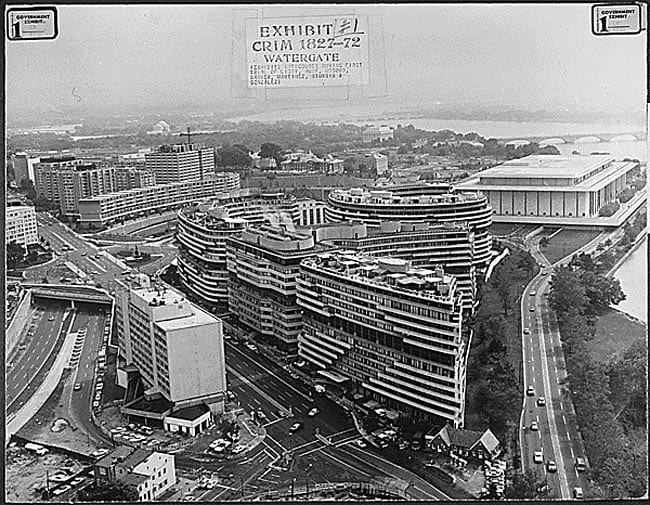 Source: Wikipedia
The zoning regulations of the time only permitted structured to be built up to 90 feet along the river. However, the developers claimed that the project would not be economically viable without going up to 130 feet, potentially scuttling the development.
Below is the article from the paper.
The District Zoning Commission yesterday gave a tentative go-ahead to a request that part of the proposed Watergate Towne apartment complex be allowed to reach a height of 130 feet.

The Commission temporarily deferred granting final approval to the request. But it took action that a Commission spokesman described as a "green light" for the long-delayed proposal to build a 50-million-dollar luxury apartment and hotel development on a 10-acre Potomac shore site in Foggy Bottom.

What the Zoning Commission did was to accept the principle of an agreement between the project's developers and the Fine Arts Commission that would limit the 130-foot height to 25 per cent of the building complex.

…

Yesterday's action seemed to indicate that the developers finally are nearing the end of their 18-month-long efforts to obtain official approval for their project. Most of the controversy surrounding their proposal has involved the question of how high the buildings should be.

The developers contended that their proposed design–a complex of four curvilinear buildings in a lavishly landscaped setting–would be economically feasible only if the structures could be built higher than 90 feet. This is the maximum imposed by District zoning regulations for buildings in the Potomac area.

The developers' request for a 130-foot exception gained the preliminary approval of the National Capital Planning Commission. But it ran into opposition from the Fine Arts Commission, whose members feared a disruptive effect on the city's skyline.