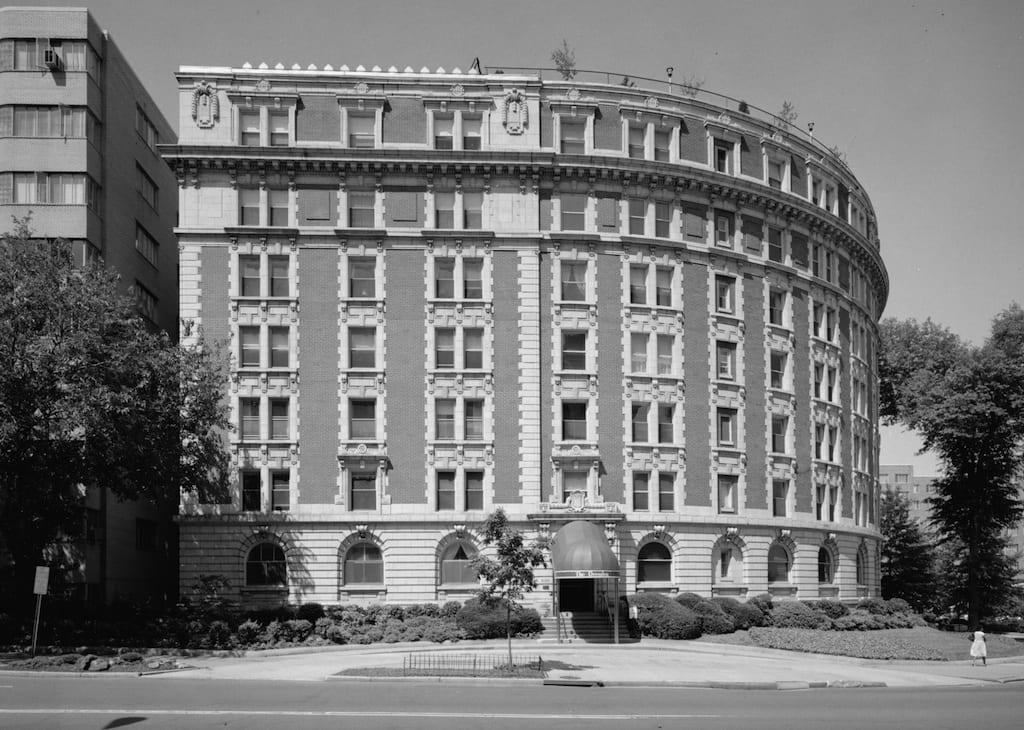 We noticed last week that there were a few searches on our site for The Dresden, that beautiful building at 2126 Connecticut Ave. NW. The building is a step back into old Washington, when grand apartment houses lined Connecticut Avenue, north of Dupont Circle. There is no more appropriate a subject for our next "Three Things …" post than this grande dame, designed by renowned D.C. real estate developer, Harry Wardman.
1. A condo's future is only as good as the past
Here's a really cool advertisement that we dug up in the Washington Post from 1975.
2. Grant's granddaughter, Princess Cantacuzene dies at 99 years old
Did you know that Ulysses S. Grant's granddaughter was a Russian princess? Neither did we. She was also a major presence in Washington high society.
Below is an obituary that we came across in the New York Times from October 7th, 1975.
Princess Julia Grant Cantacuzene, granddaughter of President Ulysses S. Grant, and long a leader in Washington society, died  Sunday at her home in the Dresden Apartment House in Washington. She was 99 years old.

Princess Cantacuzene was the former wife of the late Prince Michael Cantacuzene, who commanded the last regiment at Kiev during the Russian Revolution.

A founder of the Sulgrave Club, she lunched there often until 1970, and frequently held court at her home for Washington's large White Russian colony.

At a luncheon party of descendents of American Presidents in 1970, an invitation to which Alice Roosevelt Longworth declined, saying "I'm cutting down on going out," Princess Cantacuzene remarked, "Cutting down? Well, think of that. Why, she's only 86." The Princess was almost 94.

…

In extensive memoirs Princess Cantacuzene recalled her life in the White House and at the imperial courts of Vienna and St. Petersburg before World War I. She was the wife of  Russian prince for 35 years, and when she returned to her native United States she was active in Republican politics.

…

Julia Dent Grant was born in the White House on June 7, 1876. She remembered the taciturn, brown-bearded President Grant teaching her to make a cat's cradle with a piece of string.

When she grew up, her dark good looks, dancing ability, wit and linguistic aptitude helped her to enjoy the waltzes and gay military uniforms of imperial Vienna when her father was Minister to the Court of the Emperor Francis Joseph in the eighteen-nineties.

While at Cannes with Mrs. Palmer, Miss Grant met Prince Michael Cantacuzene, a lieutenant in the Russian guards cavalry. They were married in Newport, R.I., on Sept. 25, 1899, and sailed on a private yacht for a Paris wedding trip.

…

In 1934 she obtained a divorce in Sarasota, Fla., on the grounds that the Prince "failed to show interest in matrimonial duties." He died in 1955 at the age of 79.
3. Dresden rent hike favored
Today, you're looking at over $700,000 to buy a condo in the Dresden, and that's for a small, two bedroom. Back in 1948, an article was published in the Washington Post, talking about a rent hike for the building. Below is an excerpt from the article.
Rent increased averaging 7.36 per cent for the Dresden Apartments, 2126 Connecticut ave. nw., have been recommended by an examiner for the Office of Administration of Rent Control in the District.

The B. F. Saul Co. had asked for rent increases totaling $10,077 in the apartment's 61 units, which represented an average increase of 14.7 per cent.

the total increases recommended by Den K. Lane, the examiner, total $5049. Rents which have ranged from $35 a month for three rooms and a bath to $175 a month for nine rooms and three baths will run from $37.50 to $1875.50 under the recommendation.