I was going to go with a title about Canadians coming in peace this time, but I did not want to re-start the old "who burned down the White House?" argument all over again.
Indeed, Canada has a massive embassy on Pennsylvania Avenue. [And they used to party it up on July 1 and give out free Kokanee!] But it opened in 1989. Too recent.
[Non-D.C. digression: I mean, 1989 was the Bay Bridge Series. I remember thinking "I'm missing the first inning!" and was walking toward the exit area of the old California Academy of Sciences building in Golden Gate Park, when the earthquake struck.]
So, I went back to try to find Canada's first diplomat posted to Washington, DC. From the February 16, 1927 copy of the Washington Post, I present: Vincent Massey (and wife).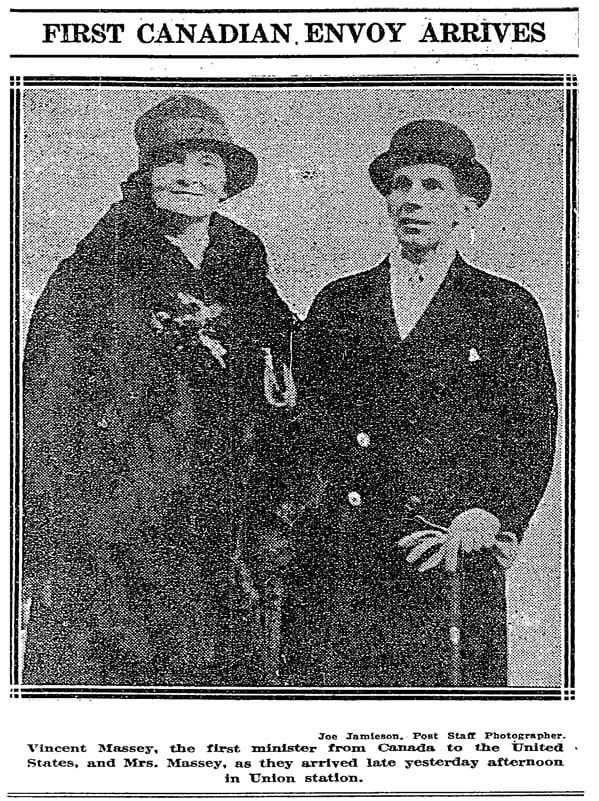 Facts from the article:
The first foreign country that Canada established official diplomatic relations with was the U.S.
King George of Great Britain technically had three envoys in Washington, DC. (The others being Sir Esme Howard, British Ambassador and Professor Timothy Smiddy, Irish Free State Minister.)
The Masseys lived in the Mayflower Hotel temporarily.
The first offices for Canada were located at 1757 N Street NW.
Vincent Massey traced his ancestry to 17th c. colonists in Salem (probably Massachusetts), until the family later moved to Canada.
The phenomenon of "new" countries being brought into diplomatic society was certainly a big deal in the 1920s, an even bigger deal in the era of decolonization in the 1950s and 1960s, and again at the end of the Cold War in the 1990s. What's different, and what's similar, when new diplomatic relations are set up? What do embassies and their staff have to do, to be accepted into their new community here in DC? How do they 'fit in' as the new kids in class?
Not only get into town with some pomp and set up an office near Dupont Circle. Perhaps, they have to do things like participate in EU Open House day, as Bulgaria and Romania did when they joined the EU in 2007.
Also, note how Mrs. Massey is wearing her hat (and her sly smile directly at the camera). Yes, let us return to more portraits in the DC diplomatic circle in the final installment.