This is the second post in a four-part series covering the colorful homes on Cliffbourne Pl. NW, between Calvert St. and Biltmore St. This one is the brightest of the set and it really stands out on a sunny day. Let's now look into the second home … the one at 2513 Cliffbourne Pl. NW.
Who stole my jewels?
Ollie Seaton was arrested in June of 1913 on charges of stealing three diamond rings and a small diamond necklace from Mrs. William S. Holtzman of 2513 Cliffbourne Place. Ollie, a 19-year-old from West Virginia, was working as a servant in the household at the time.
Mrs. Holtzman was preparing to head out that evening when she noticed her jewelry was not in the bureau drawer where she had left them. She immediately phoned the police headquarters, notifying them of the theft and stated that they were valued in excess of $600.
Detective McNamee arrested Ollie Seaton, a white girl, 19 years old, who has been a servant in the Holtzman household since last February. On reaching headquarters, she told McNamee, he says that she would show him where the jewelry was if he would take her back to the house. The girl is alleged to have said she had picked the rings up from Mrs. Holtzman's bed and laid them on a table. Not finding them after the return, the girl is declared to have said she remembered having placed them in a trunk. A ransacking of several trunks was fruitless, and she was sent to the house of detention.

The girl told Lieut. Hartley that she was brought up in an orphan asylum in West Virginia, and was employed as a nurse in a founding home before coming to Washington.
The mother of the year for 1953
Back in 1953, there was an award handed out for The District's "Mother of the Year." I'm not sure who sponsored this award or what the judges would be looking for in an award winner, but that year it was won by Mrs. Willoughby G. Chesley, 78 years old and resident of 2513 Cliffbourne Pl. NW.
Mrs. Chesley was a tall, energetic and dignified Washington woman, with three successful adult sons … not to mention that she was a sixth generation Washingtonian (that probably puts her family in the District almost at its founding). Her sons were scattered up the Eastern seaboard, with her oldest, Willoughby Sprigg Chesley living in Larchmont, New York, working as the president of an advertising firm, the middle son Frederic Francis Chesley in Syracuse working as an attorney with General Motors and the youngest, Castleman de Tolly Chesley of Whitford, Pennsylvania, working as an executive at the University of Pennsylvania.
Castleman de Tolly Chesley? Now that is a seriously aristocratic name.
Mrs. Chesley's husband passed away at the ago of 80 in 1947. He was a lawyer and a banker in Washington. Willoughby Chesley was a well-educated man, having attended Columbia and George Washington University, being one of the 10 graduates in their inaugural class of law. In the 1950s, Mrs. Chesley was living in the home with her sister, Mrs. Charles W. Hendley, of Baltimore, widow of a prominent coal exporter.
By the way, here's  great photograph of Mrs. Chesley attending a baseball game with President Woodrow Wilson. Clearly the Willoughby family ran in the upper echelons of Washington society.
Filling in the gaps
Here are the shorter stories from 2513 Cliffbourne Pl. NW.
In the Washington Post society column of September 15th, 1909 a brief excerpt mentions two new Washingtonians that have taken up residence in the home.
Maj. and Mrs. Evan M. Johnson, jr., have arrived in Washington, and have taken a house at 2513 Cliffbourne place northwest for the winter.
The crime blotter in the November 29th, 1915 Washington Post noted that a boys overcoat and hat, valued at $25 was stolen from the Sunday school room of Church of Ascension. The theft was reported by Mrs. W. F. Chesley — the 1953 District Mother of the Year — who apparently lived in the home for at least four decades.
Here's an interesting short notice in the society column from January 8th, 1916.
Mrs. Willoughby S. Chesley, 2513 Cliffbourne place, will be assisted byher mother, Mrs. Wm. F. Holtzman, at her first "At home" Saturday, January 8.
Interesting … looks like this was a home that stayed in one family for quite some time.
Check out the site after lunch. We'll be posting the stories about the red house. If you want to stay connected, you should follow us on Twitter or Facebook.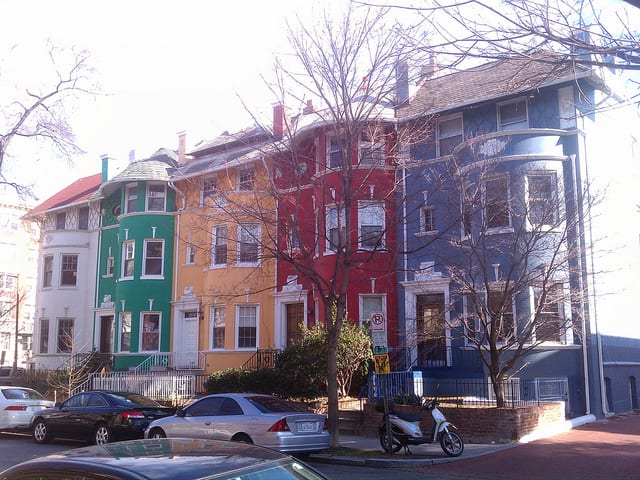 Related articles