This fascinating photograph captures a moment in history that is hard to imagine today. The image shows the Tidal Basin in Washington D.C. completely frozen, with many individuals enjoying the frozen surface by walking or skating on it. In the distance, the Bureau of Engraving and Printing can be seen, providing a unique perspective on the capital city in the past.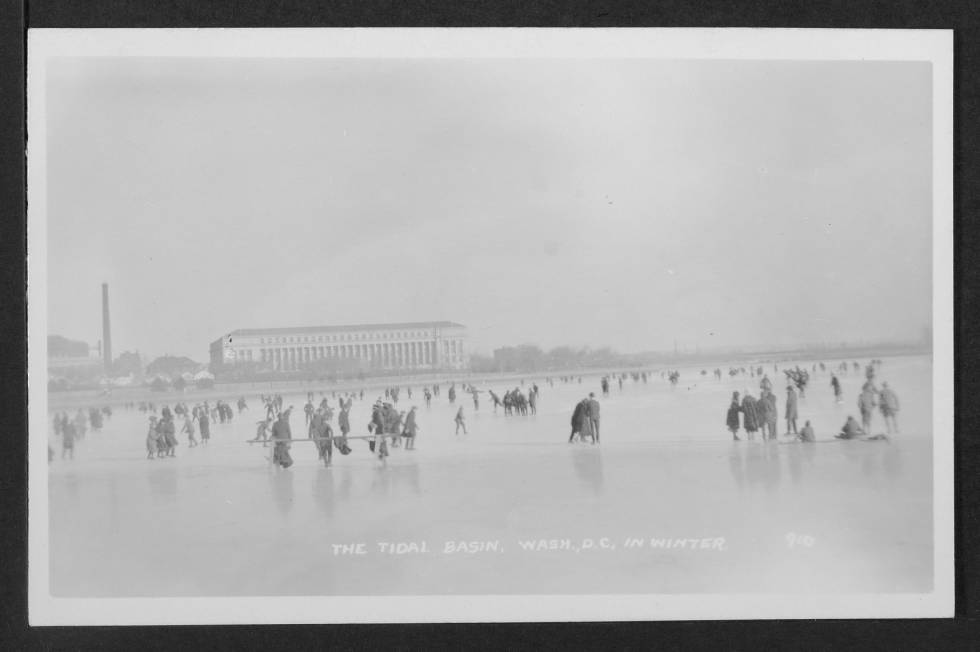 The Tidal Basin is a partially man-made inlet that connects to the Potomac River and is a popular tourist attraction in Washington D.C. The basin is most well-known for the stunning cherry blossom trees that line its banks, a gift from Japan in 1912. The Tidal Basin is also home to several important monuments, including the Thomas Jefferson Memorial, the Martin Luther King Jr. Memorial, and the Franklin Delano Roosevelt Memorial.
However, this photograph offers a glimpse of the Tidal Basin in a completely different light. Today, the Tidal Basin remains a popular attraction year-round, with many people visiting it to enjoy its natural beauty and the monuments that surround it. However, it is rare for the basin to freeze over completely, especially in recent years with milder winters becoming more common.
The photograph raises many questions about what life was like in Washington D.C. at the time the image was taken. What did people do for entertainment during the winter months? Did they enjoy ice-skating and other winter activities? What other parts of the city froze over during cold spells, and how did it impact daily life for residents?