This is the first in a four-part series of posts covering the colorful homes on Cliffbourne Pl. NW, between Calvert St. and Biltmore St. You've seen these before, the green, yellow, red and blue homes, perfectly complementing each other. I imagine that I'm not the only one curious about the history of the four houses in this rainbow row of historic homes. So dive into the first home … the one at 2515 Cliffbourne Pl. NW.
The Speech Reading Club of Washington
In April of 1927, the home was serving as the clubhouse for the Speech Reading Club of Washington. Miss Frances Harrod Downs was going to represent the club at the national speech reading tournament that July in Chautauqua, New York which was organized by the American Association of Organizations for the Hard of Hearing.
The club was founded in 1920 and incorporated in 1924. Below is an excerpt from the Washington Post about its mission and core values.
It's objectives were to promote the study and development of the science and art of lip reading as a substitute for normal hearing, to create a center for the deaf and hard of hearing where social intercourse and opportunity for the practice of lip reading and mutual helpfulness may be encouraged and provided and be an active instrument of helpfulness to the deaf and hard of hearing.
They offered regular lip reading classes every Tuesday evening at 8 p.m., card game parties on Saturday nights and social gatherings on Monday evenings.
Queen of the Cherry Blossom Festival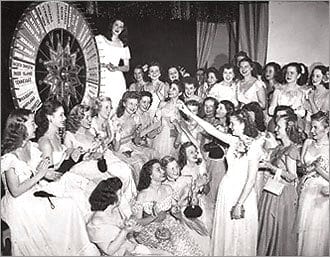 The Washington Cherry Blossom Festival is always a big draw, and even more so back in the 1940s. By 1948, World War II had slowly started slipping into the past and that spring, 150,000 visitors were on hand for the crowning of the Cherry Blossom Queen at Hains Point.
Mrs. Louisa Sheldon of Wilmington Delaware was the proudest attendee, as she had brought her 16-year-old daughter, Doris Sheldon, to Washington for her coronation as the festival's queen.
At the ceremony that April afternoon, Doris was being escorted by her uncle, Navy Chief Petty Officer Kenneth G. Hayden of the Washington Naval Gun Factory.
At the time, Hayden resided at 2515 Cliffbourne Pl. NW with his wife.
A modern-day rooming house
Boarding and rooming houses seem to have fallen out of favor in large American cities, but if you read this post, you might think that it would be a good idea to bring them back.
Back in 1987, the building was a rooming house with nine rooms for rent.
Below is an excerpt from an article in the Washington Post about the conflicts brewing over allowing rooming houses, inns and bed and breakfasts in residential neighborhoods.
Owners of rooming houses, who have the same certificates of occupancy as the inns, have their own reasons to be furious. Mary Godwin owns a nine-unit rooming house at 2515 Cliffbourne Place NW and for 15 years has had long-term tenants. Restricted by rent control measures, the rooms rent for about $240 per month. Godwin said she found it hard to believe that Kalorama Guest Houses and the Adams Inn seem to be growing, after city officials informed her that the anticonversion law prevents her from turning her building into an inn.
Filling in the gaps
Here are some shorter stories from our research.
A happy notice in the Washington Post on April 12th, 1936 mentions that a marriage license was granted to William Austin Calvin, 38 years old, of 2425 1st St. NW and Iranell Marian Jester, 27, of 2515 Cliffbourne Pl. NW and their marriage ceremony would be presided over by the Rev. Wiley Westray.
Back in 1948, a young man by the name of Robert Simms lived in the house. He had a photo in the newspaper around Christmas, while he was working at a Christmas tree lot at 1324 13th St. NW. Much like this winter, it was an unseasonably warm 60 degrees around the holidays.
In keeping with the abundance of traffic accidents in the District, here's one I came across from August 18th, 1952.
Frank H. Glugston, 17, of 2515 Cliffbourne pl. nw., suffered a bloody nose when his automobile went out of control in the 3800 block of Porter st. nw. and caromed off three parked cars. His passenger, David Atkinson, 16, 0f 3801 Macomb st. nw., was also treated for a bloody nose at Emergency Hospital.
My guess is that the teenagers were horsing around while driving, Frank was distracted and slammed into some parked cars. Come on … they're teenagers. Teens are horrible drivers.
Check back later today for the post on the yellow house. If you'd like to be notified, why not follow Ghosts of DC on Twitter or Facebook?