Wow, this one is gold. Jimi Hendrix played the Washington Hilton on Connecticut Ave. NW — the same one where Hinkley shot Reagan in 1981. That's right, the guitar god himself played to 4,000 fans in the hotel's international ballroom on March 10th, 1968, accompanied by his bandmates, Noel Redding (drums) and Mitch Mitchell (bass). This one might be cooler than the Beatles playing D.C. in 1964, but I don't want to spark a giant musical debate. They're both awesome finds.
Check out the photo below of Jimi tearing up the stage.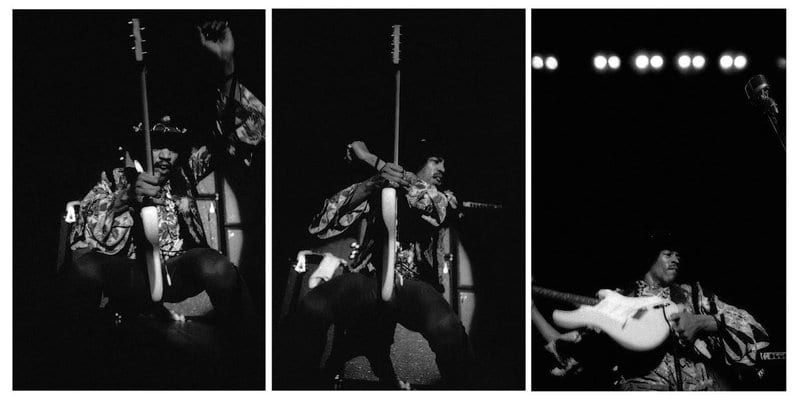 Take a look at this concert promotion poster. We don't have posters like this stapled to utility poles in Adams Morgan or Capitol Hill these days. And I would gladly pay four bucks to see Hendrix. It's also amusing to see you could buy concert tickets at the Willard.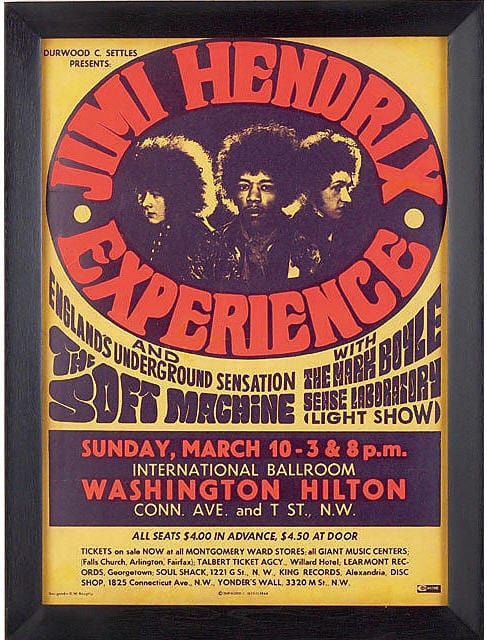 Jim Hoagland, winner of two Pulitzers, wrote an interesting review of the show the next day in the Washington Post. Here are a few excerpts:
Hendrix and his two side men are making their first American tour since becoming England's most popular rock group. Part of yesterday's crowd was composed of two planeloads of his fans from New York who were shut out of his sell-out shows there last week. He is, in short, the hottest thing going.

The 22-year-old guitarist and vocalist, who was born in Seattle, became an instant legend in junior high school classrooms when, in a moment of crowd hysteria, he burned his guitar at the Monterey pop festival. The question kept circulating yesterday, in anguished tones, "Is he going to burn it?"

He didn't. But he didn't disappoint the crowd either, with his wildly sexual gyrations and to-hell-with-it attitude. He is bad, and teen-agers love him for it. He is more evil than Elvis ever dreamed of being, and teen-agers know that it infuriates their parents.

…

Jimi Hendrix is the P. T. Barnum of rock. He assesses, and fills, the needs of his crowd.
This would have been an incredible concert to go to. Frankly, any Hendrix show would have been great.
By the way, one somber fact about this show is that it predated the assassination of Martin Luther King Jr. and the resulting D.C. riots by a little over three weeks.
Below is a CD cover I found off of a bootleg from the first show that night (they played at 3pm and 8pm). Thanks to Jotavich over at Blogger for this one. That setlist looks pretty sweet, even if it's short … probably an hour is my guess.
Killing Floor
Foxy Lady
The Wind Cries Mary
Fire
Red House
I Don't Live Today
Purple Haze
Wild Thing