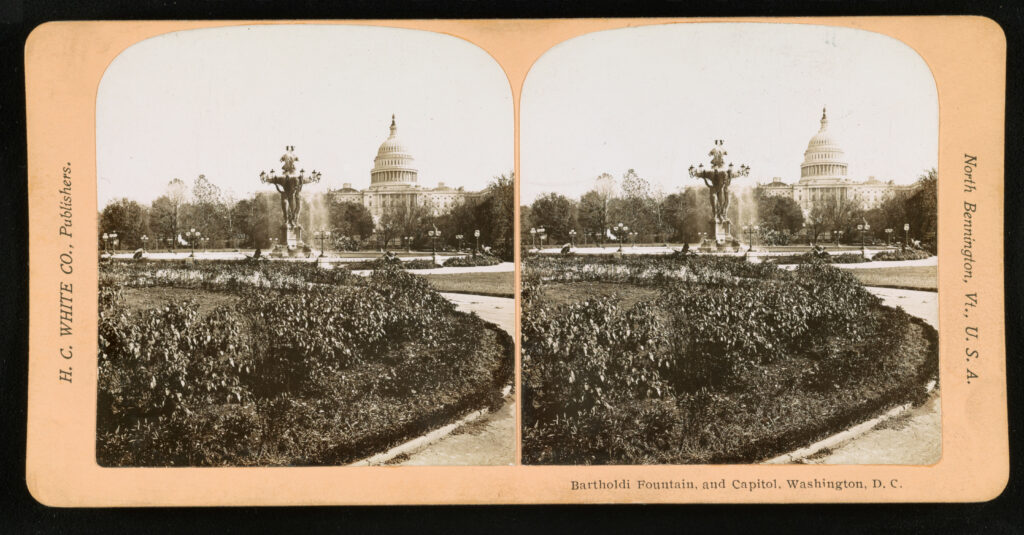 The Bartholdi Fountain of Light and Water on Capitol Hill was originall cast for the 1876 Centennial Exposition in Philadelphia. In found its way to Washington when Congress purchased it for $6,000 at the suggestion of Frederick Law Olmsted, the famous landscape architect who also design the Capitol Grounds.
It attracted an immense amount of fanfare and attention due to its beauty, especially at night as it was lit up by gas lamps. So much so, that prominent Washingtonians were rumored to be lobbying for its move to their neighborhoods to beautify their own properties.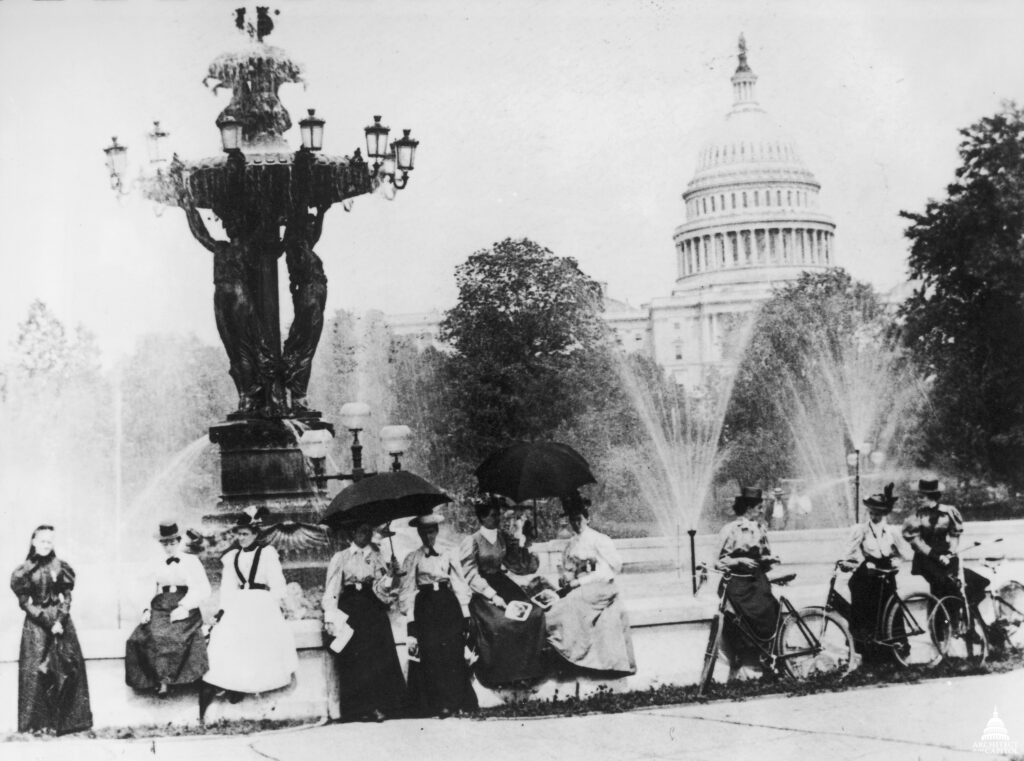 One of these was the powerful Secretary of State in the Garfield administration, Senator James Blaine of Maine. He built a lovely — and still standing — mansion right on Dupont Circle. Below is a short conversation covered by The Washington Post on July 30, 1881.
About a month ago Secretary Blaine sent for one of the leading officials in the District government. To him, a man of authority, he said: "I should like the circle (Dupont Circle, isn't it?) in front of my new house improved. It is a Government reservation, isn't it?"

"Yes."

"Well, it is in bad condition. The concrete walks ought to be replaced and the lawns ought to be resodded. Then there ought to be a new fence around it. Trees should be planted and some parterres of flowers. Then you ought to put a fountain or a statue, or something of the sort, in the centre of the circle."
What follows is an interesting potential twist of fate which altered the course of the circle's history. The circle was still technically called Pacific Circle, not to be officially renamed by Congress until 1882 and a statue placed in the middle dedicated to Samuel Dupont in 1884. So what was suggested in the conversation Blaine had very well could have happened, if history played out a little differently.
"I say, why can't you move the bronze fountain in the botanical gardens down by the Capitol, the Bartholdi fountain, you know, that attracted so much attention at the Centennial, and has attracted so little since, up to Dupont Circle? It is only a mile or two."

"There's just one thing in the way. We haven't water enough on high levels like Dupont Circle for a fountain…because our water supply is too meagre [sic]…we haven't a big enough dam in the river, or a big enough reservoir, not big enough pipes. We haven't been able to get them from Congress, hence the upper part of the city suffers for water…if we get the appropriation, we can soon supply the need."

"We must look into that," said Mr. Blaine, thoughtfully. Then after a pause, "Why can't we go up and look at your water works?"
The men agreed to go the next Saturday, July 2nd, 1881. Senator Blaine was at the Baltimore and Ohio railroad station with President Garfield that day when Charles Guiteau approached and shot the president. Alas, no Bartholdi Fountain in the middle of the circle. But, eventually it did get a statue and a fountain.