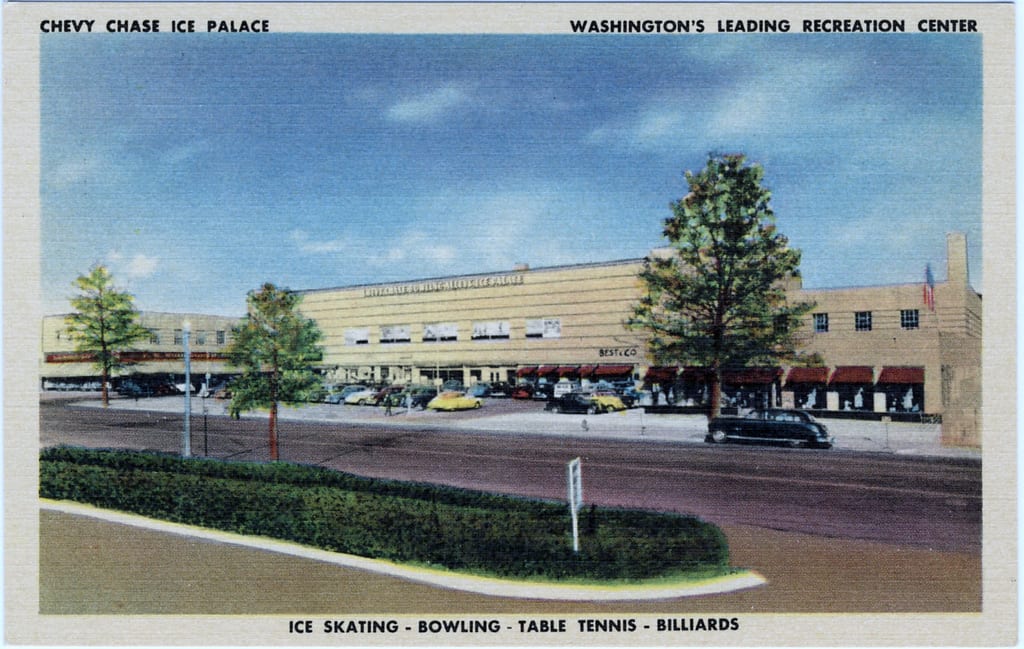 Source: Streets of Washington
When the Chevy Chase Ice Palace and Sports Center opened on Nov. 23, 1938, it became an instant sensation.
On opening day more than 2,200 people hit the indoor skating rink, bringing in $4,000 in profits for the owners, Kass Realty, according to John DeFerrari's fascinating book 'Lost Washington DC.'
"Flashing their shining blades to the swaying rhythm of waltz time flung out over the poublic address system these enthusiasts of the skim and glide sport jammed the rink to capacity," the Washington Post reported.
For a decade or so, the Chevy Chase Ice Palace was at the center of a huge DC skating boom, attracting champion Canadian speed skater Norval Baptie as its chief ice skating instructor and the dazzling DeLories Ziegfield (niece of the Broadway impressario Florenz Ziegfield) as an instructor, according to DeFerrari.
The ice palace was the centerpiece, but there was much more to the Art Deco-style shopping center, including an F.W. Woolworth five and dime, an A&P grocery, Peoples Drug Store, and Washington's first Best & Co. clothing store.  The sports center on the lower levels included a large, 41-lane bowling alley, a pool hall and ping pong tables as well as the city's lone indoor skating rink.
In 1938, the Connecticut Ave center was a glitzy newcomer, one of several strip malls which sprung up along the main commuter arteries into the city.  Generally they were strategically placed on the outbound side 0f the avenues to make it easy for drivers heading home from work downtown to pull into the parking lot and shop.
The ice rink filled the entire second floor of the Chevy Chase Center which was built into the side of a steep hill and had several below ground floors.
The shopping center, just north of the Van Ness Metro station, remained in operation until late last year when demolition work began to prepare for a new retail/apartment complex on the site.
However, the heyday of Chevy Chase as a skating mecca ended abruptly in 1950 when WMAL-TV (Channel 7), owned by the Evening Star Broadcasting Co., leased the spacious second floor for its new television studios.
"Three TV studios were constructed in the space formerly occupied by the rink," DeFerrari writes.  Over the years those studios were home to many memorable broadcasts including the popular Claire and Coco children's show, Ruth Crane's 'The Modern Woman' and Jimmy Dean's 'Town and Country Times,' a variety show hosted by young country singer Jimmy Dean.
We wrote a while back about Dean's bizarre interview with a "very nervous" Elvis Presley on March, 1956.
Alas, the wrecking balls have been at work in recent weeks demolishing the one-time home of the Ice Palace, the TV studios and the rest of the shopping center.   Now only fond memories remain.
Below is a series of photos from the Library of Congress, all taken in November 1942.