May 20th, 1927, Charles Lindbergh takes off from Long Island, heading east in the Spirit of St. Louis and lands in Paris about 33 hours later, completing the first solo flight across the Atlantic Ocean.
Almost exactly 47 years later, on May 24th, 1976, two supersonic Concorde flights are heading west at twice the speed of sound. One from Paris and the other from London, both land at Dulles Airport within three minutes of each other. By the way, Lindbergh almost lived to see this, but unfortunately died in 1974 at the age of 72.
Concorde arrives in America
Concorde (properly referred to without the use of the article 'a' or 'the') had officially arrived in America after much protest and heated debate. It was the dawn of new age in passenger air travel as both British Airways and Air France commenced regular supersonic transatlantic flights.
The trip over the Atlantic was around three hours of flight time, barely enough to have a nice meal before you had to put everything away for landing. You could now, literally, have breakfast at home, lunch in Paris and be home in time for dinner with the family … the future had arrived (in hindsight, only 20 Concordes were ultimately built and after the tragic Paris accident, the jet was doomed).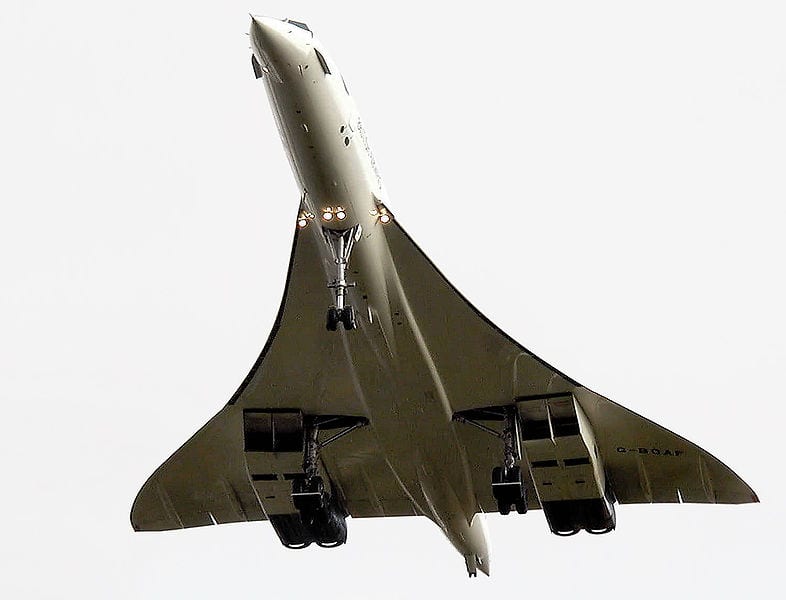 The two inbound flights and their arrivals at Dulles Airport was a really big deal. Thousands of people had gathered in anticipation, awaiting the arrival — back in the day when it was still cool to hang out at the airport observation deck. Souvenirs were being sold commemorating the day.
I should add however, that the first Concorde flight to the region was actually French President Valery Giscard d'Estaing, who took the jet from Paris to Andrews Air Force Base on his first official visit to the United States. This was obviously a symbolic decision to demonstrate French superiority in aerospace engineering (even though it was massively subsidized to the tune of $3 billion each by the British and French governments and was a complete financial disaster).
Getting federal approval to fly Concorde
It was not an easy road to get approval to fly Concorde into U.S. aerospace. Not until Secretary of Transportation, William E. Coleman, Jr. gave official permission for four flights a day into Kennedy Internal in New York and Dulles International outside of Washington on a 16-month trial basis. The flight into Dulles preceded what should have been a natural inaugural transatlantic flight into New York (Lindbergh symbolism), because of major opposition by the Governors of New York and New Jersey.
There were some very vocal opponents of this move in Congress as reported in the Washington Post on February 5th, 1976.
At the same time, a move is being made this morning in the Senate Commerce Committee to attach to an airport financing bill an amendment to ban Concorde flights permanently into the United States. The House last year prohibited the flights from Kennedy.

A bill was introduced by Senator Dale Bumpers (D., Ark.) to deny all federal aid to any airport that allows the Concorde to land on a regular commercial basis. Senator Gaylord Nelson (D., Wis.), who is leading the Senate fight against the plane, said he would press for a Senate bill to overturn Mr. Coleman's ruling.
Okay, seriously? I don't see why they needed to oppose this. It's not like the sonic boom is ever going to impact the residents of Little Rock or Milwaukee. Coleman had a great quote in the paper, which is directed towards lawmakers with an attitude similar to the Senators Bumpers and Nelson.
"… Concorde will fail because it is an anachronism, and its failure will be recognized as such rather than attributed to an arbitrary and protectionist attitude of the United States out of fear that our dominance of the world aeronautical manufacturing market is threatened."
So, he was clearly taking the long view in his answer to congressional opposition and, what was likely, a fierce lobbying campaign from the domestic aerospace industry (i.e., Boeing & McDonnell Douglas). I suspect that both these giant companies had a significant economic footprint in Arkansas and Wisconsin, leading to this odd but vehement opposition.
Interestingly, Secretary Coleman had a number of stipulations in granting permission, including flying only between 7 a.m. to 10 p.m., the flights must remain subsonic over United States land and both Heathrow and Charles de Gaulle airports must be used for departures so that residents of London and Paris will be subject to the same noise impact as those of the United States.
Okay, that sounds fair to me. If you want to send your fancy jets over here, you need to suffer the same noise pollution.
Even with a clear path, opposition continued up until the day before the scheduled flight. Officials from Fairfax County went all the way to the Supreme Court and Justice Warren E. Burger, requesting a stay on the Secretary of Transportation's order to permit flights into Dulles.
Fairfax County complains about Concorde noise
A group of Fairfax County citizens complained that the plane was too noisy and environmentally damaging. They were heading to the airport the following day to stage a protest, claiming that the government had failed to fully evaluate Concorde's potential adverse effects on the region.
The Washington Post reported the day after the landings that it was a festive and celebratory atmosphere at Dulles Airport with nearly 8,000 people in attendance to witness the flight arrivals.
The British and French were welcomed to Washington by John W. Barnum, deputy secretary of transportation. Captain Calvert and Capt. Pierre Dudal, of the French Concorde, presented their flight plans to the National Air and Space Museum of the Smithsonian Institution.

"A memorable date has just been added to those marking the long history of transportation and the much shorter history of aviation," Marcel Caville, France's minister of transportation declared.

"On this date-May 24, 1976-the distance separating the European continent and North America has in a single step been cut in half," he said.
There was a mild scare on the approach of the British Airways flight, as a small single-engine aircraft came within 400 feet of the inbound flight (a really close call in flight terms).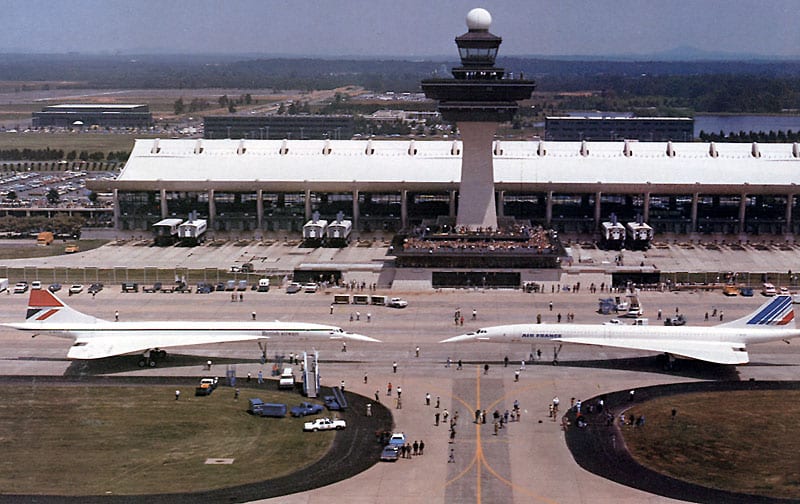 The following day the two jets took off from Dulles, one bound for London and the other for Paris. Hundreds of reporters, photographers and FAA noise monitoring personnel lined the runway for first departure, Air France. The measured decibel level of the takeoff was two and a half times louder than conventional subsonic jets. Knowing the major sound impact his plane would have upon takeoff, British Airways pilot Norman Todd decided to use a different runway, so he would not fly over nearby neighborhoods. When asked by the tower why he was changing, the Washington Post reported:
… because "it is preferable for the community noise reasons." Todd has been asked by FAA officials to use the same runway Air France had used because portable noise monitoring equipment was set up there. Runway selection is by tradition and law the captain's choice.

"We are therefore doing it (changing runways), not in order to avoid observation or anything else," Todd said. "We are doing it because that is the best thing to do."
One nearby resident, Mrs. Puterbaugh, called the Washington Post to report the terrible experience she had of being in the flight path of the jet.
I thought it was horrible…," she said. "My daughter's show horse jumped over a 5-foot fence. She ran around it twice and jumped over … [The pilot] must have gunned it when he got over my house … It was terrifying." Mrs. Puterbaugh said she had to look for her horses and goats after the takeoff, and that some of the goats hid under the truck.
While that's unfortunate for the Puterbaugh family, I find her goat story slightly amusing.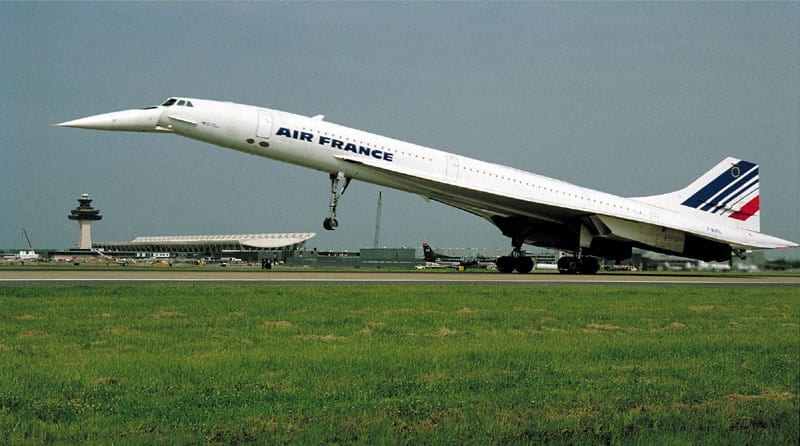 One final anecdote from the inaugural departures is that of Hazel Hoff, an 8-year-old on the Air France flight and the youngest passenger.
She came with her parents, Paul Hoff Jr. and Eula Hoff, and 9-year-old Paul Hoff III. Hoff is a cattle rancher in Wyoming.

Hoff said he wrote Air France in 1972 and asked for reservations, which were confirmed a month ago. The tickets cost him $4,100, he said. Paul III, a third grader, said, "It's going to be a lot of fun and I expect it to be very fast."
Indeed it was fast … twice the speed of sound.
That June, after flights were already landing at the airport, Fairfax County sued the Federal Aviation Administration in their continued effort to halt the flights. They claimed the decision to allow flights into Dulles violated the 1972 Federal Noise Control Act. The opposition was futile as the flights would continue permanently … at least until Air France ended the Dulles route in 1982 and British Airways stopped their flights to Washington in 1994.
Well, this post turned out to be about three times as long as I originally anticipated, so let me start wrapping it up with a last couple of things.
You want to know what a ticket cost to fly on Concorde? In 2000, it was only $4,075 … each way! That's right, $8,150 to fly to Paris and back. What kind of profligate narcissist would pay that much money to jet over the Europe and back in the same day?
On a quick side (maybe ironic) note, the same day the superior French aeronautical technology landed at Dulles was the same day a California wine was judged to be better than a French wine, challenging the notion that France was the epicenter of world best wine making.