Over a century ago Washingtonians woke up and lazily flipped through their newspapers. It was Sunday, November 11, 1906 and something bold and new was described for the first time in The Post:
New Portmanteau Words.
Have you received any invitations to "brunch"? […] "Brunch" is the latest Park Lane for a midday refection that includes breakfast and lunch.
And so began the District's obsession with waking up late and dining on a giant mid-Sunday meal — and perhaps drinking through part of the afternoon.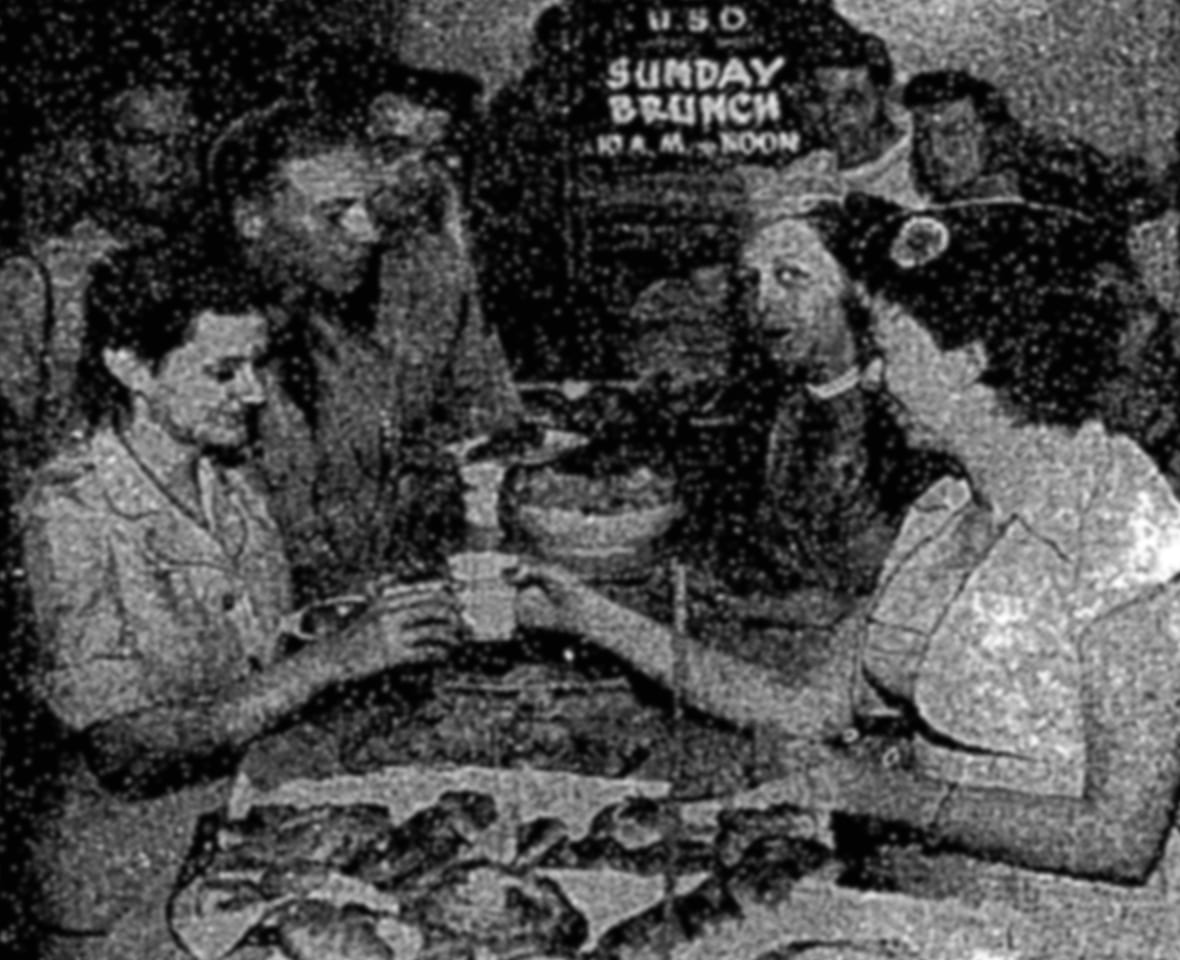 Early Days: Brunching At Home
Brunch wasn't immediately popular. It took more than a century for our town to gain a news outlet dedicated to chronicling the top Sunday spots (spoiler alert: the Bitches Who Brunch are almost always skeptical of a buffet). In fact, brunch wasn't really much of a hot topic until the 1930s.
Here's are the basics in a Post explanation from September 11, 1937:
'Brunch' Replacing Early Breakfasts
A mid-morning meal is taking the place of the early breakfast in many households on Sundays and holidays. This hearty "brunch," as it is called, is filling and adequate unless there are young children in the family who need meals on schedule.

Here is a sample menu that can be varied to suit the needs of the family:

Orange juice
Lamb Kidneys and Bacon
Pan Broiled Tomato Halves
Toasted Doughnut Rings
Coffee
Milk
Fruit Bowl
By the 1950s, homemakers mailed the local newspapers with questions: Can I serve brunch outdoors?; Should eggs be scrambled before guests are seated? In a suggested menu from 1952, The Post recommended serving champagne and minted pineapple juice with kidney stew. It's unclear why kidneys were such a popular brunch suggestion. But booze certainly remained on District menus.
1950s: Bagels & Lox
Another now-requisite brunch pairing gained popularity in postwar Washington. Here are excerpts from one of the greatest pieces of D.C. brunch journalism, 'Bagels and Lox Make Many New Friends As Breakfast Feature at USO Snack Bar' (Post, June 29, 1953):
Bagels (a doughnut shaped, egg-flavored hard roll that has a glossy surface) and lox (thin-sliced smoked salmon) were on the counter yesterday as they are the fourth Sunday of every month at the USO … both are usually eaten with cream cheese.

Yesterday a sailor from Canton, Ohio, proved somewhat gauche with the food at first but a soldier from New York knew how to pitch right in.

The sailor, Apprentice Seaman Don Sharpe, 19, stationed at Yorktown, Va., blithely plunked a square of cream cheese in his coffee. "It was next to the sugar and what else was I to think?" he remarked.

But the New Yorker, Pvt. Herbert Neumann, 21, stationed at the Aberdeen Proving Ground, Md., knew the cream cheese was to sweeten and lubricate the dryness of the parched bagels. "You don't get a bagel and lox breakfast like this in the Army," Neumann said in grateful anticipation.

Norman W. Levine, [Jewish War Veterans] senior vice commander … said he's sure the 100 to 150 servicemen and women who come for breakfast each month are getting to know "what's good."

"When we began, one Marine pointed to the lox and asked what kind of ham it was," Levine recalled. … [This week,] the lox was gone within a half hour.
Service members brunched for free in 1953. Have a look at some local ads for smoked fish below. And note that a bagel with lox will set you back $14.50 today at The Tabard Inn (arguably, the District's top brunch locale).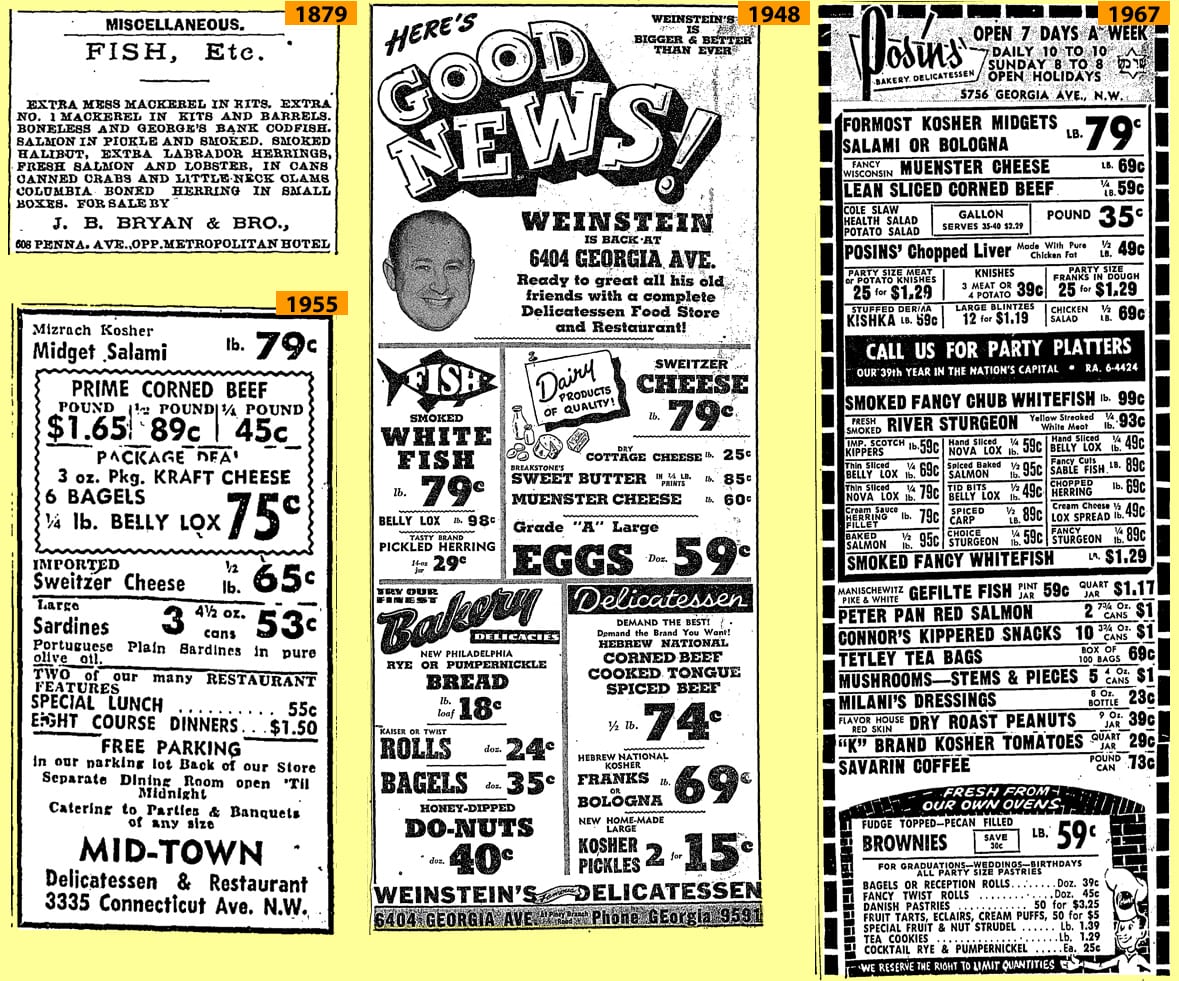 1960s: Roberta Flack Performs at Mr. Henry's Brunch
Roberta Flack was a music teacher in D.C. junior high schools before she ever recorded an album. She earned extra money singing Sunday afternoons at Mr. Henry's on Pennsylvania Avenue. An October 6, 1968 piece in The Post described that particular niche in the brunch scene:
At Mr. Henry's on Capitol Hill the Saturday night 'n' Sunday morning crowd sits around from noon on, nursing Bloody Marys, whisky sours and screwdrivers with their eggs, to the sound of a jukebox while waiting for soul singer Roberta Flack to come on at 4 p.m.
1970s: The Wisdom of Phyllis Richman
Washington's legendary food writer had some timeless observations on the D.C. brunch scene in a 1976 magazine piece:
Well over a hundred local restaurants serve brunch, usually on Sunday only, few of them play by the rules. Rarely do they begin before eleven, and many end late in the afternoon. They might more accurately call their meal "linner." ("Dunch?") And while most of them serve eggs and many more fulfill the pancake requirement with crepes, you are more likely to find a reuben sandwich than waffles, and some brunch menus are as far from breakfast foods as their bloody marys are from teetotaling.
Richman's piece from October 17, 1976 went on to describe the city's best and worst brunches (best: Montpelier Restaurant at the Madison Hotel; worst: the now-defunct Rocky Racoon's in West End) . She expressed her disdain for buffets:
Somehow the brunch concept and the all-you-can-eat concept have been joined in an uneasy marriage in which a lot of bad food is served on a pretty buffet in the apparent hope you will be too hungry or hung over to notice the subtleties.
And Richman provided tips for ordering at several top-notch dim sum brunches:
Ordering is tricky, since the small pink menu is only in Chinese. … Waiters are known to be patient and you can hardly go wrong anyway.
More Brunches Of The Past
Do you work at a restaurant that's served brunch in the District since the 1950s – or longer? We'd love to see some old menus. Tell us about forgotten dishes or long-lost Sunday spots in the comments.
This was a guest post by Aaron, originally published on August 12, 2012 – who always enjoys a hearty brunch (but no Sunday morning booze, please). You can reach him on Twitter at @aaronemyers. His long-time favorite brunch dish is the catfish at Kramerbooks & Afterwords. He thinks Tabard Inn has the city's best brunch menu. Hands down. Other favorites include Creme Cafe and, recently, District Commons. He also really likes that omelet at Open City where they put the hash browns INSIDE the eggs.