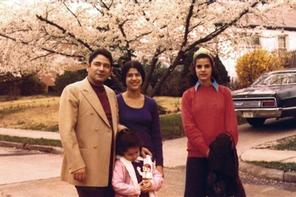 Late at night on July 1st, 1973, Colonel Yosef Alon and his wife, Devora, returned from an Israeli embassy party. They pulled into the driveway of their Bethesda, MD (5519 Trent St.) and exited the vehicle. Alon stopped for a second to grab his jacket from the back seat. Immediately after, a white sedan appeared and several shots were fired, five of which hit Yosef. He was dead, murder in his driveway in the presence of his wife. The normally peaceful, suburban community of Bethesda was rocked by a brazen act of terrorism in their backyard.
Alon was one of the first pilots in the Israeli Air Force, having been commissioned in 1951, and earlier that year he made a special trip back to Jerusalem to fly an F-4 fighter plane with his squadron in celebration of Israel's 25th anniversary. He had been stationed in Washington for the last three years as the Israeli air and naval attaché, responsible for determining what military hardware was to be procured by his government.
Colonel Alon served during the 1956 Sinai campaign and was a commander of an air force base in the south of Israel during the 1967 Six-Day War. His prominence in the Israeli Air Force was theorized to be the motive for the murder, and the suspected organization was Black September (the group responsible for the kidnap and murder of Israeli athletes at the Munich Olympics in 1972).
Something I noticed in one of the Post's articles was this excerpt below:
Within an hour after a gunman's bullets cut down Israeli Col. Yosef Alon in his darkened driveway early Sunday, federal agencies began putting into effect for the first time a nationwide surveillance procedure worked out last year to determine the whereabouts of potential Arab terrorists or terrorist sympathizers.

The procedure was one of two plans formulated late last year by a Cabinet Committee on Terrorism headed by Secretary of State William P. Rogers. It was designed, according to sources familiar with the plans, as a response to terrorist acts of international stature committed in the U.S.
This is notable because it was the first time the nationwide surveillance procedure was put in place, given the world we live in today. I think a lot of the younger folks reading this probably don't know, but acts of terrorism were rampant in the 1970s. There were numerous cases of hijacked airliners (domestic and international), hostage situations in Washington, New York, Chicago and San Francisco, embassy bombings and murdered diplomats.
After a year-long investigation, all leads were exhausted and no charges were filed. The local police and the FBI were unable to gather enough evidence to make a case, so it was dropped that year.
It remains unsolved to this day.
Here is the Google Street View of the home today.