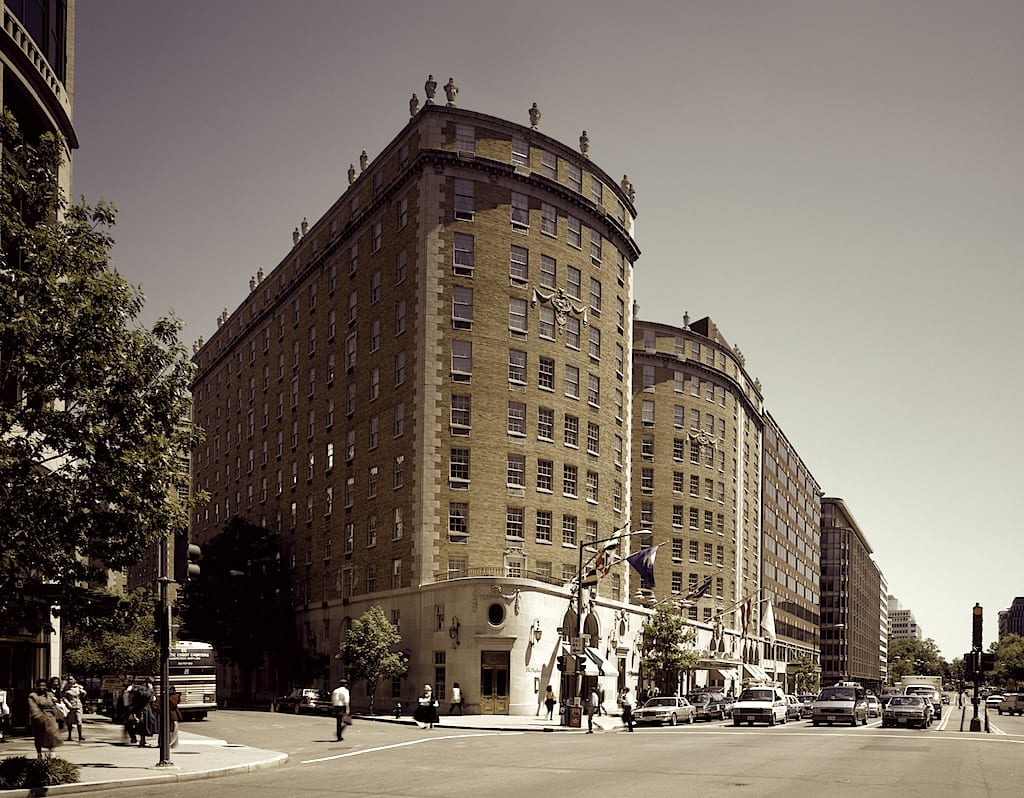 Source: Library of Congress
The "Grande Dame of Washington" has seen so much history that it's difficult to do a post listing just three bit of trivia. Nevertheless, the building that has seen guests like Queen Elizabeth, Winston Churchill, John Wayne and Barbara Streisand, is highly deserving of a little attention.
1. FDR and "Nothing to Fear"
This is one of the most famous quotes in the history of inaugural addresses. The country was in the middle of the Great Depression and had just elected New York Governor Franklin D. Roosevelt to become the 32nd President of the United States. Times were tough and as Roosevelt stayed in suite 776, prior to his inauguration on March 4th, 1933, he penned his famous "Nothing to Fear" speech.
2. Monica Lewinsky
Oh, the late 90s. Those were the days. Our country had a booming economy and we were obsessed with Monica Lewinsky's blue dress.
Eliot Spitzer isn't the only politician to have a salacious connection to the famous hotel … Okay, his story really centered on the Mayflower, but interestingly, in the middle of her media firestorm, Monica stayed in room 860, just a few doors down from Spitzer's client number nine suite 871.
Oh, and in the category of iconic photographs … remember this photo of Lewinsky and Clinton awkwardly close together? It was taken at a 1996 campaign event, held in the Mayflower Hotel. (Who's the random girl on the right?)
3. Walker Hotel and Apartments
The hotel was the brainchild of Allen E. Walker, a local real estate developer. He also happened to be the man responsible for the development of Brookland in Northeast D.C.
At the time that it was conceived, it was to be the largest hotel in Washington and cost $11 million. Ground was broken in July of 1922, but due to cost overruns, Walker had to sell controlling interest in the hotel a few months before the opening on February 18th, 1925. Leading up to completion, the building was to be named the Walker Hotel and Apartments, but with the new owners in place, the name was changed to the Mayflower Hotel. Just a few years prior to opening, the country had just celebrated the 300th anniversary of the Mayflower's landing at Plymouth Rock.
If things were different, would we call it the Walker?
By the way, we dug up Allen Walker in the 1920 U.S. Census. He was living at 1725 L St. NW, just around the corner from the massive building he was constructing.