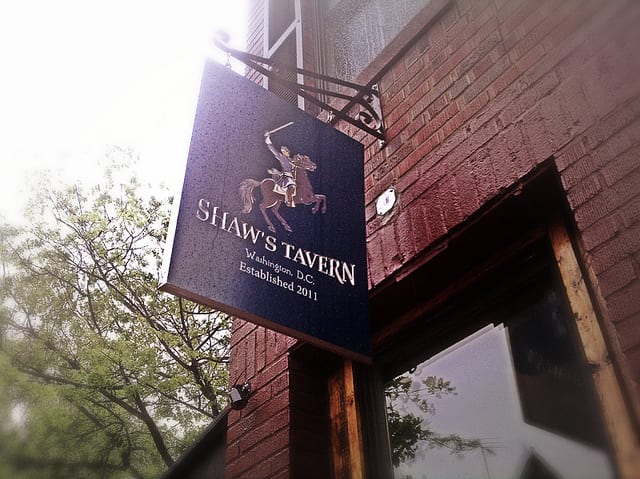 Congratulations to the latest "If Walls Could Talk" poll winner: Shaw's Tavern. Also, congratulations on landing that liquor license. It's been a long road, but the neighborhood and city is thrilled to have this latest addition to the dining and entertainment scene.
The place to enjoy your meals in Washington
The first thing I found for 520 Florida Ave. NW was the advertisement below from the Baltimore Afro-American in the summer of 1928. At the location, there was a restaurant called the Blue Bird Cafe and Tea Room.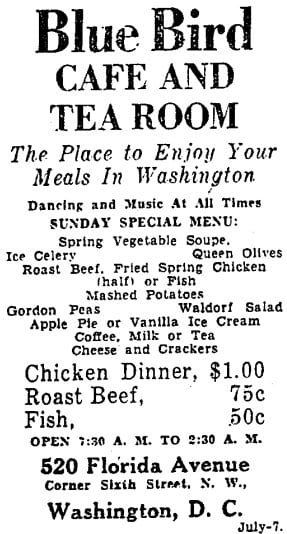 Benny Lerner and the Rainbow Market
Benny Lerner was born in Russia and settled in Washington in the mid 1920s. In 1938, he purchased the Rainbow Market at 520 Florida Avenue NW and operated it with his first wife, Pauline until her death in 1963.
The Washington Post wrote a story in 1942 about Benny which highlighted some illegal business practices he was carrying out. Lerner was fined $100 in Municipal Court for improperly altering the weights on his scale to shortchange his customers. He was caught in an operation by the District Department of Weights, Measures, and Markets. Five undercover purchases were made leading to charges on five counts of fraud.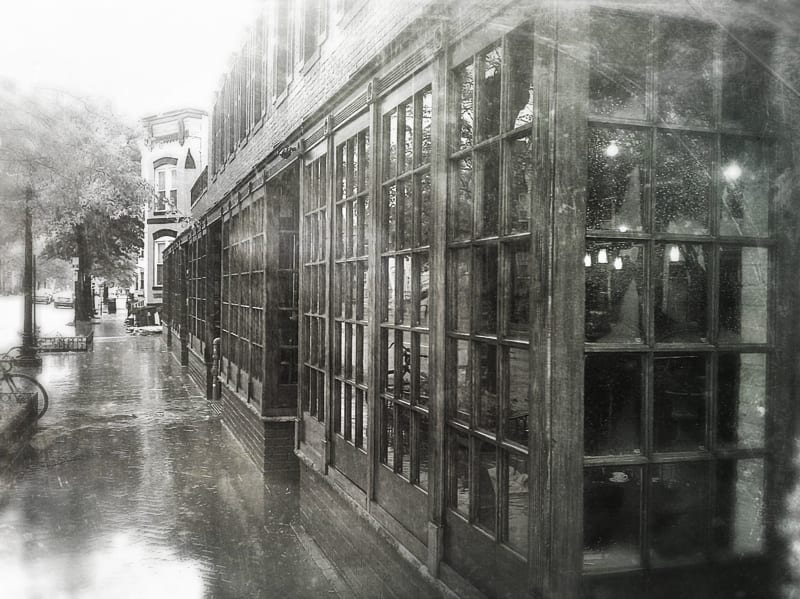 In July 1955, he was the victim of a frightening robbery. The Washington Post reported on July 24th that a gunman had fired a shot and him in a daylight holdup, fleeing with $120 in cash. The robber entered the store, demanded that Benny go to the back of the store near a meat locker while the cash was being taken from the register. Lerner turned to look at the assailant as he exited the store and, at that moment, the gun was pointed at him and the man fired. The bullet barely missed, lodging in a box just above Benny's head.
The store was robbed quite frequently, with another report in 1959 of a man armed with a gun and his partner armed with a knife robbing Benny and Pauline of $140. Another report in December 1947 noted $119 stolen from the cash register.
An odd criminal dubbed the "Baloney Bandit" struck the market in 1949. Private Edward Henderson, a soldier stationed at Ft. Myer. Private Henderson had received orders to deploy overseas to Germany, which was good news, because his fiancee was German and living over there. The bad news was that the Army was not going to send him off without having him settle a $77 debt that he owed at the post.
Henderson was in a hurry to get back and thought he could expedite his deployment by robbing stores and at first, he was quite successful, because he netted $135 in his first robbery. To make a bad idea even worse, he became paranoid that he couldn't pay his debts with this stolen money in one lump sum because it would arouse suspicions, so he concocted the brilliant idea to pay a tiny portion of the debt, spend the rest of whiskey and woman while continuing to hold up additional stores in the area. Well, one of those stores was the Rainbow Market and Benny Lerner .
Why was he dubbed the "Baloney Bandit" … his modus operandi was to enter the store, order slices of baloney, and upon deliver, he would hold up the store.
And another bizarre story I came across was this one from December 2nd, 1960 involving an assault using a hammer.
A grocery store proprietor was in serious condition with a fractured skull last night after a "customer," for no apparent reason, hit him on the head, possibly with a hammer, police reported.

Nothing was found missing in the Rainbow Market at 520 Florida ave. nw., where Benny Lerner, 50, of 727 Emerson st. nw., was struck. He was taken to Washington Hospital Center.
Benny died of a heart attack on July 6th, 1984 and, at the time, was a salesman at the Jewish Book Store of Greater Washington in Wheaton, MD.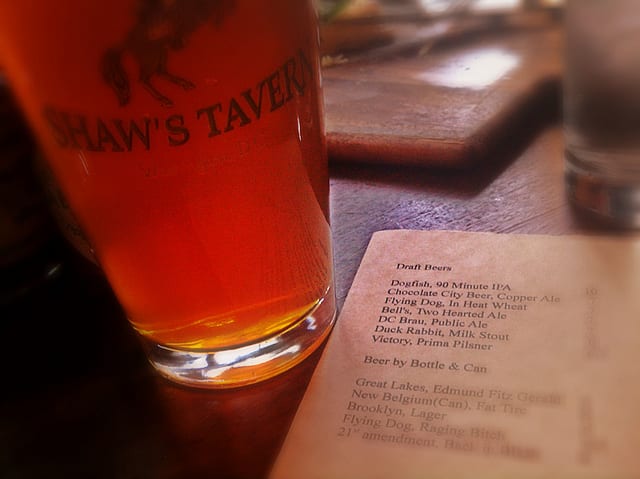 Sadly, I wasn't able to dig up much else on the building in the newspaper archives. The only other mention of the address I found was that Long's Liquors was located there in the mid 1980s.
Do you have any stories about the building? Share your comments below because I'm sure this place is full of them. I can also guarantee that it has plenty of stories to come with the new Shaw's Tavern. I did find this post on Left for LeDroit.