This amazing old photograph shows the intersection of 14th St. and Pennsylvania Ave., where the Willard Hotel sits. It has some amazing details so click OK it to see them.
This great old photo shows the view looking north on 15th St., just east of the White House and Treasury Department. The intersection is with Pennsylvania Ave. Source: Shorpy
Photos like this can suck up an hour of my time. I just love looking at these. Click on it for a larger version. This shows a scene at 15th and Pennsylvania in 1919. In the...
What do you see in this photo of Pennsylvania Avenue? It's an amazing scene from the early 1900s, where you can see the Willard Hotel prominently positioned, as well as the old Washington Post building and...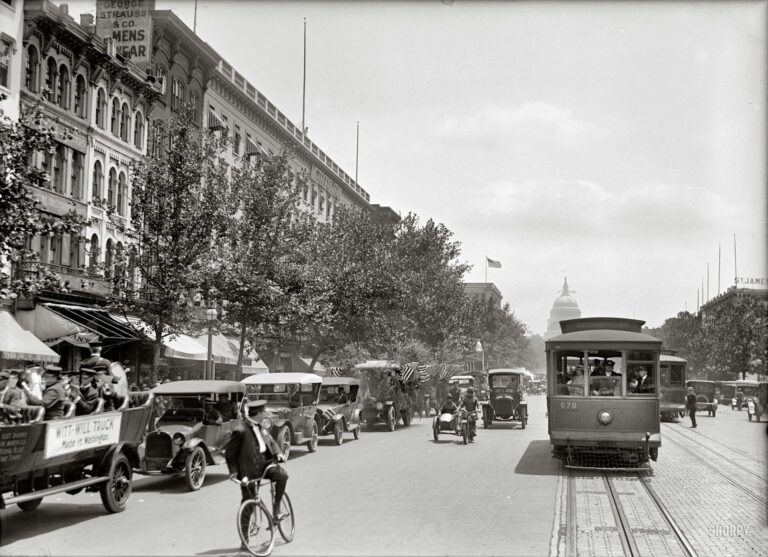 Here's a great old photo of trucks on parade, going down Pennsylvania Ave. towards the White House. Click on it for a larger version. Source: Shorpy Fair weather, it is promised by the weather man, will...
Here's an article from The Washington Post in 1925 about a nasty fire in a candy company building on Pennsylvania Avenue just after Christmas. A Spectacular five-alarm fire in the wholesale candy plant of George J. Mueller,...
When was this photo taken? Can you help date it, because it wasn't properly labeled. It appears to be the view down Pennsylvania Avenue towards the White House from the Capitol Dome. Source: Library of Congress
I'm trying to make out where this is today. 15th, Pennsylvania, and G St. don't really intersect. Can you help out and add your ideas below in the comments? I think we're looking down Pennsylvania, to...
This is such a great old photo. Click on it for a much more detailed version. Source: Shorpy
Check out this incredible view of Pennsylvania Avenue in the 1920s. Source: Library of Congress