What a beautiful drawing from the 1920s. This was done by Susan Brown Chase. Source: Library of Congress
Below is a painting of Brown's Indian Queen Hotel situated on Pennsylvania Avenue. Source: Library of Congress The hotel was located on the northwest corner of 6th and Pennsylvania and was originally run by manager Jesse...
What a cool video! This was a find on the Library of Congress website. Below is the description from the site. "This most excellent picture was secured at the junction of Pennsylvania Avenue and Fifteenth Street....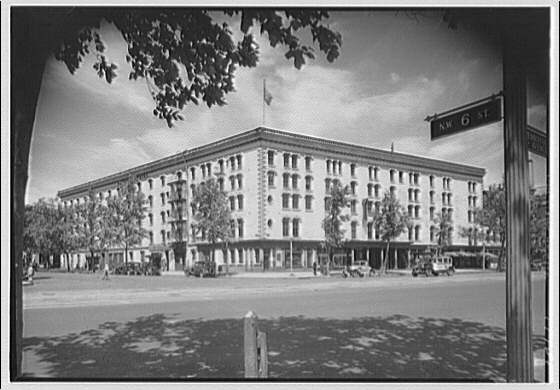 In keeping with the hotel theme this week, we wanted to share a little bit about the National Hotel, formerly situated at 6th and Pennsylvania Ave., across from where the Indian Queen was. The location is...
Seriously. This city has come a long way from lost sheep and cows on Pennsylvania Ave. Check out this print from 1839. Source: Library of Congress
Here are two great old photos from 1913, showing different angles of a traffic stop. The car is a Haynes roadster, which cost about $4,000 at the time. That's about $95,000 today, or the cost of...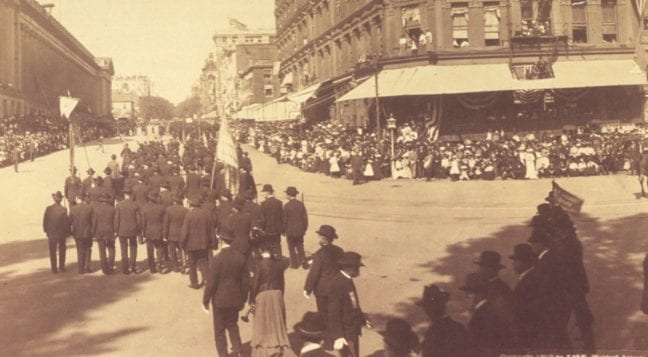 Here is a great series of three photographs from 1902. It depicts a parade of the Grand Army of the Republic going down Pennsylvania Avenue. Source: Library of Congress This was the 36th encampment of the...
Source: Shorpy How beautiful is this photo down Pennsylvania Avenue? This was taken from the roof of the Willard Hotel in 1921, at the intersection of 14th street. And, if you like this photo, take a...
What a great shot of Federal Triangle, looking down Pennsylvania Ave. You can also see the Navy Memorial under construction. Source: Library of Congress
This is a cool old painting from the early 19th century. It shows the Capitol Building as it would have looked during the first decade of the 1800s. Source: Library of Congress