These are old ads and classifieds from Washington, D.C. newspapers.
Source: Library of Congress Here's a cool advertisement from World War I. This was printed in the Washington Herald on February 15th, 1918.
Here's a fascinating article from the Washington Times, printed on April 22nd, 1916. For those of you unfamiliar with The Birth of a Nation, it's a crazy racist film which was banned in a number of...
Wow, remember these days? It's humorous looking at these prices. This is an advertisement from the Washington Post printed on June 25th, 1979. Source: The Washington Post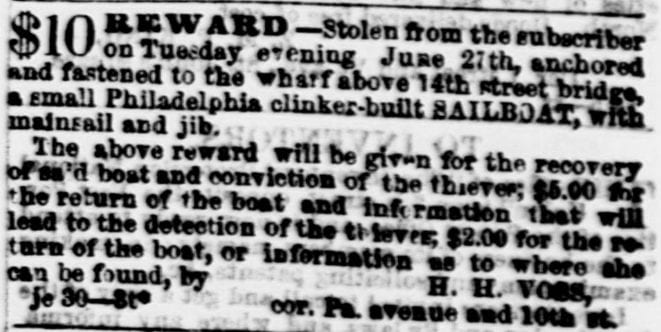 Here's an ad in the paper that you're not terribly likely to see today. It was printed in the Daily Evening Star on July 5th, 1854. Source: Library of Congress I couldn't find anything about the...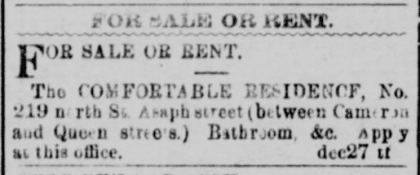 Source: Library of Congress Interestingly, we came across this ad for a home being sold on January 2nd, 1900. The home at 219 North Saint Asaph Street in Alexandria also happens to just have gone under...
Back in the 1870s, you could take a steamship from Georgetown all the way to Philadelphia, or even up to Boston. Below is an advertisement for Clyde's New Express Line (not related to Clyde's the restaurant...


This is so cool. Montgomery C. Meigs placed an advertisement in the Daily Evening Star on August 1st, 1853, exactly 160 years ago today. Meigs was seeking skilled bricklayers to help in the expansion of the...


Source: Library of Congress We came across this advertisement in the December 17th, 1877 Evening Star. Luckily, the home on P Street is still there and you can have 1523 P St. for a cool $1,085,000....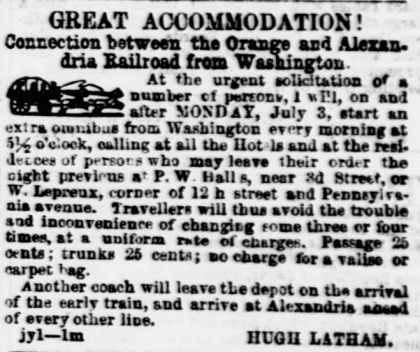 Now this is a cool old (really old) advertisement from the Daily Evening Star, printed on July 5th, 1854. It's an advertisement for omnibus or coach service to Alexandria. Source: Library of Congress
This is a great full page ad run on January 15th, 1906 in The Evening Star. Source: Library of Congress