Photos of yesterday, featuring regular people and regular places.
What is better than a dog wearing galoshes? Ghost Dog doesn't plan on getting these anytime soon. But, I think you can see why I had to post it. Oh, and it happens to be the...
What an incredible photo. Thanks to Shorpy for posting this one. Source: Shorpy The building above is the old People's Drug Store at 7th and K  St. NW (where it intersects Mass. Ave.) and below is...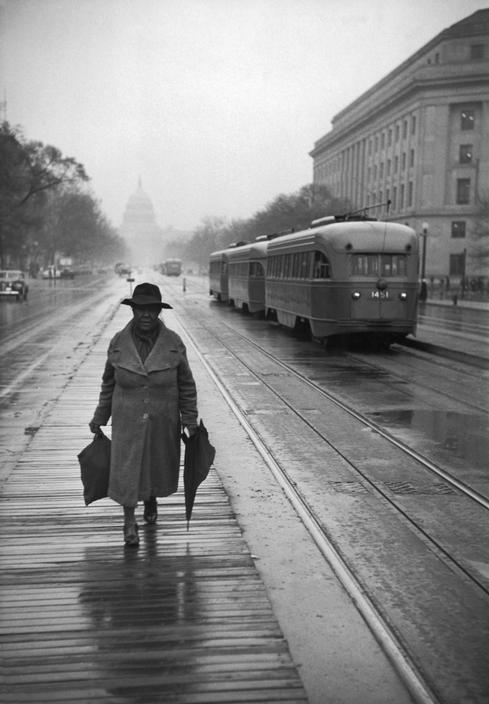 We love streetcars and old photos of the Capitol Building. Here's one from 1947. Source: Jalopy Journal
Where can I get a sweet outfit like this? These polished gentlemen are not prisoners … they're members of the Georgetown University track team in 1901. Source: Georgetown University Library
This is a cool print we found on the Library of Congress website. Source: Library of Congress
I love this. Add some color, put it on Instagram or Facebook, and this happens today. Things never change. Source: Georgetown University Library
This is awesome. Thanks to Georgetown University for this one. Source: Georgetown University Library
That's right, the Patawmack River, not the Potomac. Check out this cool map of what would become the City of Washington. It was done around 1893, near the city's centennial. Source: Library of Congress
No, not the one just built. The one built in the 1970s. Yes, the ridiculously ugly, brutalist, Soviet-looking building known as Dunbar High School. Here's an article we dug up from the Washington Post, printed on...
Unfortunately, I didn't find a larger version of this image, but it's still pretty cool to see. Source: Rare Vintage Photos of Washington, D.C.