Nestled beneath the storied 1789 restaurant lies The Tombs, a legendary Georgetown staple that has been a favorite gathering place for generations of college students since the early 1960s. This dark, lively rathskeller has earned a reputation as one of the best college bars in America.
The Tombs was founded in 1962 by Richard McCooey, a 1952 Georgetown graduate who returned to DC in the 1960s with a dream of opening "a student rathskeller near the main campus – a dream I had since my freshman year at Georgetown." After years of lobbying the university which owned the land, McCooey finally won support for his vision and opened 1789 and The Tombs in adjoining townhouses just steps from campus.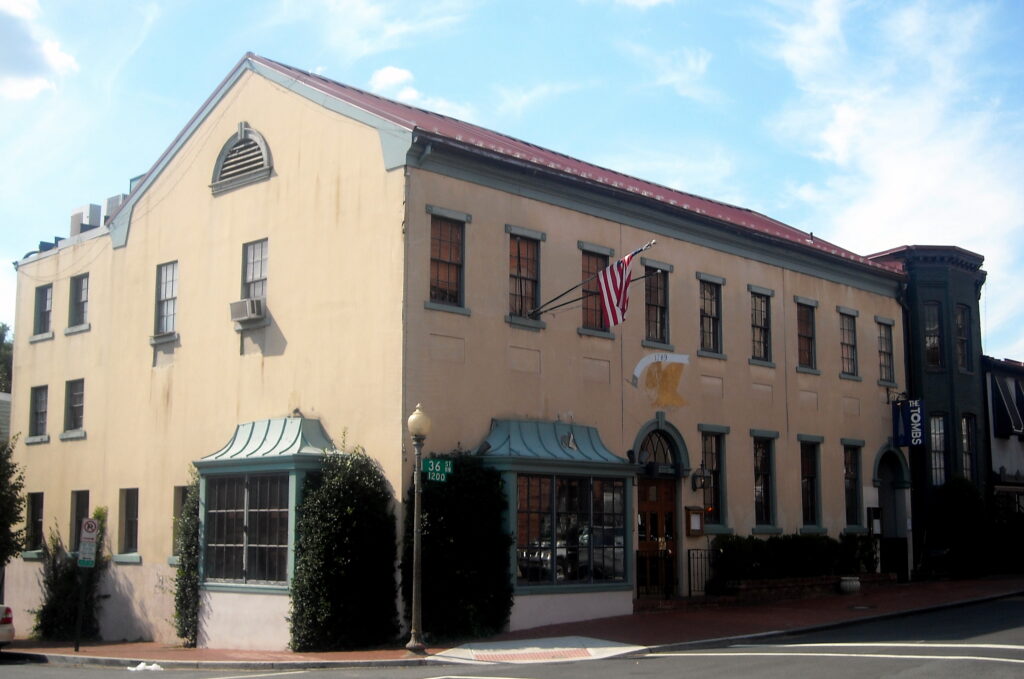 As described in a 1967 Washington Post article, The Tombs had a speakeasy vibe in the early days with no signs outside and patrons needing passwords to enter. Its name was inspired by its interior of low brick ceilings, exposed stone and dim lighting that gave it a "crypt-like atmosphere." The Post noted it was named after a bar in a T.S. Eliot poem called "The Tombs."
Over the years, The Tombs transformed into a lively college bar while retaining its cozy, historic charm. The interior remains dimly lit with wood paneled walls lining its maze of rooms adorned with memorabilia. Etched into the brick walls are initials of graduating classes dating back decades. It also features Georgetown's blue and gray colors and rows of oars painted in college team colors honoring McCooey's support of the school's rowing team.
The lively main bar upstairs is where most of the action takes place, especially on weekends when crowds of students pack in wall-to-wall. The Post described the energy in 1967: "students mill in and out…hoist beer mugs, discuss weighty matters and girls, and listen to folk singers." Even in 1966, a Post article on McCooey noted The Tombs had already become "a favored campus rendezvous for students from Georgetown University."
The Tombs has also earned acclaim for its food and drink. Famous for its laidback, pub-style menu, highlights include chili dogs, burgers, wings and late night snacks. Buckets of domestic beers have long been a popular staple. Signature mixed drinks like the Tombs Punch and Tombstone, served in quirky skull mugs and glass shark bowls, are a favorite among the college scene.
Part of The Tombs' allure is how late it stays open – until 3 AM on weekends. In the wee hours after neighborhood clubs close at 2 AM, swarms of Georgetown students flock to The Tombs for the last stop of the night. The 1967 Post article described the crowds lining up down Prospect Street hoping to get in before last call.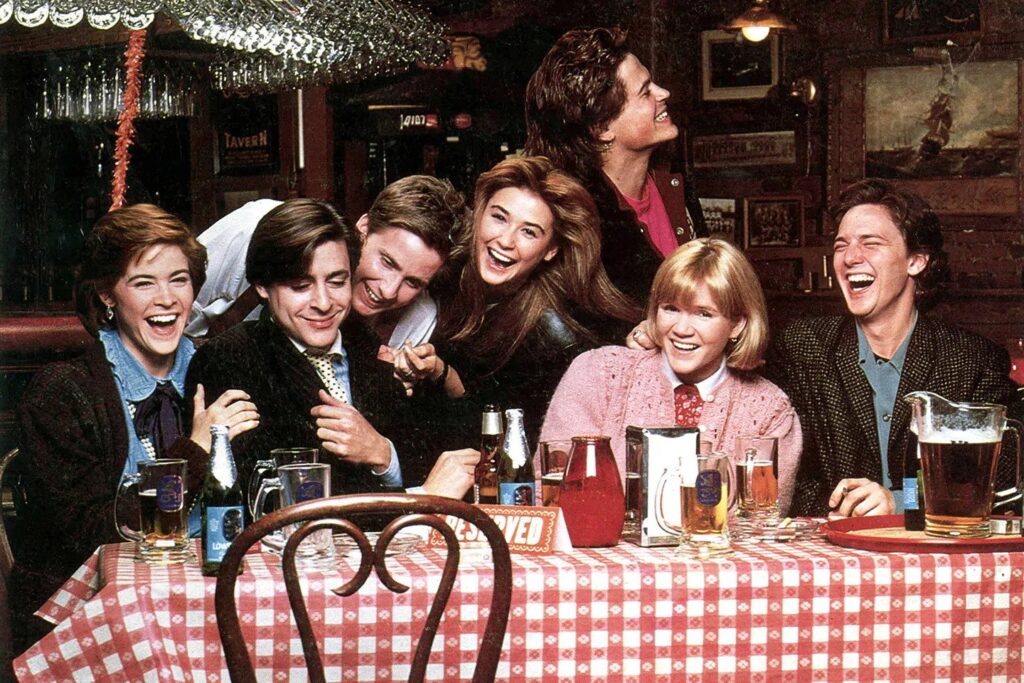 Over the decades, generations of Georgetown students have passed through its doors, connecting over beers and burgers. Since 1964, weekly "Chimes Nights" performances by Georgetown's a cappella group have kept traditions alive. The Tombs even served as inspiration for a bar called St. Elmo's Fire in the 1985 Brat Pack film.
Despite changes in ownership and surroundings, The Tombs has retained its aura as Georgetown's quintessential college tavern. Today it remains a favorite of students, alumni and locals. As McCooey said when reflecting on The Tombs' early success, "It was just an instant hit, and it never stopped." More than 60 years later, The Tombs is still going strong as one of DC's most iconic bars.