Not a bad deal. Two-bedroom for $175 per month back in 1963. This advertisement was in The Washington Post on November 22nd, 1963. The day Kennedy was visiting Dallas.
Advertisements are always interesting, as they provide a glimpse of the past, especially if they are from a different era. The advertisement for the Crystal House in Arlington, Virginia, is no exception. The ad shows that two-bedroom apartments were being rented for $175 a month in 1963.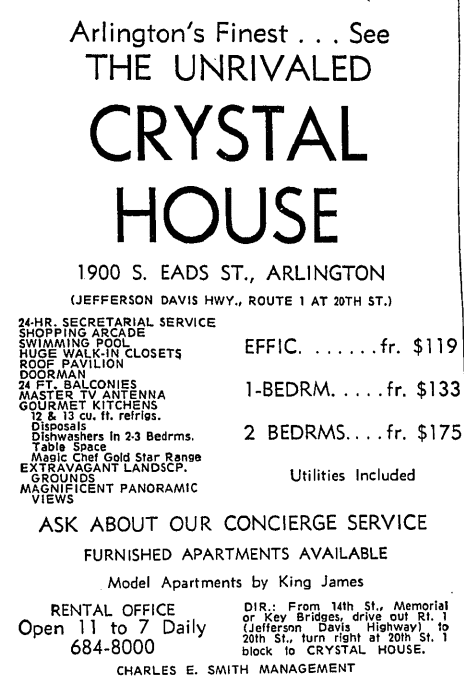 The Crystal House was a new apartment building on Jefferson Davis Highway, and the advertisement was published on November 22, 1963, the same day that President John F. Kennedy was assassinated in Dallas, Texas. The ad is a fascinating relic of a different time, when rent was much cheaper, and the world was much different.
The Crystal House was a luxury apartment building that boasted a modern design and high-end amenities. The complex was made up of several buildings, and the ad promised that each apartment had two full baths, a dishwasher, wall-to-wall carpeting, and a private balcony. The building also had a swimming pool, tennis courts, and a game room.
The advertisement is a reflection of the era in which it was published. In the early 1960s, the Washington, DC area was undergoing a period of rapid growth and development, as more and more people were moving to the suburbs. The Crystal House was a part of this trend, as it was located just outside of the city, in the up-and-coming area of Arlington, Virginia.
It's amazing to think that just a few decades ago, a two-bedroom apartment in a luxury building like the Crystal House could be rented for only $175 per month. Today, rents in the DC area are astronomically higher, and it's difficult to find anything even remotely comparable to what was available in the 1960s, even adjusted for inflation!