Americans have a love-hate relationship with France. They helped us kick the British out of the Colonies. We helped them kick the Nazis out of France. We find them to have superior culture, yet we also see them as incredibly arrogant.
During World War I, the French had a minor celebrity as their ambassador to the U.S. with Jean Jules Jusserand (he was actually ambassador from 1902 to 1925). If you weren't aware, there's a monument to Jusserand in Rock Creek Park.
On Sunday, December 15th, 1907, the Washington Times published the following article about the Jusserands moving into the new French embassy on 16th Street. The building is still there, though it no longer serves as the embassy.
Ambassador and Mme. Jusserand will move into the new French embassy building, at the corner of Sixteenth street and Kalorama road, tomorrow. The new home of the embassy received the finishing touch last night, It is an imposing structure, four stories in height, with a frontage of sixty-five feet on Sixteenth street and a depth of eighty-five feet on Kalorama road. It was built after the modern French style of architecture by Oakley Totten, jr. The exterior is of carved Indiana limestone, with slate roof, and copper cresting.

Former Senator John B. Henderson constructed the building, as well as the Venetian mansion on the adjoining square, now occupied by Secretary Straus, of the Department of Commerce and Labor. It has been leased for a number of years by the French republic, and it is now extremely doubtful if the French government will erect a permanent building on its property on Kalorama Heights, which was recently purchased for that purpose.

The main entrance of the building is on Sixteenth street through ornamental doors of wrought iron. The hall is of white caen stone and marble mosaic floors. There is also an entrance on Kalorama road.

The office rooms of the embassy, kitchen, and several other rooms will be located on the first floor. A marble stairway with balustrades of wrought iron leads to the second floor, where the drawing room, large ante room, breakfast room, and dining rooms are located.

The embassy was constructed by the George A. Fuller Company.
It's a beautiful building, and thankfully, it still stands.
Here is a great photo that we found of it around 1910.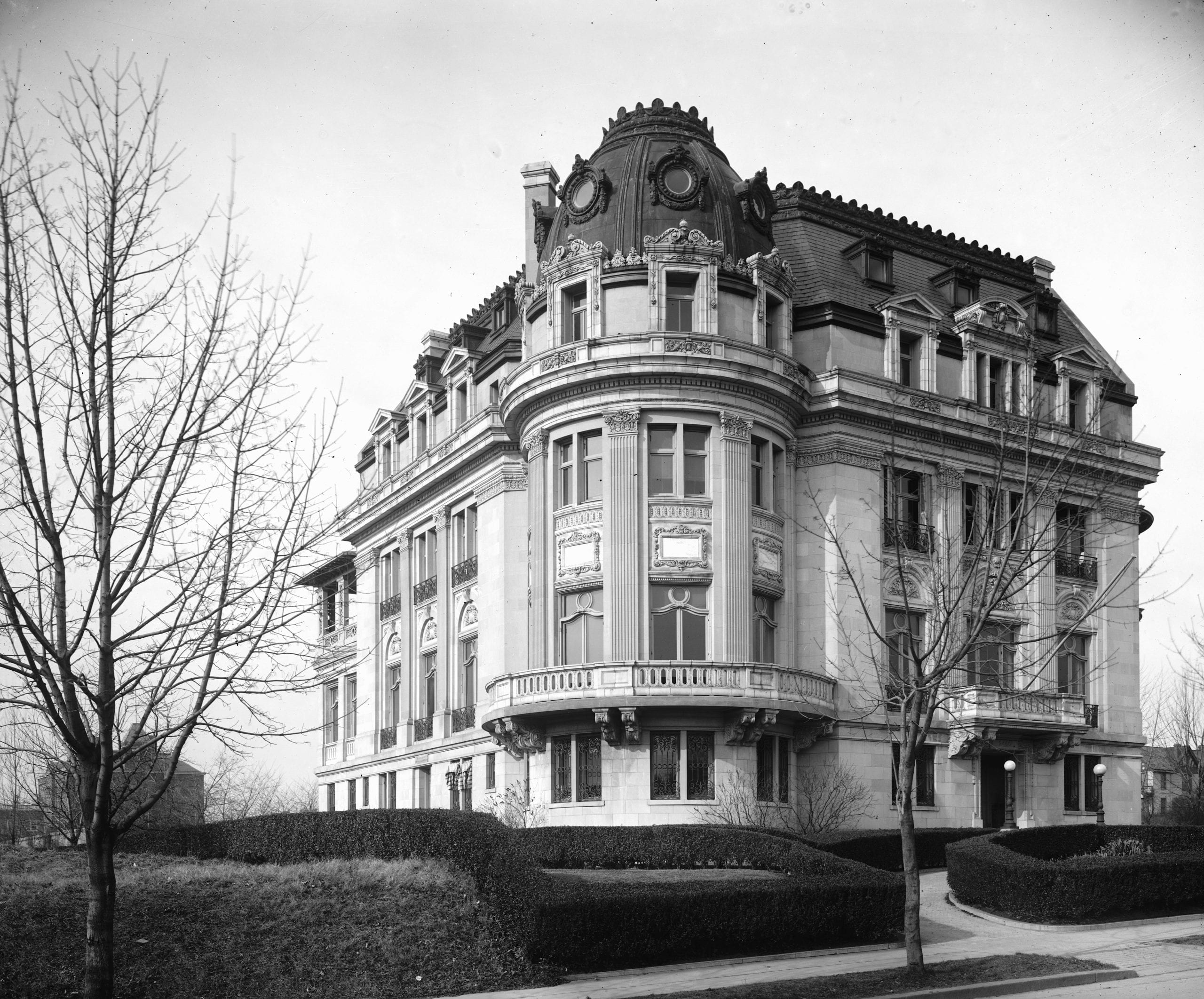 … and another cool one from the 1910s.