A huge gambling bust happened on January 31st, 1925. The location was a crowded restaurant on E St. where people would gather for illegal dice games and gambling. The Washington Post reported on it the following day.
A Greek restaurant at 1217 E street northwest, said by the police to be a rendezvous for dice gamblers and turf fans, yielded 57 white and colored prisoners when it was raided by the vice squad about 4 o'clock yesterday afternoon.

The restaurant was packed with men when the raiders appeared. Customers who were interested in the races, according to the police, were massed in the front, while the dice enthusiasts were gathered in the kitchen. The latter were in circular formation, according to the police, and in the center of the circle was a pair of dice.

When Lieut. Davis and Detective Holmes broke in the front door there was a rush toward the rear. The race horse faction, it is said, trampled all over the dice faction in its anxiety to escape. The first man out of the door found himself staring into two revolvers in the hands of Sergt. McQuade and Prohibition Enforcement Officer Duke.

It required three patrol wagons to take the men to the Second precinct station. There all but three were booked as witnesses and released.

Louis Chipouras, 26 years old, Greek proprietor of the restaurant, was charged with permitting gambling on the premises and making a handbook on the races. His cook, Sam Whitt, colored, 901 R street, northwest, was charged with making a handbook, as was his brother, Chauncey, a porter in the restaurant.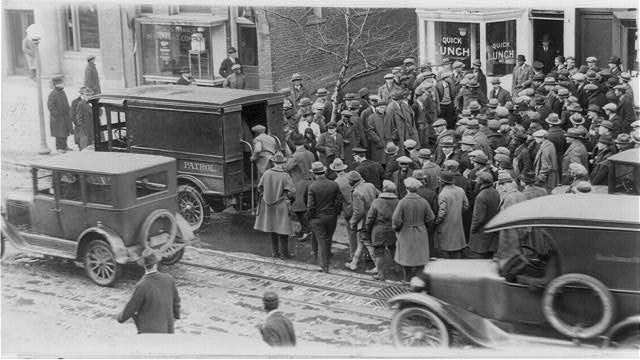 Louis seemed to have gambling in his blood and couldn't shake it. Almost 40 years later, he was arrested again in 1965 for running an interstate gambling operation, while living in Annandale. Oh, he was also arrested on marijuana tax fraud charges in 1952. Louis clearly wasn't on the right side of the law, but at least he wasn't a draft dodger. Below is his World War I Draft Registration Card.
But wait, we've saved the best for last! That same block of E Street is now the location of … ready for this? … the American Gaming Association. Irony, thy name is Chipouras.