Ice harvesting in Maine was a booming industry in the late 19th century through the first decades of the 20th century. The Independent Ice Company, headed by C. B. Church, was one of the larger distributors of ice in Washington.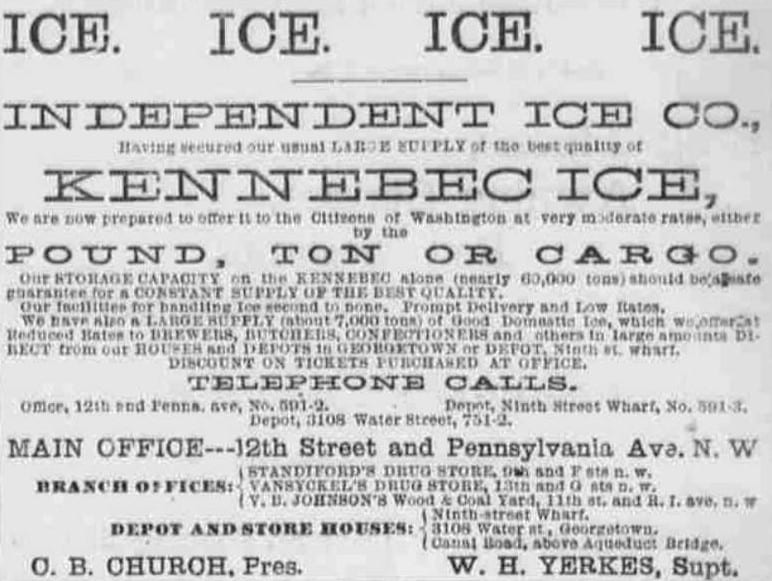 Each season, they would send a team of men to the Kennebec River in Maine to harvest and bring back thousands of tons of ice to sell. Their major customers were the city's breweries (e.g., Christian Heurich) as well as the local butchers to preserve their meat.
If you needed ice for your home or business, you would head down to one of the depot offices, put in your order, and they would deliver what you needed to your residence.  I imagine if you had a large brewery, you probably would be able to head down to the wharf with your own wagons to pick up whatever you ordered.
This was very big business in the city, as this was the only way to preserve perishable food or drink and keep it cool during the hot summer months.
I came across an interesting article in the Washington Post from June 29th, 1899 which detailed how big the local industry was.
The journey from Maine here takes, as a rule, from four days to two weeks, but occasionally a vessel is out as long as three weeks. Some of the schooners carry hardly more than 800 tons a trip, while cargoes run as high as 2,500 tons.

It is hard to estimate the amount of ice used here in a season. From seventy-five to a hundred schooners carry ice to Washington every summer, and many of these make several trips. In addition to the natural ice the amount of artificial ice used has increased greatly within the past few years. During the summer months there are about 250 wagons engaged in distributing ice in the city for the various companies, and about half as many again whose owners buy the ice in large quantities and sell it on their own account. Taking it all into account, the amount of ice used in Washington during a year is believed to be in the neighborhood of a quarter of a million tons.
Wow. That's a lot of ice.
This industry began its slow death in the 1920s with the arrival of the refrigerator.
Related articles