Check this out! If you were a student at the University of Maryland back in 1973 — maybe some of you were? — you could attend this sick concert with Chuck Berry, Jerry Lee Lewis and Bruce Springsteen. Okay, so Jerry Lee Lewis has as slightly dubious past, but the dude is pretty incredible at piano.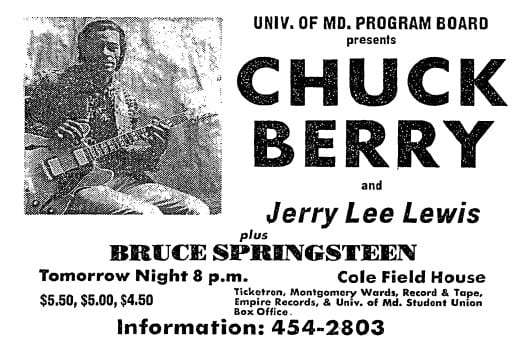 Tickets for less than six bucks and you could check out these three legends? Not a bad deal.
Well, hold that thought. Despite this hyped up triumvirate of rock luminaries — or two old dudes and The Boss — the reviews were less than stellar.
I came across the Washington Post's review of the above show. The article below was written by Tom Zito and published on April 30th of that year.
Whatever the current status of rock 'n' roll, the music is still popular enough to have five of its founding fathers play at Washington area concerts this weekend.

At the University of Maryland Saturday night 7,500 persons–divided between those who were high-schoolers in the '50s and young teen-agers who have just discovered the classics from that era–stood and cheered the music of Chuck Berry and Jerry Lee Lewis. Last night a scheduled Richard Nader Rock 'n' Roll Revival Show at the Baltimore Civic Center included Little Richard, Bo Diddley and Bill Haley and the Comets. And on television Friday night, NBC's Midnight Special featured, as well as Lewis and Diddley, Edd "Kookie" (Lend Me Your Comb) Byrnes, the Penguins, Chubby Checker and Little Anthony.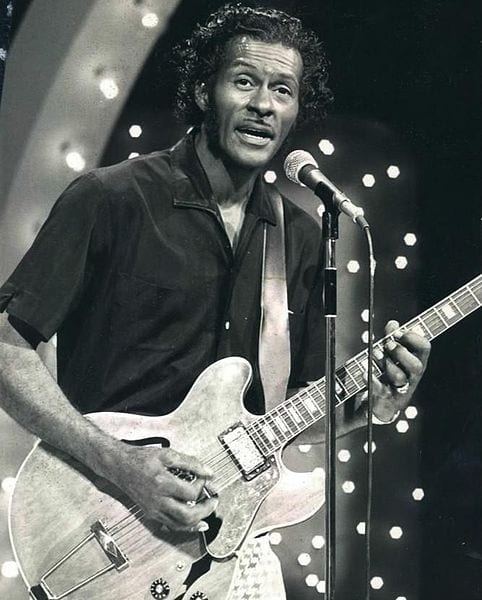 That's a strong lineup spread across the Baltimore-Washington Metropolitan Area. By the way, every time I think of Bo Diddley, I think of that Bo Jackson commercial … "Bo, you don't know Diddley."
But Saturday night, in spite of the tumultuous applause they received, founding fathers Lewis and Berry were in rather sloppy musical shape. After the concert had opened with an excellent half-hour by Bruce Springsteen, whose music is influence by rock and roll, Lewis' band seemed a bore with its 30 minutes of country music standards.

…

Lewis opened with his current hit single from the album, an up-tempo version of Sticks McGee's "Drinking Wine Spo-Dee O'Dee." But then he proceeded to do his usual country show, coming back at the end with only "Great Balls of Fire" and "Whole Lotta Shakin' Going On."

When Berry finally came on at 11 p.m., there was a distinct feeling in the air that the audience would go wild from its three hours of confinement, regardless of what music Berry played.

And as soon as he sounded the familiar guitar introduction to "Roll Over Beethoven," bodies surged forward to the stage, swaying in rhythm to the music. If his playing was sloppy–he missed notes frequently and at times sang out of key–Berry touched all the familiar bases: "School Daze," "Sweet Little Sixteen," "Around And Around," "Johnny B. Goode."

The crowd danced until midnight in aisles and on chars. The boos began only when Berry wouldn't return to the stage for an encore.
Even though Zito was Debbie Downer, it sounded like the crowd loved it, so maybe we just have a hyper-critical music critic lashing out because the music wasn't as pure as it was when Berry and Jerry Lee first hit the scene.
Anyway, probably would have been a fun show to go to, despite this negative review. Although, I will say that I'd rather go to the Beatles show, the Doors one, or Hendrix at the Hilton before this one. And of course, don't forget when U2 played here as a small band, the day before Lennon was shot in New York.