It sure isn't pretty, but it's quite effective at diverting traffic from Rosslyn, around Georgetown and onto K St. Granted, traffic is still horrific on Key Bridge, M St., and K St., but imagine how it would be without Whitehurst Freeway. Say what you will, it reasonably achieves what it set out to achieve when Captain Herbert C. Whitehurst envisioned it back in the 1940s.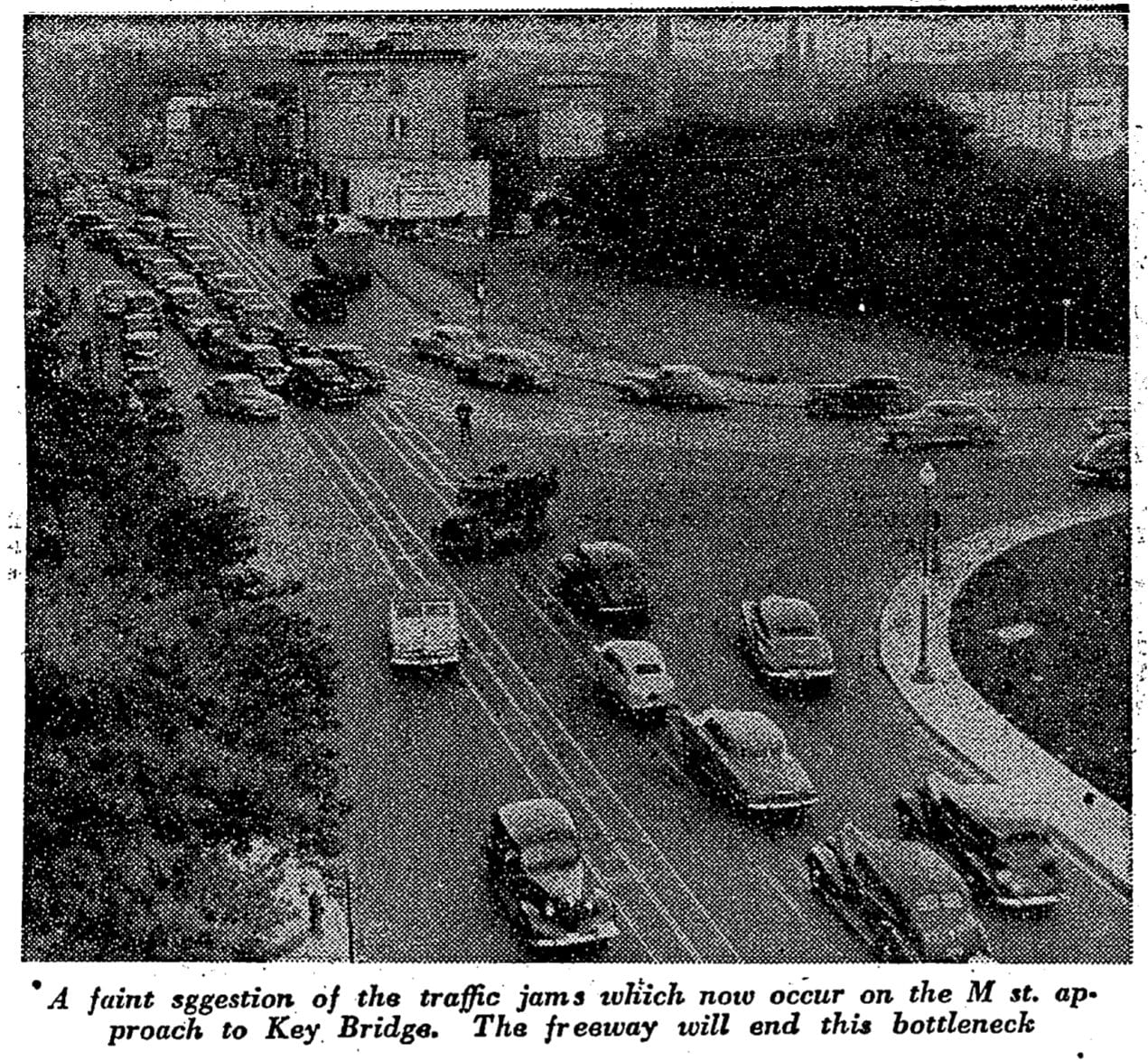 We came across an article in The Washington Post detailing the upcoming opening of the then-new Whitehurst Freeway. It was scheduled to open on Saturday, October 8th, 1949. For those interested in history, on October 1st, the People's Republic of China was officially proclaimed. Also, on October 7th, the German Democratic Republic (formerly East Germany) was officially established. Sigourney Weaver was born on the 8th, the day the freeway opened.
Below are excerpts from the article.
A sturdy youngster with steel bones and concrete flesh will be christened "The Whitehurst Freeway" on Saturday, October 8.

This elevated expressway over K st. nw. is named for Capt. Herbert C. Whitehurst, District Highway Director. He fathered the promising project but died while it was still aborning.

…

The role of the project may prove even more significant. It is tentatively scheduled to form the backbone of a giant crosstown expressway along and under K st. nw., reaching from the projected Arizona Freeway at Tenley Circle to 15th and H Sts. ne.
We wrote some pieces a while back about never built tunnels underneath the city, to be part of the major automobile-based infrastructure plan of the 1960s, as well as the major battles over freeways in the late 1960s. We are where we are today with no major freeway cutting fully through the city because of all the interesting history surrounding infrastructure in the District.
It's interesting, because the piece alluded to the potential of buying up property on both sides of M St. to widen it into a major thoroughfare. That obviously didn't happen because it would have been seriously cost-prohibitive. Also, what a historic preservation disaster that would have been! Imagine today's Georgetown, had that been what occurred.
Here's a 1960s cool diagram of Whitehurst Freeway where it passes over Rock Creek Parkway.