For those of you who do not know this, you'll chuckle at how simple this is. Why is it named Tunlaw Road?
There once was a great suburban Washington estate called Tunlaw, in what is today Wesley Heights – the home stood at 45th and Klingle. The man who operated the estate, Thomas L. Hume, was a friend of Generals Grant and Sherman, often threw lavish parties to entertain the upper crust of Washington society. Hume also had a family home at 3319 P St. (Zillow) in Georgetown. Apparently Hume was an exceedingly large man, because he required a custom-sized casket upon his death in 1881.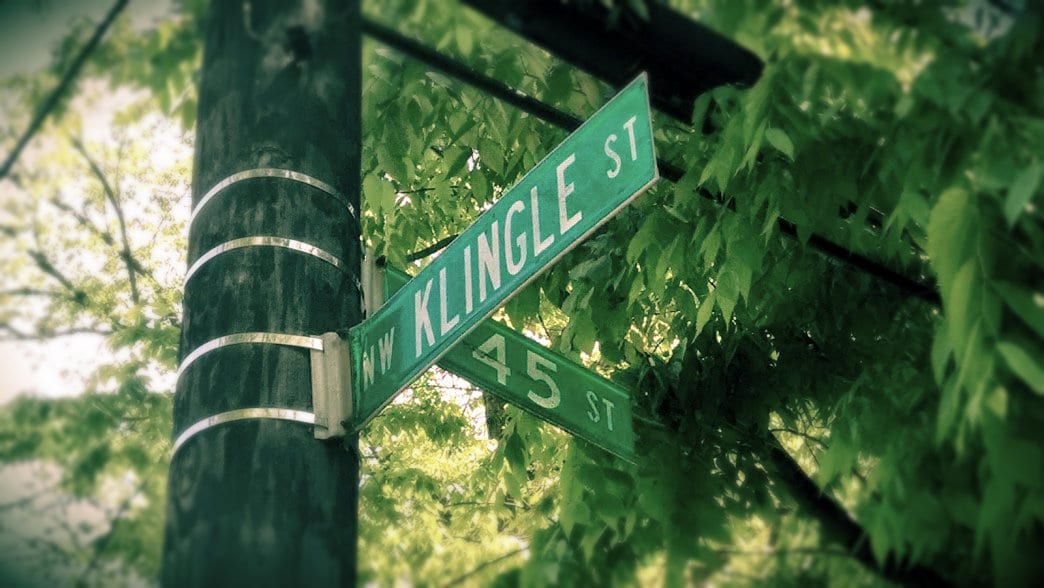 The farm and land belonged to Adophus H. Pickrell, who was Hume's father-in-law, and President of the Potomac Insurance Company, Director of the Farmers and Mechanics Band, and Director of the Georgetown Gas Company. In other words, he was a very wealthy and influential man in Washington.
We found the following old article from October 31st, 1897 in The Washington Post detailing the origin of the estate's name.
The farm, bounded on the north and west by the Loughborough and Ridge roads, contained 147 acres. There was a prodigious number of walnut trees on the place, and one giant one from which the farm was named – walnut spelt [sic] backward – stand to-day not many yards from the site of the house. It was underneath this tree that almost everything connected with the story of Tunlaw took place. It was here that before and during the civil war many parties adjourned to "speak their minds; they knowed the old tree'd never tell on 'em' said Uncle Dick. It was here that a mock trial was held, with a Judge of the Supreme Court on the bench, and the most prominent lawyers in the District as bailiffs, Sheriffs, attorneys, prisoners, and jury when "the things that were said were better than the nuts, better than the frolic wine." It was there that brilliant speeches were made, war stories narrated, the Fourth of July gloriously celebrated, while feast after feast, company after company passing in long processional array under the boughs of that old walnut, combined to make it almost as well known as the Treaty elm and the Charter oak.
So there you have it. It's simply walnut spelt (spelled) backwards. Happy Tuesday!
Here's a really cool panorama shot of the intersection at 45th and Klingle Rd. that I took with the snazzy new Google Camera app for Android. Click on it for a larger version.