So long ACC. Hello Big Ten. The University of Maryland's final game in the Atlantic Coast Conference Saturday, a 41-21 win at North Carolina State, brought back vivid memories of the 1954 season when this writer first saw the Terps play at Byrd Stadium in College Park.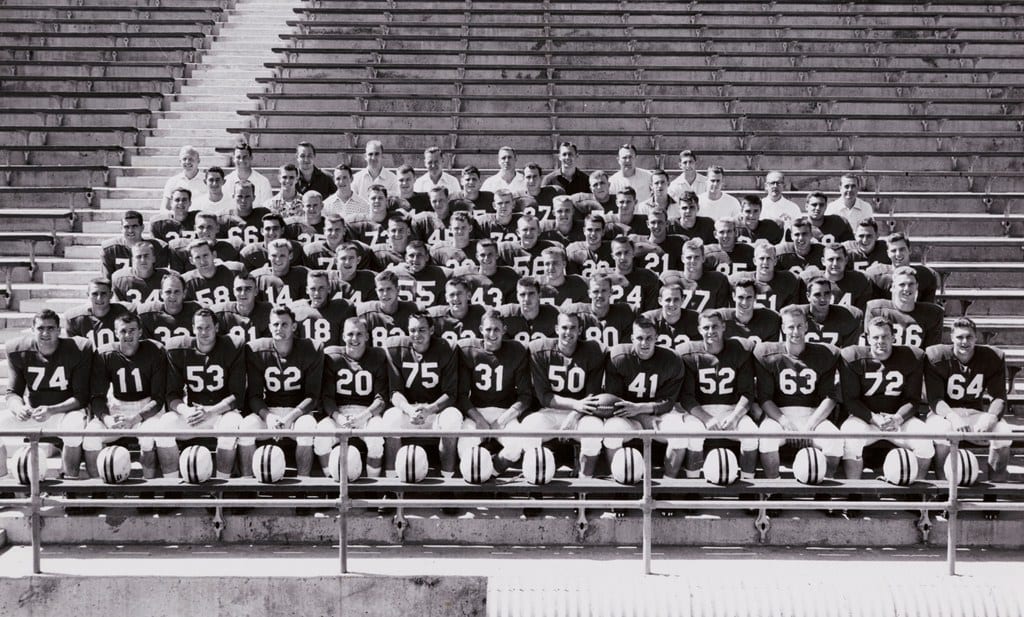 Source: University of Maryland
The date was Nov. 6, 1954 and opponent was NC State. Maryland romped to a 42-14 victory before about 25,000 fans. That nearly 60 years ago and only one year after Maryland joined the ACC after previously competing in the old Southern Conference.
Here's the game program for the NC State game that year with then- Vice President Richard Nixon (of all people) on the cover. (link to pix). Tricky Dick was a huge sports fan and often attended Senators, Redskins and Maryland games back in the fifties. President Eisenhower made sure he didn't have much else to do.
In those days, Maryland was a big-time football school, a nationally-ranked powerhouse under legendary coach Jim Tatum who posted a 100-35-7 record over 14 years with nine seasons at Maryland (1947-1955) the centerpiece of his career. Tatum returned to North Carolina in 1956 and died expectedly of a rare typhus-like infection in the summer of 1959 at the age of 46.
Dick Bielski, Ronnie Waller, Bob Pelligrini, Bill Walker and John Irvine, all of whom played in '54, are just a few of the bigger names from Maryland's football glory days.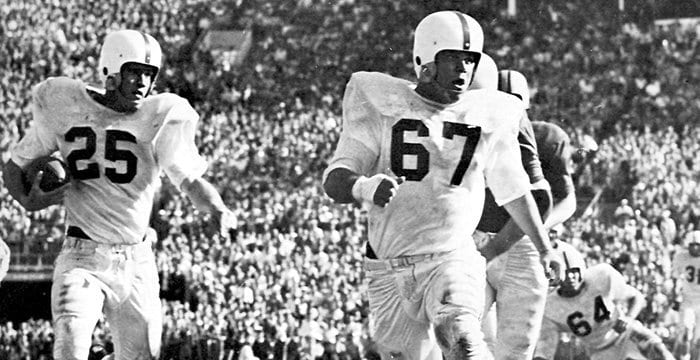 The Terrapins and star fullback Bielski opened the 1954 campaign ranked No. 3 nationwide on the strength of a stellar 1953 season when quarterback Bernie Faloney led the team into the Orange Bowl New Year's Day against Oklahoma. That year Maryland outscored its opponents 298-to-38 and posted six shutout victories. But the Terps fell to the Sooners in the Orange Bowl, 7-0.
In '54, Maryland suffered two tough early-season losses 12-7 to fourth-ranked UCLA before 73,000 in the LA Coliseum and 9-7 to No. 16 Miami before 53,000 in the Orange Bowl, then were played to a tie by underdog Wake Forest.
As the Terps entered the NC State game in early November, they had tumbled out of the top 25. But they finished the '54 season with a flourish winning five straight games completing demolishing their final five opponents.
In the final home game on Thanksgiving Day that year, Maryland walloped a highly-regarded Missouri team, 74-13. The 74 points stood as the ACC single game scoring record for 27 years. The writer saw that game too riding out to College Park on the streetcar from downtown DC.