Are you a long-time resident of Brookland? If so, you might remember the time when Metro just arrived. Or, like the article below, was about to arrive. This was printed in the Washington Post on August 6th, 1977.
When the Glenmont line opens next November, Metro will pass right by Brookland, a quiet residential neighborhood near Catholic University. Due to a bureaucratic snafu, the station serving that stretch of upper Northeast Washington will take three or four more months to construct.

As the gleamin trains hurtle through the unfinished station, some Brooklanders may secretly wish they would just keep on going forever. Not that residents of this sleepy, secure community of old homes and tree-lined streets won't appreciate the convenience Metro will mean to those bound for the campus or downtown. They say they just don't like sudden, radical change.

The advent of Metro at Rhode Island Avenue about a mile away has brought the nuisance of all-day parking on nearby streets by commuters who find no space at the station. Fort Totten, a rapid rail stop about a mile to the north, has a large lot in anticipation of its position as a crossroads between the Glenmont and Greenbelt lines.

…

"We're not a fashionable neighborhood yet," said Tom Rooney, an art professor at Catholic University and an advocate for the coordinating council. "I dread the day when we're discovered."

Partly through the efforts of residents like Rooney, Brookland has not undergone the change of Northwest's Adams Morgan or the West End area near Washington Circle. An 80-block area north of Rhode Island and east of the B&) Railroad tracks, Brookland has a population that is 83 per cent black.

Before the turn of the century, it was a suburban residential community with its own post office. Integrated for a number of years, it was the boyhood home of Sen. Edward Brooke (D-Mass.). Catholic University faculty members and young professionals currently live there. And it has a large number of elderly persons and highly educated, highly vocal white minority that lobbies hard with the blacks to preserve such Brookland assets as large oak trees and $120-a-month apartments.

…

The arrival of young professionals on the Brookland scene may eventually change the neighborhood more than Metro.

Not suddenly or radically, of course: This is Brookland.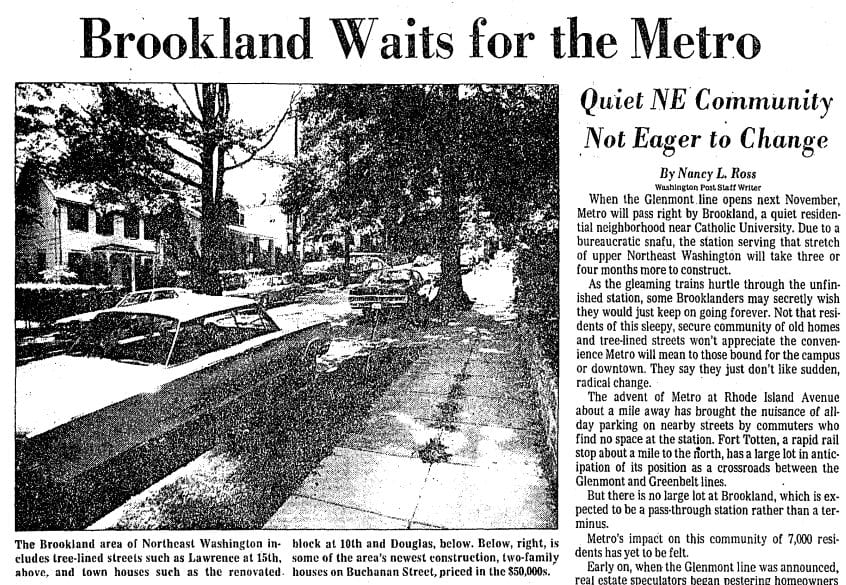 Metro finally did open in Brookland on February 3rd, 1978. And, the whole area is now absolutely blowing up with the Monroe Street Market.