It's that time of year, again. Commencement speakers address graduating college and university classes, and inevitably their speeches are ranked, assessed, complimented, and criticized. This year, both NPR and Vox.com have compiled the best commencement speeches ever....
Are you a long-time resident of Brookland? If so, you might remember the time when Metro just arrived. Or, like the article below, was about to arrive. This was printed in the Washington Post on August 6th, 1977....
GoDCers love maps! And it's been a while since we posted one. Here's a great one from 1907 showing the area around Catholic University. Source: Library of Congress
Any Catholic University folks out there? How do you like this old photo? Source: Library of Congress
This is a photo of Catholic University's basketball team in 1923. The photo was taken in the old gymnasium, which is now the school of architecture (according to Shorpy).
Here's your afternoon photo. This great shot of Caldwell Hall at Catholic University is pretty amazing. Click on it for the high resolution version and study it a little closer. Thanks to the ever-amazing Shorpy. Related...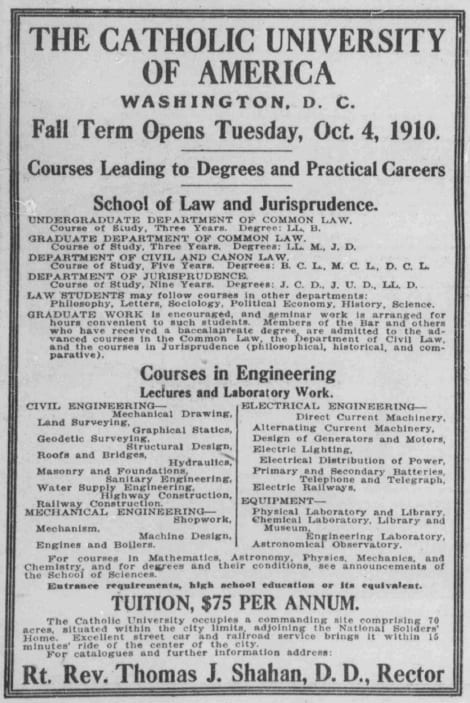 October 4th? That seems really late. Holy sh*t … tuition of $75 per year. It's now $35,000, and that's actually not bad compared to neighbor school GWU at around $50,000 (ouch). Related articles The National Cathedral...