This is a guest post by John (from The Lion of Anacostia), cross-posted here.
Frederick Douglass was a baseball man. His son, Charles, organized and played on Washington, DC-based colored teams in postbellum Washington. The Washington Mutual and later Alerts both traveled up the East Coast to play in other cities and they defended their home turf at bygone fields like Olympic Grounds.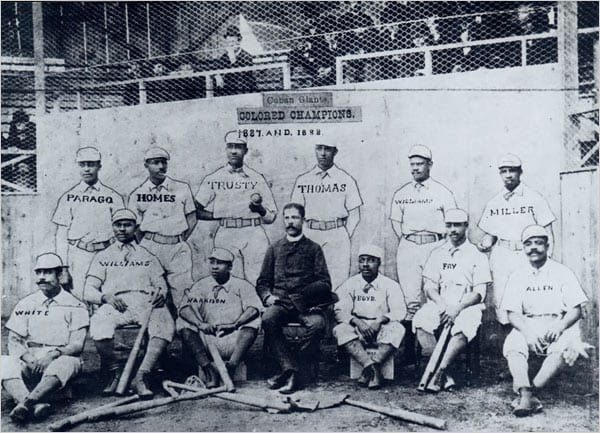 The Cuban Giants, arguably the first professional black baseball team years before the Negro Leagues successfully organized, barnstormed across the country playing, and usually defeating, the most competitive colored teams each city could offer up.
In late summer 1891, Frederick Douglass just returned to the United States from his position as Minister to Haiti for the Harrison administration, took in a baseball game between the Cuban Giants and an All-Washington club. He was one of nearly 900 people in attendance.
According to an article in the Washington Post on the game, "The majority of those present were colored, but there was a fair sprinkling of the regular ball patrons, who are anxiously awaiting the Senators' return home. They were agreeably surprised by the really good game of ball which was put up."
The Giants defeated the Washington team by a score of 8 to 5 in a game that took a little over two hours to complete. The Post explained away the loss by declaring that the "Locals Lacked Practice" and that the "All-Washington" team "Fought Gamely, but Couldn't Get There."
Related articles