Happened to catch that Vince Lombardi special the other day on HBO. They always manage to show it in the run-up to the Super Bowl.
It brought home again the total shock of learning shortly before the 1970 season that Lombardi had colon cancer and had only a few weeks to live.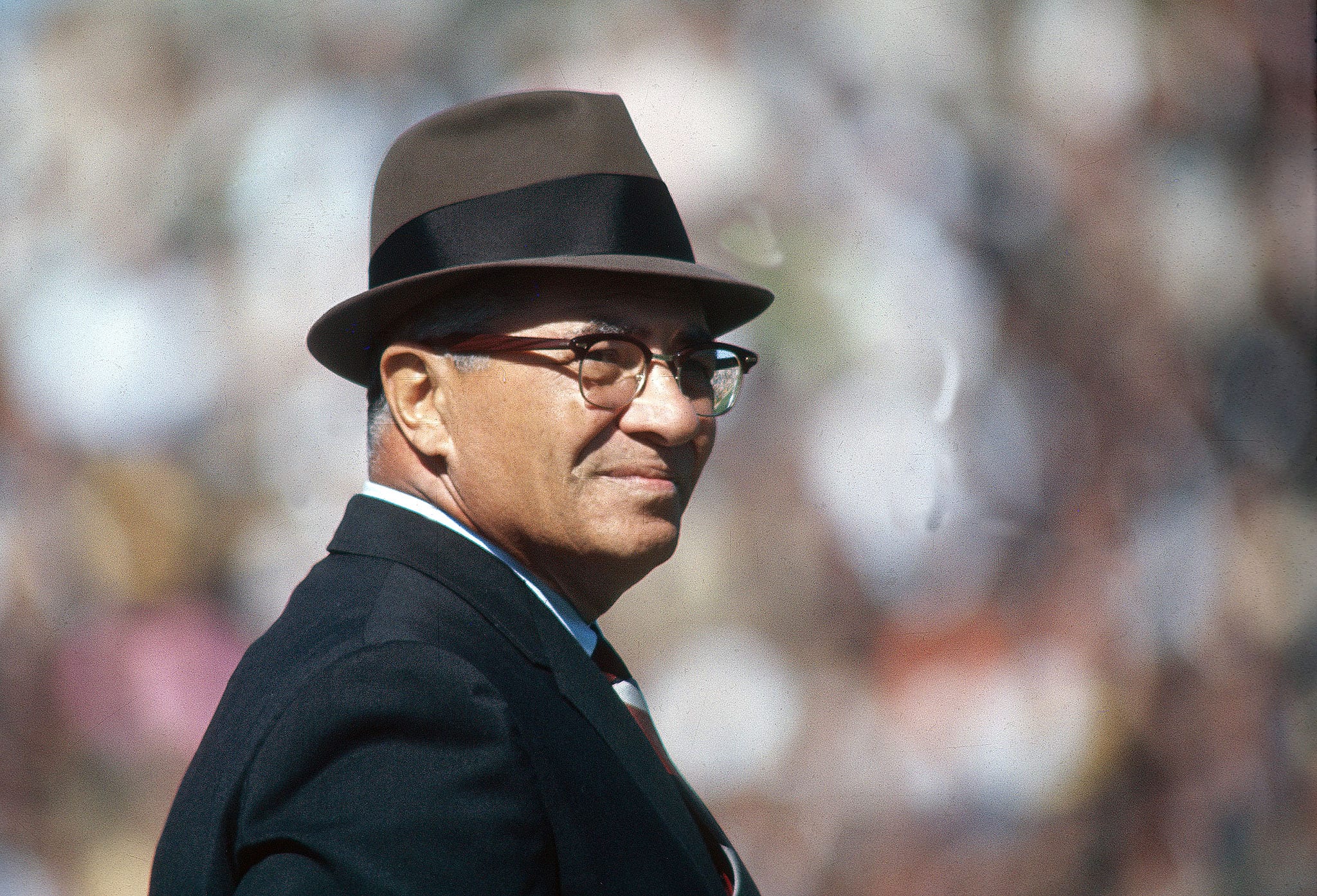 He died Sept. 3, 1970 in the early morning hours at Georgetown Hospital. See the Washington Post obituary here (link to Lombardi Dead at 57; Funeral Monday in New York).
Lombardi, of course, led the Green Bay Packers to three consecutive NFL titles (and five in seven years), including blowout victories in the first two Super Bowls in 1967 and 1968.
Then, he moved upstairs to become general manager in 1968, writhing in agony as he watched the defending champs struggle through a 6-7-1 season under new coach Phil Bengsten. He wanted to be on the practice field every day.
The Redskins made him an offer he couldn't refuse: coach and general manager. (As a side note, the hiring of Lombardi by the 'Skins led directly to the Senators landing Ted Williams as manager in 1969.
In his introductory press conference in Washington, Lombardi said: "Despite what some of you might think, I can't walk across the Potomac even if it's frozen."
But he came close, leading the Redskins in '69 to their first winning season in 14 years.
The great Shirley Povich summed up Lombardi's year in Washington as follows:
"In his first and only year as Redskins' coach, Lombardi walked into a situation that seethed more than once with sub-surface racial strife. Almost mysteriously, it dissolved into a team of brotherhood. Redskins players learned, as the Packers had, that on the practice field Lombardi was a rare mix of harsh and quick disciplinarian and sensible softie when he learned of a player's limitations."
In the HBO documentary, narrated by Liev Schreiber, former Redskins quarterback Sonny Jurgensen says:
"Just having the chance to play for him…that was the highlight of my whole career."
And legendary linebacker Sam Huff, who visited the hospital with all his teammates shortly before Lombardi's death, recalls the coach telling them:
"I want you guys to know why I brought you here. From now on, I'm not going to be with you…But by God, I want you to be a winner."
Sure enough, the Redskins made it to the Super Bowl two years later.