After The Dead and The Police, I'm on a little bit of a concert kick and this one is pretty sweet. Janis Joplin played Merriweather back in 1969, three weeks before the defining moment of the decade: Woodstock. That's pretty cool.
The Washington Post wrote a review and the guy that wrote it was Carl Bernstein … yep, as in Woodward and Bernstein of the Watergate scandal. Before he helped take down a sitting president, he wrote this review of Joplin's concert at Merriweather.
Janis Joplin has gotten it all back together again.

The 26-year-old dynamo from Port Arthur, Tex., came to the Merriweather Post Pavilion with her new band last night, and from the first note, it was a love affair between her and a wild audience of more than 5000.

After four songs, virtually the entire audience was on its feet. The overflow crowd on the grass surged into amphitheater, people danced in the aisles and on their seats, gave thumbs-up and peace signs and hollered ecstatically as Joplin's seemingly steam-powered voice cooed, moaned and screamed.

The adulation was understandable.

Janis has finally assembled a group of first-rate musicians with whom she is totally at ease and whose abilities complement the incredible range of her voice.

Janis's range last night (she will appear at the Post Pavilion again tonight) was even greater than on her two albums and slipped easily from almost contralto register to soprano

Most important, her music made you enjoy yourself producing much the same reaction that the Beatles did on their concert tours of years past. Simply, an evening with Janis Joplin is a party and a romp.

The crowd's reaction to her voice and body, as she screamed and stomped through her songs, eventually caused police and the Pavalion [sic[] management to take to the stage to halt the show for a few moments as dozens of youths jumped onto the stage. At one point, a policeman swung a billyclub at several of those climbing on the stage apron, resulting in a request from Miss Joplin that the officer restrain himself.

Miss Joplin demonstrated much new material, perhaps the best of which is a jump-blues that will be the title song of her new album "Cosmic Blues." The song features exquisite organ work by Richard Kermode and is an ideal vehicle for all the elements of Janis' voice–love, pain, anger and freedom.

Other new songs included a remake of The Chantels' "Maybe" and an almost country-sounding "Try a Little iBt [sic] Harder," which gave the band two–saxes, trumped, strong lead guitar by John Till, bass, drums and organ–room to jam easily.

Janis with her new sidemen, give to "Piece of My Heart," "Ball and Chain," "Summertime," and the other old songs, a musicality that was missing in the Big Brother days.

Perhaps Miss Joplin's new revue will put an end to the inevitable and unfair comparisons drawn between her, Big Mama Thornton, and other great female blues singers. The comparisons are superfluous exercise. She is Janis Joplin and that is enough.
That's pretty cool. Music was just better back then … also, only 5,000 people at Merriweather? That seems tiny.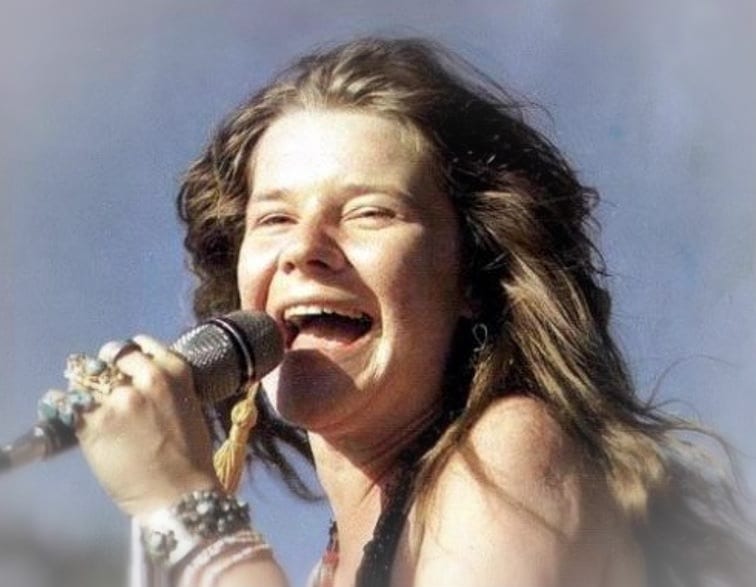 Three weeks later, Janis is in upstate New York performing at Woodstock. Really cool.