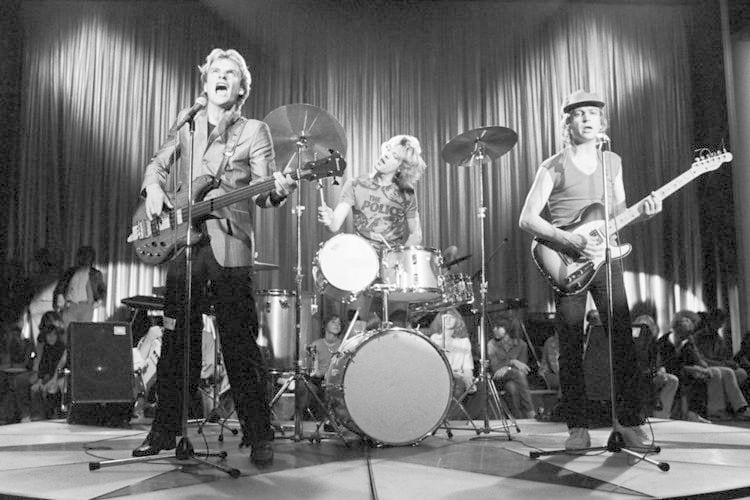 I had heard that Sting, Andy Summers and Stewart Copeland (aka, The Police) had played in Adams Morgan and wanted to do a little research into that. Unfortunately, they weren't a huge band when they played here in 1979, so there was very little on their arrival here. After all, they had only been around for a little over two years.
They played the Ontario Theater on Columbia Rd. NW on October 8th, 1979 — the same place that U2 played in 1981 — and there was a short review of the show in the Washington Post the following day.
The shrill sound of police whistles careened off the walls of the Ontario Theater last night. Crowds of people flung themselves into the aisles. Spotlight sliced through the darkness as a murderous barrage of sound thundered from the stage.

The Police had arrived!

The Police, in this case, were an English-American rock trio that has emerged from the new wave of punk scene. Like many of their counterparts, they draw much of their power and substance from the crunching power chords and raucous rhythmic assaults of mid-'60s musical styles. But this group adds a melodic flair and urbane lyrics that are an intelligent twist to current rock.

Their show blended bright vocal harmonies with savage musical onslaughts in a dazzling display of exuberant energy. Andy Summers' guitar and Stewart Copeland's drums slashed out at the crowd while Sting added thumping bass lines, creating a powerful yet chunky sound. The addition of swirling, electronic chords and quirky reggae beats on some of the numbers gives the group a sense of style that evades many new wave musicians.

The Police gave a truly arresting performance.
Not a bad review. Thus far, the reviews I come across of legendary rock acts have been hit or miss. Were any of you at this show?
Check out this video of The Police live in 1979. They're playing a West German TV show called Musikladen.