The above photo from Shorpy is the aftermath of an icy accident in 1920. The car in the photo is a Winton Six, owned by the Republican United States Senator from Pennsylvania, Boies Penrose. It appears that his driver took the turn at an aggressive speed and ended up losing control, smashing the car into that tree.
Robert Douglas Bowen's 1937 book about Boies Penrose paints him out to be an avid outdoorsman, although as he advanced in age, his girth was slowing him down, driving him to buy a car to enjoy the great outdoors (pun intended).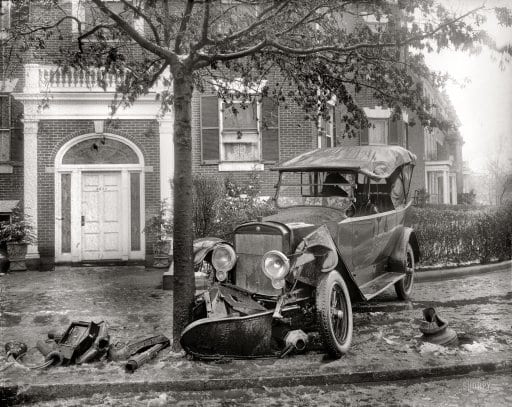 It isn't quite correct to say that he bought a car. He was perfectly helpless about making any sort of purchase; he couldn't buy himself a toothbrush. he asked a Philadelphia friend to look after the little matter of selecting a car suitable for the boss of the Republican party. The friend did. He selected the biggest touring car on the market, a Winton Six, and had it painted a screaming red. It had bright red leather upholstering, too. The car was driven to Washington by an experience chauffeur, properly liveried, and delivered to Big Grizzly. Penrose gazed in wonder a moment at the big red machine then climbed in with a satisfied grunt.
I'm trying to place where the accident happened. The only thing I can make out is the number "2601" on the front door. If you know where this is or recognize the house, please comment. I'm guessing by the homes that it's somewhere in Dupont Circle or possibly Kalorama.
Check out a cool colorized version of the photo.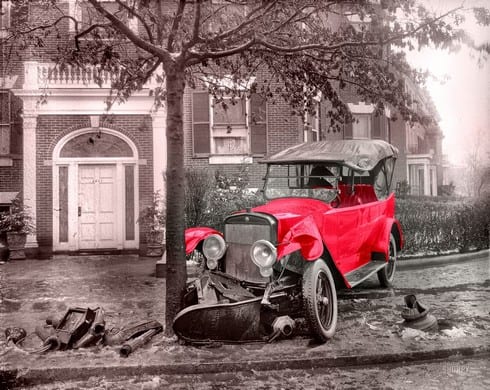 Related articles