This is an old photo of the "Billy Sunday tabernacle" near Union Station. Can you recognize any of the landmarks (other than the obvious Capitol and Library of Congress). Source: Shorpy
Here is a good video we stumbled upon on YouTube. It was pulled together by Amtrak in 2008, on the occasion of the station's 100th anniversary.
This is a cool shot. Looks pretty different from what we have today. Source: Library of Congress
Check out this awesome photo of "The Senator" … this was a Pennsylvania Railroad train from back in 1929. Thanks Shorpy!
You have to love this old photo from 1938. It shows two cars, a Ford on the left and on the right, a new brand they just launched, Mercury. I also love how the men are...
Check out how massive Union Station looks in this photo. This is from 1910, several years after the railroad station was completed.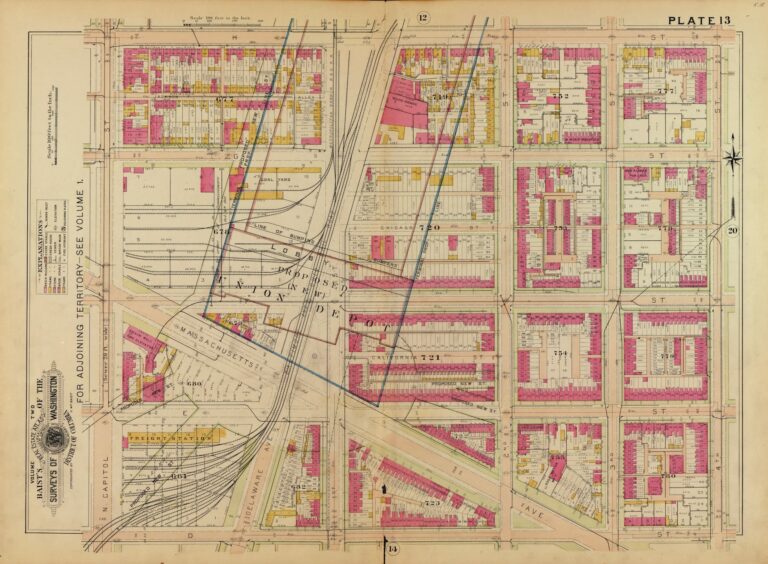 Here's another map of Swampoodle from 1903. Make sure you check out the 1888 one and compare them. This has the proposed Union Station superimposed over the neighborhood and you'll see some familiar street names which...
Happy belated Columbus Day! D.C. has its own Christopher Columbus memorial prominently positioned in front of Union Station.  Here's a fascinating set of images from the Washington Times on April 29, 1912 – as workers move...
This is a guest post by GoDCer from Poolesville, Jack (the guy that tipped us off to some great stories, like the decapitated convict). President Dwight Eisenhower's inauguration was just five days away. For days the...
The Beatles' first live performance in America was in Washington, D.C. on February 11th, 1964. They played at the Washington Coliseum after arriving at Union Station from New York City.