Photos of yesterday, featuring regular people and regular places.
This is an old photo of the "Billy Sunday tabernacle" near Union Station. Can you recognize any of the landmarks (other than the obvious Capitol and Library of Congress). Source: Shorpy
Here's a cool old World War II-era photograph of Friendship Heights. It shows the old gas station at 5252 Wisconsin Ave. NW, owned by the McDowell family. Source: Shorpy Today, the spot is the location of...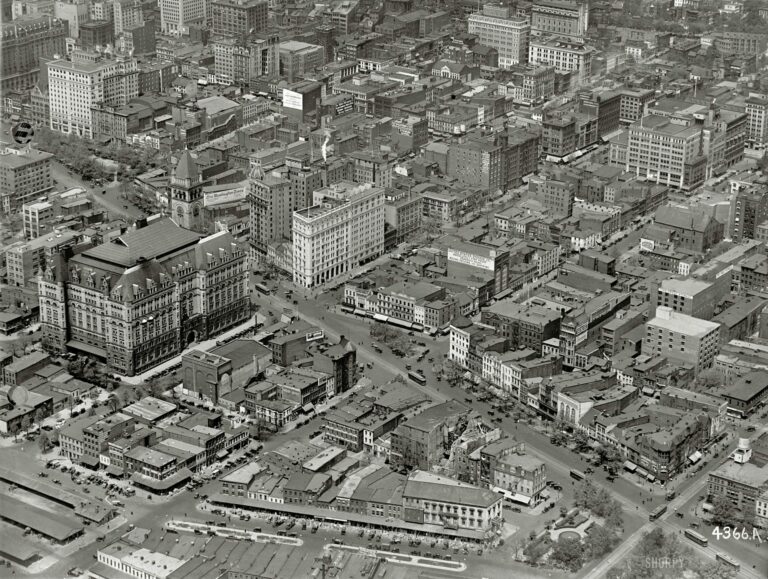 This is incredible. No commentary needed. Just make sure you click on it for greater detail. Source: Shorpy
This is an old photo showing a row of parked cars along Virginia Ave. SW. Check out the Google Street View below. Source: Shorpy [googlemaps https://maps.google.com/maps?cbp=12,87.63,,0,4.65&layer=c&panoid=AbrZdO7-MJlqHhyJ3styhA&cbll=38.8855,-77.021597&dg=opt&ie=UTF8&ll=38.853612,-76.980515&spn=0.341689,0.724411&t=m&z=11&source=embed&output=svembed]
Here are two great old photos of Howard University's Old Main Building.
Check this out. This is a French drawing from the early 19th century. It looks a little different than today. I don't see the J. Crew.
Does this building still stand? I can see the "435" on the transom, but I'm not quite sure where this is. Let's see if the GoDC community can identify this spot and send us the Google...
Okay, we need the collective power of the GoDC community. The best clue in the photo is the "1743" … where is this, and does the building still exist? Post your thoughts in the comments below....
This is a great old photo from 1920, showing the 700 block of 12th St. NW. Today, this is the area around Metro Center. I don't know about you, but I prefer the look of the...
Here's a photo from a very different time here in D.C., where you could find homes like the one below. Source: Shorpy