Do you remember living in Washington during the 1970s? How about when the Metro was being built up along Wisconsin Avenue?
We dug up this great old article in the Washington Post from January 26th, 1978.

Here is a terrific old photo of the Friendship Heights station under construction.
Below is a long excerpt from the piece.
Construction will begin within the next two weeks on two Wisconsin Avenue Metro subway stations, at Tenley Circle and Friendship Heights, which will provide 14-minute rides to downtown Washington when the subway line to Rockville and Shady Grove opens in 1982.

The underground stations, to be blasted out of solid rock more than 100 feet beneath Wisconsin Avenue, will take three years to build…

…

While construction will continue 24 hours a day on the stations, blasting is permitted only between 7 a.m. and 10 p.m Mondays through Saturdays and 2 p.m. to 10 p.m. Sundays.

Access to all businesses and homes will be maintained during construction although a few parking spaces, primarily along Wisconsin and Western avenues, will be eliminated, Metro officials say.

…

The stations are expected to be used by 25,000 to 28,000 riders daily by 1990, according to Metro estimates.

The Tenley Circle station will have entrances on either side of Wisconsin Avenue, with escalators carrying passengers down to a mezzanine just above the subway platforms. An elevator entrance is to be built north of Albemarle Street on the east side of Wisconsin.
Here's a great diagram from the article.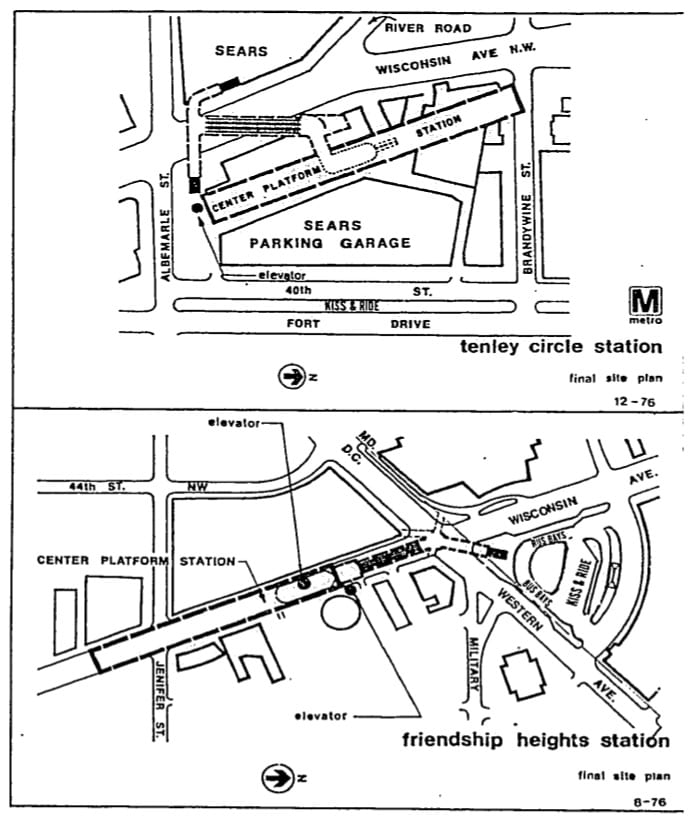 If you remember the days of Metro construction on Wisconsin Ave., let us know what it was like by adding your comments below.