Oh my, "suggestive songs." Not good, not good … especially in 1921 when this article was printed in The Washington Times.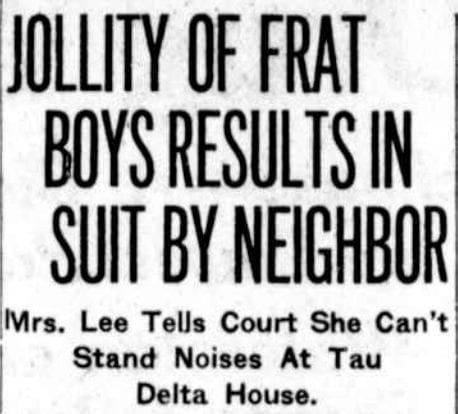 We came across an amusing headline, "Jollity of Frat Boys Results in Suit by Neighbor" and we had to dig a little deeper.
Justice Hitz, of the District Supreme Court, today cited the Gamma Eta Chapter of the Delta Tau Delta Fraternity, having its frat house at 1750 Massachusetts avenue northwest, Richard Daniels, president; Lawrence Hollis, treasurer; Raymond E. Taylor, secretary, and Paul Baker, manager, to show cause June 17 why they should not be enjoined from disturbing the neighborhood by loud and improper noises and language, "the playing of piano and other musical instruments and holding dances until the early morning hours."

Mrs. Alexander McDannold Lee, residing at 1752 Massachusetts Avenue, in a suit complaining that the quiet enjoyment of her home is destroyed by the noises coming from the frat house at all hours of the night and affidavits supporting her contention are attached to the suit.

Plaintiff, represented by Attorneys Minor, Gatley and Rowland, tells the court that the neighborhood is of residential character and says that the noises from her neighbors were bearable during the cold weather when the windows were closed, but that the approach of warm weather and open windows, the noise was positively unbearable and most objectionable.

Mrs. Lee declares that on May 9, last, the chapter gave a smoker when a bar was put up in the frat house and that "what appeared to be beer and other drinkables were dispensed." She avers that "suggestive songs" were sung and that there was swearing and cursing, loud and boisterous conversation, and that tables, bottles, and glasses were upset. She declared that sleep, rest and quiet were absolutely impossible. This suit is similar to one brought in 1917 by Admiral Seaton Schroeder against the lessees of the Playhouse, 1814 N street, when it was used for dancing and other entertainments by Washington society. The court granted the injunction sought and the result was that the dances and entertainments came to an end at that place.
Times never change do they for young Washingtonians? The fraternity was the local chapter of the Delta Tau Delta alumni association for the fraternity.