Who tossed Washington's first pizza pie?  Was it "jumbo"?  Deep-dish?  Square?  Turns out, these are tough questions to answer.  Several attempts at D.C. historical pizza research have been made (some incorrectly) in recent years.  Here we'll introduce the District's pizza pioneers and tell you about their claims to be the first — rightly and wrongly (PS, here's a great book on pizza's global history).
The Post tackled these questions in the 2007 obituary of an early pie purveyor.  They settled on April 1943 as the earliest known appearance of pizza on a D.C. menu.  But we found an ad that dates to February 1938.
Let's meet Washington's true (and false) pizza pioneers.[divider]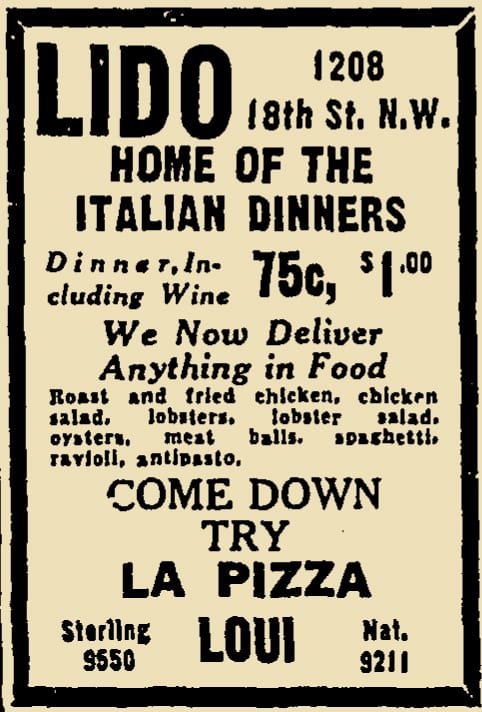 Luigi Tito Calvi (1889-1963)
Calvi emigrated from Genoa, Italy in 1907.  He learned English, traveled widely, and worked in a California shipyard during World War I.  His entry to the restaurant business came in New York in the 1920s.  Calvi moved to Washington in 1930.  He soon opened Lido, an Italian-American restaurant that boasted meals for 75¢ (wine included). An orchestra provided music for dancing late into the night.  Lido served special meals for Thanksgiving and, oddly, St. Patrick's Day.  The restaurant's owner, identified only as "Louie," was mentioned in several advertisements.  Digging through newspaper archives, we spotted this mention of "La Pizza Loui" — almost certainly the first pizza ad in The Washington Post.  It appeared on February 16, 1938.  Lido was located at 1208 18th St., NW at Connecticut Ave. (currently a Sprint mobile phone store).  The restaurant seems to have closed by 1940.
Luigi Calvi briefly worked as the manager of another Italian joint, Ciro's Italian Kitchen.  He owned a nightclub early in the 40s — the Copacabana on I St., NW.  But Calvi sold his club to fund a final project, an Italian restaurant that opened in 1943 at 1132 19th St., NW. You may know it as Famous Luigi's — still standing and definitely still serving pizza near Dupont Circle.  In the 1970s, two additional Luigi's locations operated in Alexandria and Bethesda.
The Post profiled longtime Luigi's employee Gladys Mix in 1986.  She had worked at the restaurant for 42 years.  Mix claimed that Luigi Calvi introduced pizza to Washington.  Post columnist Jack Eisen was skeptical enough to include a note to readers:  "If anyone wants to challenge Luigi's claim as Washington's pizza pioneer, please write, don't phone."  And someone did.  A week later, his Metro Scene column quoted correspondence from a relative of Ciro Gallotti.  It included an April 1943 pizza menu from Ciro's Italian Kitchen (dated prior to the opening of Luigi's).  The newspaper crowned Gallotti as the D.C. pizza progenitor but neglected to look into Calvi's earlier work.
Luigi Calvi's 1938 ad for pizza at Lido appears to be the District's earliest appearance – 3 years prior to any published mention of Ciro Gallotti serving pizza.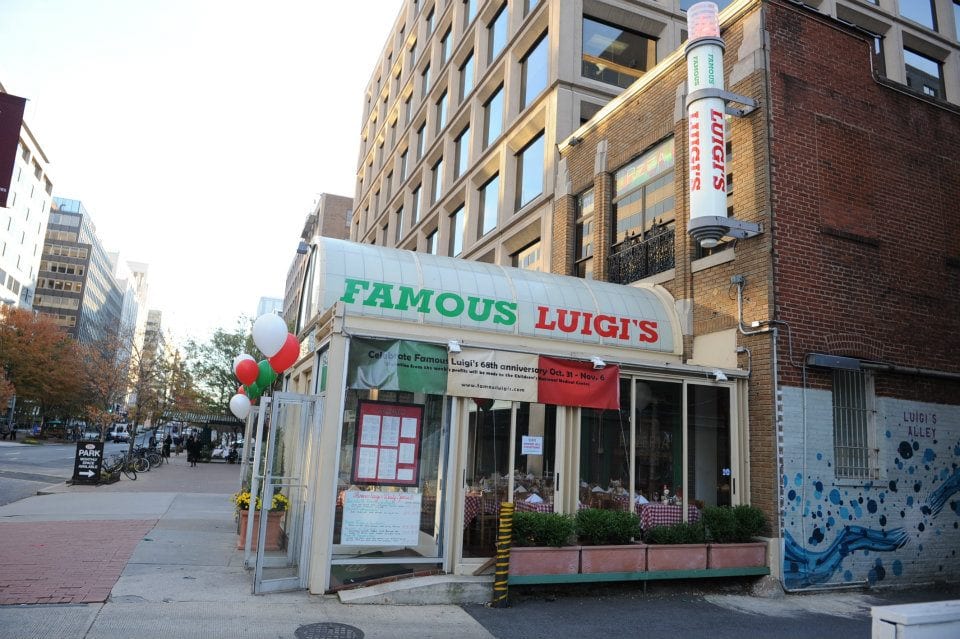 [divider]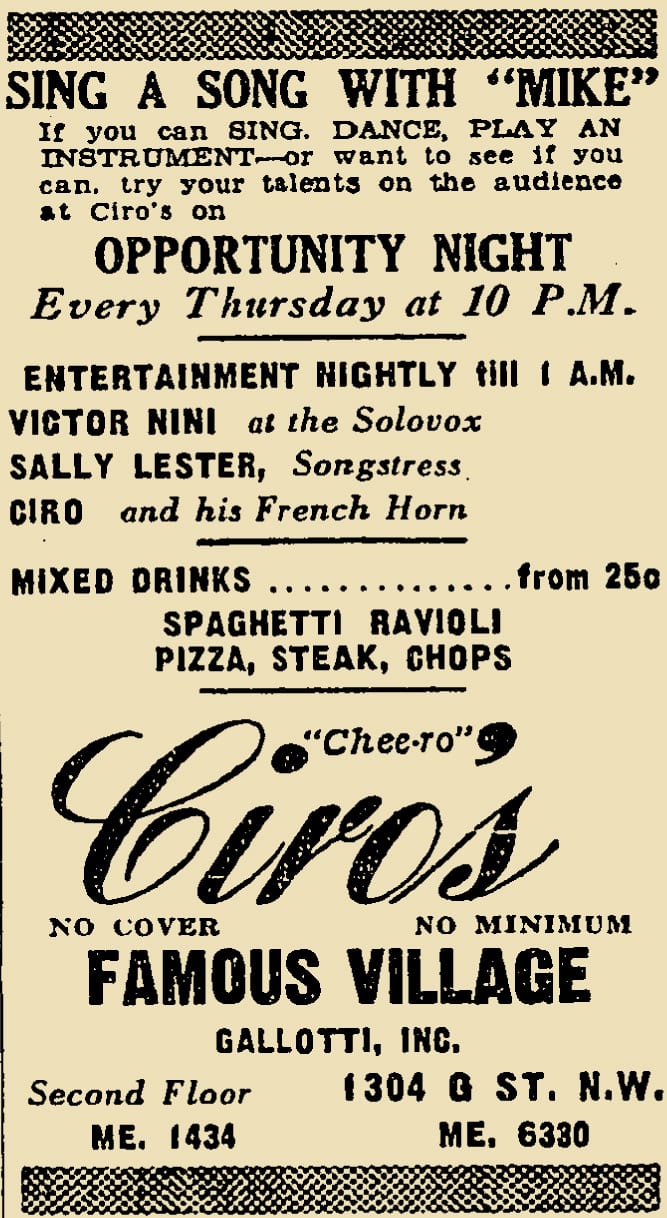 Ciro Gallotti (1883-1948)
Mentioned earlier, Gallotti was a native of Naples who came to America seeking a career in music — as a French horn player.  He settled in Washington in 1917.  His Galotti's Italian-American Restaurant opened in 1922 at 404 12th St., NW (at the corner of Pennsylvania Ave.).  That restaurant became Ciro's Italian Village and  sat at 1304 G St., NW from 1928-48.  The first indications we have of Ciro's serving pizza come from ads in the early 1940s.
Here's how a 1941 Washington Post "News of Capital Night Clubs" column described the still-unfamiliar dish at Ciro's:
"'Pizza Neapolitan' served in Ciro's Famous Village, looks like the most beautiful pie you ever saw.  But it's made of creamy yellow cheese, baked fresh tomatoes and the proper Italian sauces."-Washington Post, 1/17/1941
Other relatives took over the operation of Ciro's Restaurant when he died .  The place moved to 1707 De Sales St., NW — across from the Mayflower Hotel.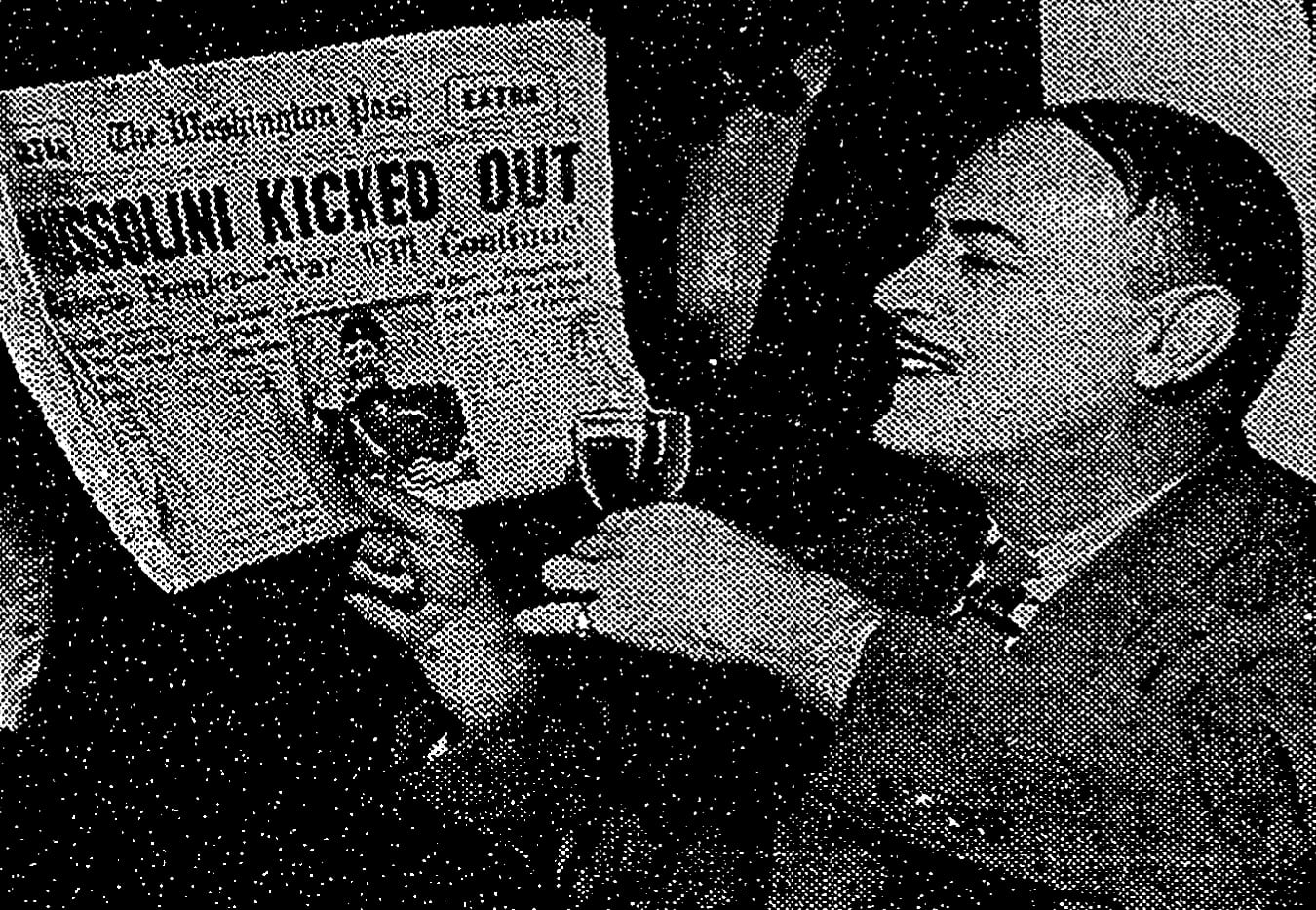 [divider]
Margarita "Mama" DeSantis Castro (1918-2005)
Born in Abruzzi, Castro arrived in Washington with a pizza recipe that found its first home at Aldo's Cafe in 1950.  Aldo's was located near the corner of 22nd and M Streets, NW and was initially owned by Castro's sister.  "Mama" Castro went on to open several other restaurants with her family including Mama's Original Italian Restaurant in Dupont.  There were a few suburban outposts — the most recent in Fairfax.  None remain open.
According to The Post, Castro claimed to have introduced pizza to Washington.  That wasn't true.  The ad you see here from 1954 mentions that Aldo's had been serving pizza since 1930.  That's probably false.
[divider]
Augusto Vasaio, Sr. (1908-1982)
Vasaio was born in West Virginia but spent his childhood in Pescara, Italy — working at his family's restaurant.  He settled in Washington in 1941.  In the early part of that decade he was a waiter and a baker.  At least some of that time was spent as a pizza and pasta chef at Ciro's Italian Village (mentioned above).  Vasaio purchased an unused church in 1949 to start his own restaurant.  You may recognize his initial as the name behind the beloved A.V. Ristorante Italiano, located at 607 New York Ave., NW until its closure in 2007.
When Vasaio died in 1982, The Post noted that his restaurant, "is said to have been one of the first places to serve pizza in Washington."  While that may be true, Augusto Vasaio's pizza joint opened more than a decade after Luigi Calvi first advertised his pies.
A.V.'s closed in 2007 when the family sold their building and adjoining lots for more than $18 million.  Reviews weren't always stellar.  This final critical piece is a fine sample.
[divider]
Did we miss anything?  Can you prove that someone else was serving pizza in Washington prior to 1938?  Please let us know in the comments.