This article in the Afro-American caught my eye: "$41,000 Nixon Home Covered by Racial Covenant." This was published on October 4th, 1952 and was referring to his recently purchased home at 4801 Tilden St. NW (4 bedroom home built in 1951 and $1 million according to Zillow).
Already chin deep in hot water because of his secret acceptance of an $18,000 expense fund from private sources, Senator Richard Nixon, the Republican vice presidential nominee, faced a new headache this week.

The AFRO discovered that he had signed a racially restrictive covenant agreement when he purchased his $41,000 home here shortly after his election.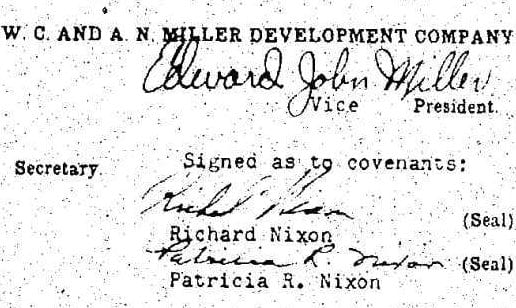 The residence in the exclusive Tilden street section, is already a topic of political interest, because Senator Nixon, who said he was broke at the time of his election, made a $20,000 cash down payment on July 5, 1951, when he bought it. Under the covenant signed by Nixon, he agreed never to sell or rent the home to any person of colored or Jewish blood.
The agreement went further to exclude all occupancy by persons of these races, with the mere exception of "partial occupancy" by domestic servants.
This type of restrictive covenant was held unconstitutional by the U. S. Supreme Court in a historic decision in 1949. The strongest argument to end the vicious system was made by then U. S. Solicitor General Philip Perlman.
Mr. Perlman revealed at the time that he was acting for the Federal Government at the instigation of President Truman.
While the Supreme Court held such covenants may not be judicially enforced, such private agreements are valid.
The covenant signed by Senator Nixon and his wife read, in part, as follows:
"No part of land hereby conveyed shall ever be used, or occupied by, or sold , demised, transferred, conveyed unto, or in trust for, leased, or persons of negro blood or extraction, or to any rented or given to negro people or any person or person of the Semitic race, blood, or origin which racial description shall be deemed to include Armenians, Jews, Hebrews, Persians, or Syrians, except that, this paragraph shall not be held to exclude partial occupancy of the premises by domestic servants of said parities hereto of the second part their heirs or assigns."
The deed was signed on July 5, 1951 by Richard M. Nixon and Patricia R. Nixon, his wife.
It also bore the signature of Edward John Miller, vice president of the W. C. and A. N. Miller Development Company.
Ugh, this is just awful. It's unbelievably shocking that transactions like this took place. This article came on the heels of Nixon's famous "Checkers Speech," in which he staved off political disaster and maintained his place on the 1952 Republican ticket.
Take a look at the home on Zillow and Google Street View below.