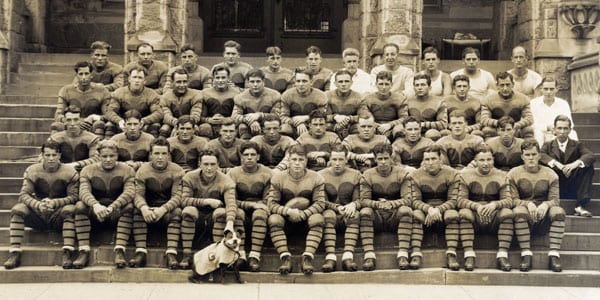 That football bet story, uncovered in the last post, about Marjorie Morris is too good not to look into, and sure enough, there's an article about it titled "Hilltop Football Victory Wins Bride for Student."
Below is the Washington Post article from November 21st, 1928.
When Georgetown's football team downed the University of West Virginia Saturday, it rang the wedding bells for Marjorie L. Morris, 20 years old, of 26 Grafton street, Chevy Chase, Md., and F Stanley Nishwitz, 21 years old, of 3801 Fulton street northwest.

The young couple had been sweethearts since the time they were both in the fifth grade of the John Eaton School, and although their paths had both separated widely, Miss Morris had agreed that if Georgetown's gridiron warriors downed West Virginia she would marry Nishwitz.

So, when Georgetown scored two touchdowns while the visitors were helpless, the young couple motored to Rockville late Saturday afternoon and were married, it was learned yesterday.

Difficulties nearly wrecked the romance which started in the John Eaton School several years ago, but they have been surmounted. Miss Morris was taken out of the school and accompanied her father, Maj. T. R. Morris, to the Philippine Islands. When she returned to Washington her boyhood sweetheart was at the Virginia Military Institute. Before completing the course there, however, young Nishwitz decided to return to Washington and go to the foreign service school at Georgetown University. He is now in his third year at the school.

The parents of both the bride and the bridegroom were surprised when informed of the marriage. Both thought that the principals were too young.

The youth's father, W. T. Nishwitz, however, rallied to the support of the young couple by giving his son a position in his office.
The final score was Georgetown 12, West Virginia 0. Don't you love bizarre stories like this?