Check out this cool photo of Howard University's football team in 1904. GoDCer Andy sent this in after checking out this cool post about Georgetown Prep's basketball team. St. John's College is now St. John's College...
Check out this program. It's for the Duke vs. GWU football game, held on November 13th, 1948 at Duke. Source: Duke University Libraries Duke was pretty average in 1948, going 4-3-2 under coach Wallace Wade. GWU...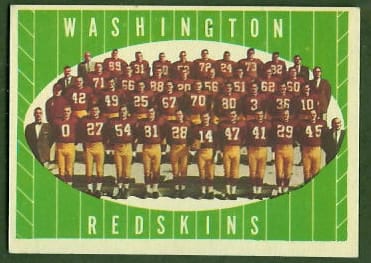 Only the Dallas Cowboys saved the Washington Redskins from complete disaster in 1961, the last year they fielded an all-white team. The Washington football franchise, under first-year coach Bill McPeak, posted a 1-12-1 record, the worst...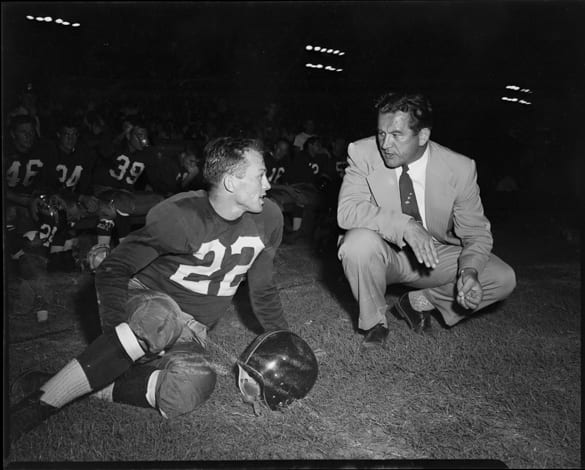 As dismal as this fall has been for fans of the Washington football franchise (want an illustrated history book for Christmas?), the 1954 season might have been even worse. How bad was it? In early November,...
It's been more than 60 years since the University of Maryland (here's a good history book from Amazon) had a serious candidate for college football's Heisman Trophy. In the early 1950's, the Terps had two quarterbacks who...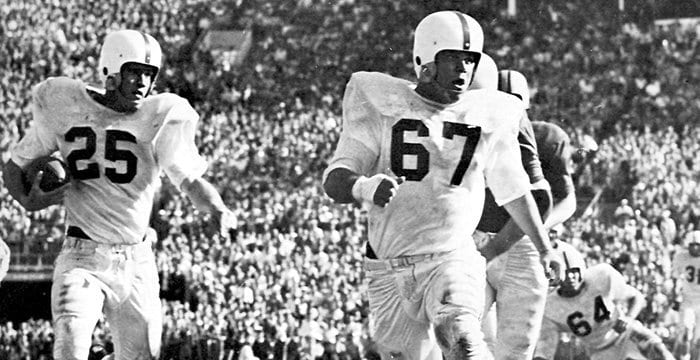 Source: University of Maryland So long ACC. Hello Big Ten. The University of Maryland's final game in the Atlantic Coast Conference Saturday, a 41-21 win at North Carolina State, brought back vivid memories of the 1954...
The Ballston Skulls sounds like a gang. They weren't. The Skulls played semi-pro football representing the village of Ballston. They played and practiced on a field, known as Ballston Stadium, at Ball's Crossroads, currently the site...
According to legend, the Gallaudet football team invented the huddle as a means to prevent opposing teams from stealing their plays by reading their sign language. Below are four players from the 1920 Gallaudet University football...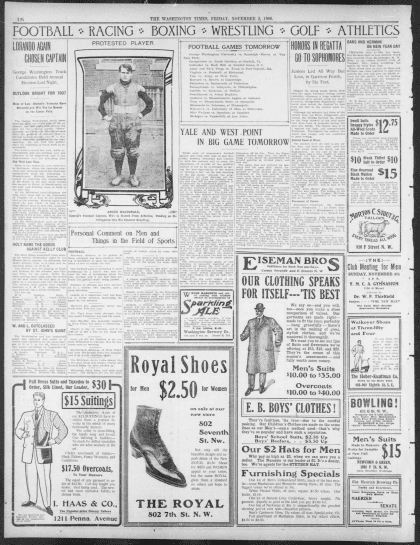 On Friday, November 2nd, 106 years ago, this was the sports page of the Washington Times.
Sunday is our first game and the beginning of RGIII in D.C. Let's bring back some pride to the Washington Redskins. And we'd like to give a quick shout out to GoDCer, and giant Redskins, fan...