I'm reading a very interesting book about Washington published in 1840 titled "A Picture of Washington." I just got to the part where it starts talking about the taxes in the city … I have to share these with you because they're a good window into life in Washington in the middle of the 19th century, and more importantly, before emancipation in the District.
When reading this, remember that a dollar back in 1840 is roughly the equivalent of $20 in today's money.
Here are some of the highlights from the book …
HAWKERS AND PEDLARS.–All hawkers and pedlars are prohibited from hawking or carrying about in this City, any goods, wares or merchandise, except such as are manufactured within the City, without license for which $50 shall be paid, under the penalty of $20 for each offence. Poultry, fish, meat, breadstuffs, butter, cheese, eggs, vegetables and fruits are excepted.
Here's another couple that I came across related to slaves and free blacks. Slavery was not abolished in the District until 1862, 20 years after this book was published.
SLAVES.–No slave can reside in the City, unless owned by a resident, or hired by a non-resident to an inhabitant, for which he must pay a tax of $20 per annum, if a male, and $2 if a female; under the penalty of $20 for each neglect. Residents hiring such slaves liable to the same penalty, and also to a fine of $5 per month he or she shall continue to hire such slave.

FREE NEGROES, MULATTOES, &c.–All free negroes and persons of color are required to exhibit satisfactory evidences of their freedom to the Register, with a list of the names, ages and sexes of their families, under the penalty of $6 for every month they shall neglect to do so. The Register to furnish a written permit to each head of a family, authorizing them to reside in the City.

…

If found playing at cards, dice or other game of an immoral tendency, or shall be present when such game is playing, he shall be fined not exceeding $10. not to have a dance, ball or assembly, at his or her house without a permit from the Mayor, under the penalty of $10. Not to go at large in the City without a pass from a magistrate or respectable citizen after 10 o'clock at night, unless engaged in driving a cart, or other carriage, under penalty not exceeding $10, and to be confined in the Lockup-house till the next morning; prohibition not to extend to persons of color passing peaceably through the streets to or from any place of worship, or who may be sent on an errand by the employer. If found drunk in the public streets, &c., or guilty of obscene and profane langauge or behavior, to be fined not exceeding $3 for each offenec. [sic]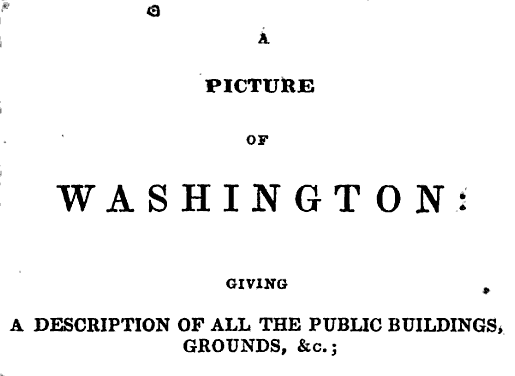 Here are some of the crazy license fees for running businesses in Washington. Remember that these are dollar amounts in 1840, so this is really, really pricey.
The tax on every $100 worth of real and personal property is, 75¢
On dogs, male, $2.00
On dogs, female, $5.00
For a license for keeping a billiard table, $100.00
For license for vending lottery tickets, $300.00
For license for selling fire crakers [sic],  $50.00
For license for dealing in slaves, $400.00
For license for exhibiting curiosities per week, $10.00
I'm not sure what that last one means, but I can make a few guesses.
Here's something that's applicable to our current city (i.e., don't ride your bike on the sidewalk).
FOOT WALKS.–Riding or driving any horse, waggon [sic], cart or other carriage, on any paved or gravelled [sic] foot walks, prohibited under a penalty of $2; or obstructing the same with boxes, barrels, building materials, &c., under the penalty of $1, and one dollar for every day the same shall remain, except wood, which may remain … Building materials permitted to occupy one-half the width of the pavement and one-third of the breadth of the carriage way and no more, and not remain longer than 30 days after the house shall be completed.
How about some laws regarding guns and gambling?
GAMING.–No kind of gaming tables except license billiard tables is allowed, under the penalty of $50 for every day such table or devise shall be kept. Persons convicted to give bond with the sum of $300, not to violate the law for six months, or be confined to labor in the work house of the City, until security be given a person allowing any kind of gaming in his or her house to pay $50 fine for every day or less time, it shall be allowed, and if a tavern or ordinary keeper, or retailer of wine and spirituous liquors, he or she shall forfeit the license.

SHOOTING.–No person is allowed to fire a gun or pistol idly or for sport, within 250 yards of any dwelling house in part of the city, contained in North M street, Massachusetts Avenue, 7th street, Pennsylvania Avenue, the eastern Branch, 6th street, West Virginia Avenue and Rock Creek, or any part of the City on the Sabbath, under penalty not exceeding $10 nor less than $5. Parents and Masters accountable for those under them.