Situated near the lively epicenter of Washington DC's Adams Morgan neighborhood is an old house with a tragic past. According to former resident Caridad, the home at 1815 Adams Mill Rd NW may be haunted by restless spirits from decades past.
GoDCer Caridad posted on Facebook that she lived in the home for 14 years and reported experiencing unexplained paranormal phenomena during her time there. She mentioned a time when her brother and her would see a woman dressed in all black with a black veil walk across the room and go through the wall. She kindly suggested we look into the building's past — we rarely, if ever write stories about ghosts … ironically — but this time we obliged because of what we uncovered.
From what we gathered, the home was purchased in the early 1900s by Henry and Mary Walter after their wedding in New York and move to Washington. Henry worked at his brother-in-law's business, E.G. Schafer Company, a plumbing supply company located at 11th and E St NW, while Mary cared for their three young boys: Francis, Mercer, and Henry.
Their family suffered immense tragedy. As The Washington Post reported on April 16, 1907, "Lying face down in a pool of blood, the body of Henry M. Walter, of 1815 Adams Mill road, formerly manager of the E. G. Schafer Company, was discovered by a bell boy in the lavatory of [The Raleigh Hotel]." He was struggling with illness and depression before taking his own life, leaving behind his grieving wife Mary and three sons.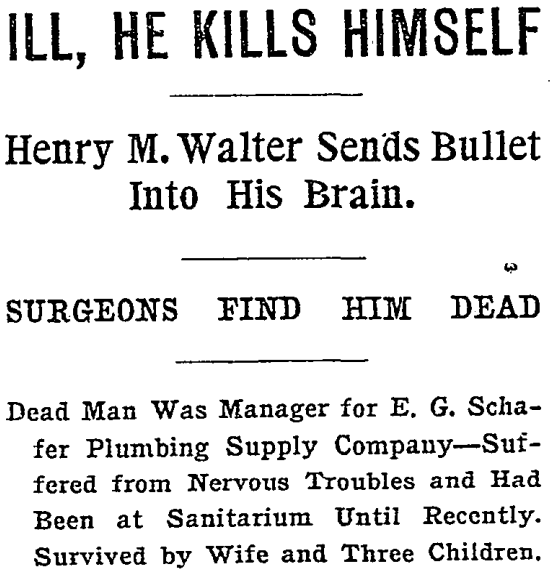 Just seven years later, the Walter family endured another terrible loss when 19-year-old Francis went missing after going canoeing on the Potomac River. As described in The Washington Post on May 7, 1914, "Unable to locate the body of Francis Walter, the 19-year-old son of Henry M. Walter…the police boat and crews of grappling crews resumed the dragging of the river and shoreline on the Virginia side this morning." For a week, searches turned up nothing.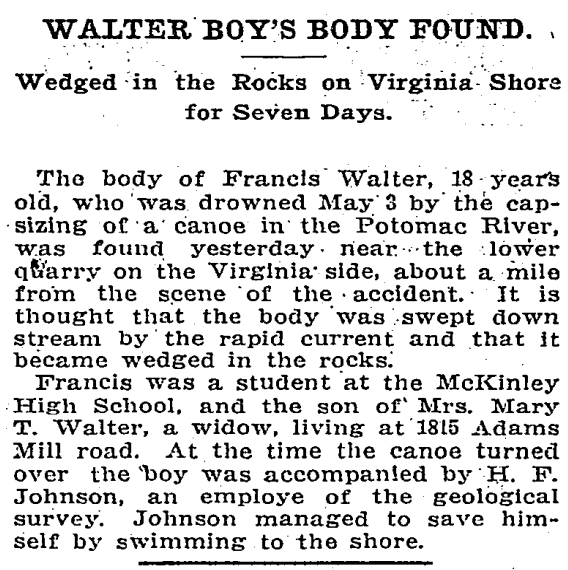 Finally, as reported a few days later on May 11, 1914, Francis' body was discovered: "Wedged in the rocks on Virginia shore for seven days." When Mary identified his corpse, she was beyond grief-stricken.
Mary remained in the Adams Mill Rd home alone following her husband's suicide and son's tragic drowning. One can only imagine the profound sadness and distress she must have endured. Bereft of spouse and child, her loneliness and anguish must have been immense.
Remarkably, Mary Walter found the strength to carry on after these successive tragedies. Census records from 1930 show that she moved to the Tilden Gardens apartment complex in Cleveland Park. She lived there with her son Henry, trying to pick up the pieces and rebuild some sense of normalcy.
Even in her elderly years, Mary remained employed, working as a draftsman for the Department of Agriculture's Forest Service. The 1940 Census captured a 72-year-old Mary still diligently reporting to her job every day. Though she had lost her husband and eldest son, and was now alone, Mary persevered. She remained an independent, working woman who refused to be defeated by the grief and loss she had endured.
Could the tormented spirits of Henry and Francis Walter still inhabit their former family home, unable to move on from their agonizing deaths? Maybe it's the eternally mourning spirit of Mary. This chilling theory seems plausible given the paranormal activity reported by former resident Caridad. The loss of a husband and son under such devastating circumstances could have opened a portal between this world and the next.
While the true origins of the purported haunting remain uncertain, the tragic history provides a compelling backdrop. The century-old tales of Henry Walter's suicide in 1907 and Francis Walter's drowning in 1914 suggest restless spirits stuck in the realm of the living.
For Caridad and later occupants, the signs of ghosts inhabiting 1815 Adams Mill Rd may stem from the immense grief and loss suffered by the Walter family so many years before. Their sorrow still seems to linger within the walls of the old home even today.