If you lived in or visited Washington in the 1970s or 80s you probably remember how nasty this city was. I remember my father taking me to the 1988 Washington Auto Show at the old convention center, parking a few blocks away next to an X-rated book store. I was a kid, so I wasn't quite sure what it was, but I knew it wasn't good.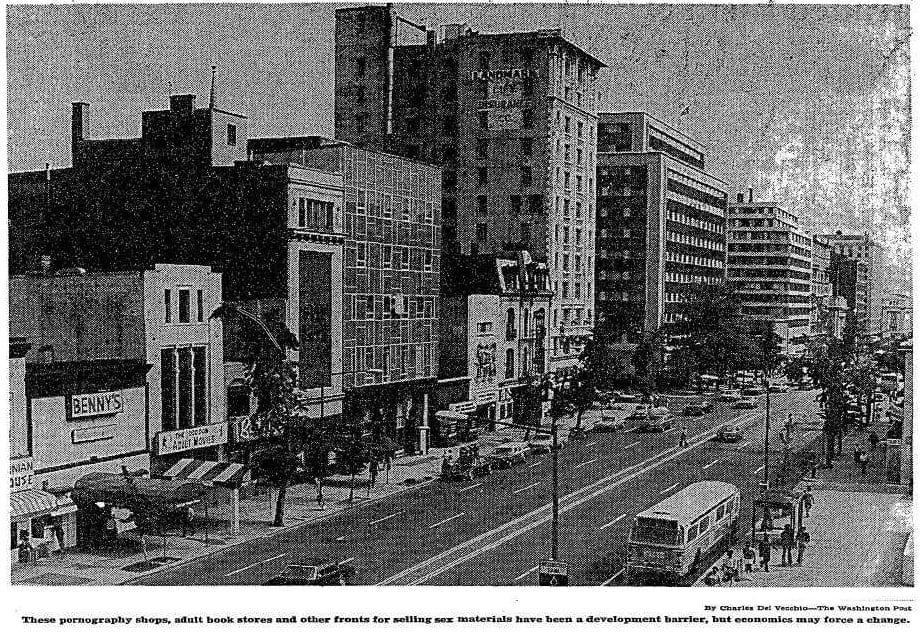 So, for the vast majority of GoDC readers, you'll find this to be both shocking and fascinating.
We all know that the riots rocked the city in 1968, destroying the commercial corridors and much of the local economy for years to come. The lingering impact was a major depression in the real estate market, driving down rent. The former commercial corridor of 14th St. NW became a dirty, sleezy red light district.
In the late 1970s, the Washington Post reported on a real estate upswing that would eventually lead to market forces driving out the unwanted sex shops. Below is an excerpt from an article written on August 9th, 1978.
The rising tide of development in downtown Washington is about to break over a barrier to business for nearly a decade–the red light district along 14th Street N.W.

Today 14th Street's sleezy sex shops, running north from H Street NW, are considered the most obvious roadblock to the spread of redevelopment eastward into the old downtown.

But optmistic developers content economics will eventually accomplish what law enforcement has failed to do–drive out the peep shows, "book stores" and other fronts for the sale of sex material.
Hard to believe that where many of you likely go to work in generic office buildings, once the dark underbelly of the city, much like Amsterdam (though not as charming) or Bangkok (not as crazy freaky).
"Creation of a new red light district is impossible" under the present D.C. zoning law, said [city planner J. Kirkwood] White. Rejecting the "combat zone" approach to controlling sexually oriented businesses–setting aside designated areas for them–the city opted for what is known as "the Detroit approach"–diversification.

Adult shops, massage parlors and the like are not permitted to open within 300 feet of each other or within 600 feet of a church, public building or apartment building, or in any residential or commercial zone.
The area near Franklin Square was particularly bad with the infamous Casino Royal Adult Theatre sitting at the corner of 14th and H streets.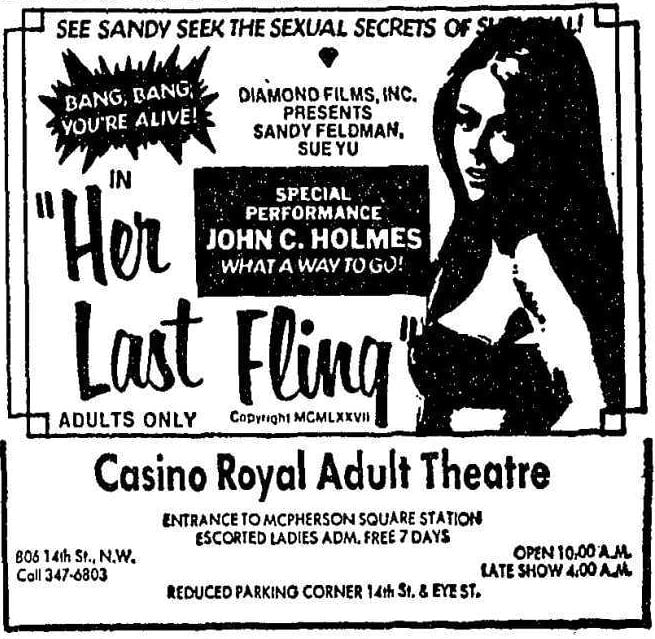 I'd have a hard time believing anyone would prefer the 14th St. of the late 1970s over what we have today … unless you're into a nasty 4 a.m. late show.