What a cool photo. This was taken on August 26th, 1922, when this gentleman was hanging from the top of the Capitol to paint it. Source: Library of Congress
These two guys are checking out their shoes, and for good reason. They walked from Venezuela to Washington, DC to attend the Boy Scout Jamboree, leaving on January 11, 1935 and arriving June 16, 1937. That's...
Wow. What an incredible photo from 1924. Source: Boston Public Library Okay, so the title might be a little exaggeration, but it's close right?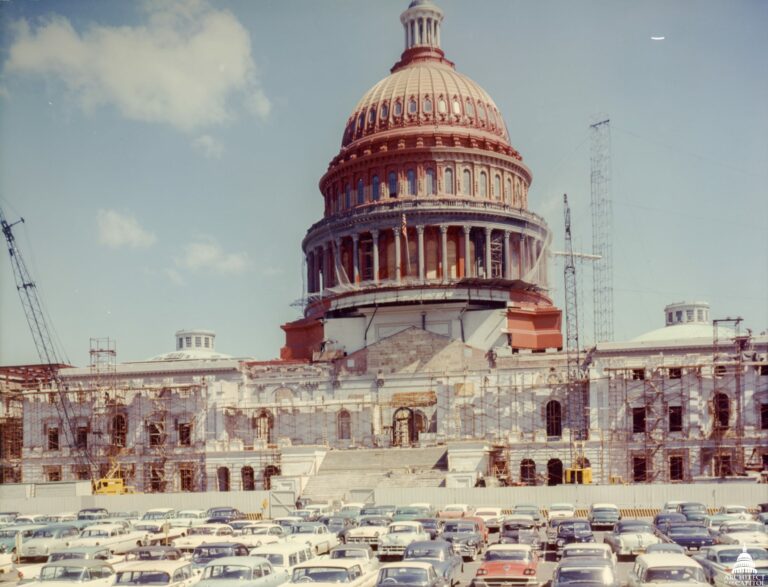 Remember the red Capitol Dome that we posted some time ago? Here's another great view of it. Source: Architect of the Capitol Below is the caption from their Flickr feed. In late 1959 through 1960, the...
I was doing some research on J.P. Morgan. (Ok, research backstory: In the summer 1919, he was summoned, er, subpoenaed by the Senate Foreign Relations Committee. They wanted to ask him why he had a copy...
Abraham Lincoln was sworn in for his second term as president and delivered his second inaugural address on March 4, 1865. There are a couple interesting things we picked out of this photo. First, when you...
Here's a cool shot of the National Mall, as viewed from the Washington Monument in 1936. Source: Cornell University
Not many of us get to see Washington, DC from the roof of the Capitol. None of us ever got to see the view in 1861, but here's the next best thing. Taken in 1861, this...
This is an incredible black and white photograph of the Capitol that we haven't come across before. Source: Shorpy
This is a cool drawing that we came across from around the time the Capitol was completed. Source: Library of Congress